Daily Word: MSU, Indiana meet again
ideo1>
Every weekday, Andy Katz leads a panel of our college hoops experts in a discussion of the biggest issues, trends and themes happening in and around college basketball.
1. The last time Indiana and Michigan State met, it wasn't pretty for the Hoosiers. Does the Wisconsin win give you reason enough to believe this will be close?
Andy Katz: If Indiana hadn't played a game in between, then yes. But the Hoosiers pulled an offensive no-show against Northwestern at home. Indiana has stood up for the big games and this is a great opportunity to prove to themselves that the Northwestern game was more of an aberration. The best thing going for the Hoosiers is Michigan State has hardly distanced itself from teams at home. The Spartans have kept teams in games at the Breslin Center. Don't be shocked if that occurs again.
Dana O'Neil: Close yes, but not sure I can go with a win. For starters, this game is at Michigan State and, for an Indiana team still trying to find its way, that's a tough draw. And as impressed as I was with the effort against Wisconsin, I think Michigan State is a better team and a tougher matchup for the Hoosiers.
Eamonn Brennan: We are talking about the same Indiana team that turned around four days later and scored 47 points in 64 possessions in a home loss to Northwestern? I have that right? Same Indiana? Then no.
2. Kentucky beat Tennessee despite being outrebounded and outscored in the paint. Are the Cats becoming a more complete team?
Katz: Definitely. The play of Andrew Harrison on the perimeter against the Vols is a great sign. Julius Randle continues to be a load. The role players are developing into positive contributors. Texas A&M lost its momentum with the loss to Mississippi State. Kentucky should start to roll now a bit -- at least at home. The road will still be an issue for this young team, as was on display at Arkansas.
O'Neil: More complete in the sense that it's more than just Randle and Willie Cauley-Stein, yes. But not more complete in the big sense of the word. Kentucky, I think, has yet to put it all together, where all of its pieces are clicking. That's why games always seem close, why one guy has to dominate instead of a team. When and if they all play well, watch out. But that hasn't happened yet.
Brennan: I think the circumstances of that win over Tennessee have more to do with Tennessee being a really good rebounding team held back by defensive flaws. But I do think you can see some progression at UK, particularly in the way Kentucky executes John Calipari's building-block sets. And I doubt UK will shoot 31.3 percent from 3-point territory or turn it over on 18.2 percent of their possessions in a month's time.
3. Bigger surprise: Creighton obliterating Villanova, or Ohio State losing its fourth straight?
Katz: The Bluejays making 21 3-pointers was not expected -- by anyone. Ohio State had been reeling and was playing in a tough environment against a hungry team at Nebraska. The Bluejays got rocked at Providence and had a weak lead in to what appeared to be the best team in the Big East. The Nova no-show was about as surprising a result as we've seen this season.
O'Neil: Creighton by a wide margin. The score was silly, the shooting was superhuman and the bounce back after losing to Providence was thoroughly improbable. By comparison, a struggling Ohio State team lost on the road. Not even in the same category.
Brennan: The news of Ohio State's struggles at Nebraska on Monday made me go "oh, that's interesting," just before rewinding my TV to watch another perfect Creighton possession, at which point I resumed my steady regimen of inhuman bleats and violent spasms. So Creighton, I guess?
---
Earlier Words: 1/20 »1/16 »1/15 »1/14 »1/13 »1/10 »1/9 »1/8 »
Games To Watch
Indiana at Michigan State, 7 p.m. ET, ESPN


Indiana is a tough team to figure out as the Hoosiers gave Wisconsin its first loss but followed it up by losing to Northwestern at home. The last time Indiana saw Michigan State, it ended in a 17-point home loss.
---
Kansas State at Texas, 7 p.m. ET, ESPN2


Texas got a much-needed upset win over Iowa State in its last game and has now won three straight. Kansas State was won two in a row since being blown out by Kansas, its only Big 12 loss.
---
Texas A&M at Kentucky, 9 p.m. ET, ESPN


Kentucky's story has been told many times. The Wildcats have endless potential, but struggle at times to put it all together. The Aggies, meanwhile, have quietly put together a solid season, having lost just one SEC game so far.
They Said It
Hawaiian shout out to @CoachMiles & the @Huskers for their big win over Ohio St tonight! #GBR #Aloha http://img.ly/xOGq

— Ndamukong Suh (@NdamukongSuh) Jan. 20, 2014
ESPNU Basketball Podcast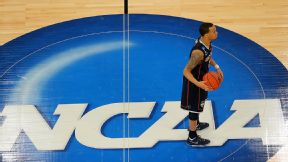 Adam Hunger/USA TODAY SportsAndy Katz and Seth Greenberg offer their thoughts on Kentucky vs. UConn.
Andy Katz and Seth Greenberg check in with newsmakers from around college basketball.