Daily Word: Solutions for Ohio State
ideo1>
Every weekday, Andy Katz leads a panel of our college hoops experts in a discussion of the biggest issues, trends and themes happening in and around college basketball.
1. What's the biggest issue Ohio State must address?
Andy Katz: The Buckeyes must get back to their defensive principles, according to the staff. Ohio State also needs to learn once again how to finish games. The late-possession losses to Minnesota, Iowa, Nebraska and Michigan State could have all gone the other way. The pieces are in place to turn this back around and at least be a top-four Big Ten team.
Myron Medcalf: Its greatest challenges are on offense. It's too inconsistent and it's hindered by the reality that for the first time in years, Thad Matta doesn't have that elite scorer who's always been capable of leading the Buckeyes past an offensive funk. Maybe LaQuinton Ross will be that guy down the stretch, but he can't do it alone.
Eamonn Brennan: It's still the offense, or lack thereof, but only barely. Indeed, in the past couple weeks, Ohio State's defense -- which was totally dominant in nonconference play whether or not the Buckeyes were getting scores or not -- has turned into a barely above-average group. Combine "barely above-average" defense with that ugly offense and a 68-62 loss at Nebraska is bound to follow.
2. Who is Arizona's most underrated player?
Katz: There are so many to choose from. The headlines go to Nick Johnson, Aaron Gordon and T.J. McConnell and deservedly so. You could make a strong case for Rondae Hollis-Jefferson or Brandon Ashley for underrated. But Kaleb Tarczewski is my choice. He has become a terrific low-post scorer in the half court, runs the floor well and is a space eater on defense. He has become a tough matchup and a go-to player when the offense stalls. He is critical to Arizona's success.
Medcalf: Brandon Ashley would be "the star" on a lot of rosters. But he's overshadowed by Aaron Gordon and Nick Johnson. That's fine, because he might be the best third option in America. Ashley's ability and willingness to play inside without minimizing his expanding skill set have opened the floor for Zona's offense, and his athleticism and length have helped the Wildcats earn a No. 3 adjusted defensive efficiency rating per Ken Pomeroy.
Brennan: The Wildcats' balance is so thorough that even their best players (Nick Johnson, Aaron Gordon) struggle to stick out from the pack. I could argue for Kaleb Tarczewski or Brandon Ashley or T.J. McConnell or Rondae Hollis-Jefferson, but instead I'll go with Gabe York, whose outside shooting off the bench has given Zona the one offensive trait it noticeably lacked early on. But anyway, this is like asking me for a favorite Ninja Turtle: Can I just say "all of them"?
3. What went wrong for UMass in its loss to Richmond?
Katz: One reason is pretty simple: the road. Richmond can be a tough spot for any opposing A-10 team. The Spiders have a solid backcourt in Cedrick Lindsay and Kendall Anthony. Going 2-for-14 on 3s isn't going to help. And UMass probably can't win if Chaz Williams goes 2-of-11, 0-of-4 on 3s. But don't fret. The Minutemen will manage fine and still chase Saint Louis in the A-10 title race.
Medcalf: Richmond's Kendall Anthony had hit 16 of his 49 3-point attempts in the seven games that preceded his 4-for-6 (8-for-14 overall) effort from beyond the arc against UMass on Wednesday night. Sometimes, a guy just gets hot. Couple that with Wooden Award Midseason Top 25er Chaz Williams only shooting 2-for-11, and you have a UMass loss.
Brennan: UMass does one thing better than almost any team in the country: It defends the 3-point line. That doesn't just mean it makes opponents miss 3s (though it does), but that it keeps opponents from shooting 3s in the first place: Just 25.9 percent of opponents' field goal attempts come from behind the arc. On Wednesday, UMass allowed Richmond to get good looks from 3, and the Spiders buried them, and during an otherwise stagnant offensive night for both teams that ended up being the difference.
---
Earlier Words: 1/22 »1/21 »1/20 »1/17 »1/16 »1/15 »1/14 »1/13 »
Games To Watch
Illinois at Ohio State, 7 p.m. ET, ESPN


Wasn't it just a few weeks ago when Ohio State was ranked No. 3 in the country? The Buckeyes continue to lean on their defense, but they haven't produced enough on offense recently and have lost four straight games. Can a return to Columbus stop the skid?
---
Florida at Alabama, 7 p.m. ET, ESPN2


Florida just might be the best top-10 team that no one is talking about. The Gators played just one game last week as they slipped by Auburn on the road. Fellow SEC powerhouse Kentucky learned how tough it is to win at Coleman Coliseum.
---
Colorado at Arizona, 9 p.m. ET, ESPN2


Colorado has fallen out of the top 25, which has everything to do with the loss of leading scorer Spencer Dinwiddie. Josh Scott is a force to be reckoned with inside, but undefeated Arizona is perfectly capable of shutting down low-post scorers.
They Said It
Richard Pitino is doing a terrific job in his first season at Minnesota. Had a chance to really watch him in Maui. An excellent coach.

— Jay Bilas (@JayBilas) Jan. 22, 2014
ESPNU Basketball Podcast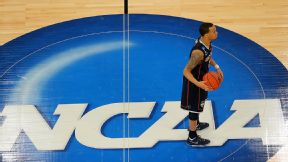 Adam Hunger/USA TODAY SportsAndy Katz and Seth Greenberg offer their thoughts on Kentucky vs. UConn.
Andy Katz and Seth Greenberg check in with newsmakers from around college basketball.