Daily Word: What's different with Duke?
ideo1>
Every weekday, Andy Katz leads a panel of our college hoops experts in a discussion of the biggest issues, trends and themes happening in and around college basketball.
1. How different is the Duke team that has won its past three games by an average of 26 points from the one that lost to Notre Dame and Clemson?
Andy Katz: The Blue Devils are playing defense, rebounding and delivering a knockout punch. Coach K has challenged this team to be tougher, to fight in a figurative sense, and they have responded. Now Duke faces its toughest week of the season, going old Big East with games at Pitt and Syracuse. How Duke responds on this trip will tell plenty about the fate of this squad in March.
Dana O'Neil: The difference is in the defense, as in the Blue Devils are actually playing some. The caveat is Duke's last opponents aren't exactly offensive juggernauts, so it's easy to look good defensively in those situations. I believe that these Blue Devils are considerably better and more balanced but the real proof will come this week when they travel to Pittsburgh and Syracuse.
Myron Medcalf: Duke's defense has intensified. That was the greatest issue for the Blue Devils: spotty, inconsistent defense. But they've forced 49 turnovers in their past three games. They've also held their past three opponents to a 6-for-24 clip from the 3-point line. But let's see how they hold up on the road versus Pitt and Syracuse.
Katz: Yes. Smart has been a tremendous leader and winner but he admittedly failed his team against West Virginia with his behavior. He needs to keep his emotions in check to a certain degree. He was fed up with being pushed around, but he can't show his frustration by kicking a chair and sulking. He will be a better player because of these actions. He quickly learned how it looked and his immediate apology was a great sign. Oklahoma State officials discussed whether he should put out a statement and before they could decide, he had already tweeted out an apology. That's what a champion who makes a mistake does.
O'Neil: To me? No. While I may not have liked his boorish behavior, it didn't affect me. It affected his teammates and those are the people Smart needed to apologize to. I'm glad he did. I'm also glad he did it on his own before some university staffer could craft a statement that sounded nothing like him. Apologies only count when they are genuine and Smart's was genuine.
Medcalf: Definitely. Any time you kick a chair in the middle of the game, you probably should apologize. But Smart made that game about himself and that can't happen, even if he's struggling. He's too important, too much of a leader to lose his composure like that.
3. Arizona had to dig deep to put away Utah. What impressed you most about the Wildcats' late surge?
Katz: Arizona has that second gear. The Wildcats showed it against the Show at San Diego State, down big to Drexel and then against Duke in New York, at Michigan, and now throughout the Pac-12. The Wildcats' defense and ability to slip behind screens, finish around the rim and change the momentum makes this Arizona team ridiculously difficult to beat.
O'Neil: What impressed me most is that the Wildcats had that last surge. Not every team has the ability or the mental capacity to withstand that sort of punch to the gut, but Arizona proved it does. What separates the Wildcats against Utah is the same thing that has separated Arizona all season from the pack, and that's its defense. It's there for the Wildcats to call on whenever they need it and the ultimate difference-maker.
Medcalf: I think it's easy to look at the game and knock Arizona for struggling for most of the night against a sub-.500 Pac-12 team. But I was most impressed by Arizona's late poise. There are a lot of youngsters on that team, but Brandon Ashley, Aaron Gordon, Kaleb Tarczewski, T.J. McConnell, Nick Johnson and Rondae Hollis-Jefferson all made great plays down the stretch.
---
Earlier Words: 1/24 »1/23 »1/22 »1/21 »1/20 »1/17 »1/16 »1/15 »1/14 »
Games To Watch
Duke at Pittsburgh, 7 p.m. ET, ESPN


Since its loss to Clemson, Duke has rattled off four straight wins and the last three haven't been remotely close. The Blue Devils say they're a changed team, but a game against Lamar Patterson and the Panthers should tell us more.
---
Oklahoma State at Oklahoma, 9 p.m. ET, ESPN


Le'Bryan Nash carried Oklahoma State when Marcus Smart had an off game against West Virginia. Oklahoma has won three straight, a streak that includes a win over Baylor.
They Said It
Today wasn't one of my most proudest moments I lost my composure and left my team hanging it won't happen again and I apologize to my team

— Marcus Smart (@smart_MS3) Jan. 26, 2014
ESPNU Basketball Podcast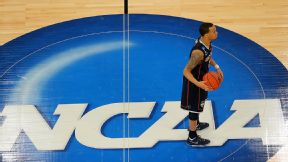 Adam Hunger/USA TODAY SportsAndy Katz and Seth Greenberg offer their thoughts on Kentucky vs. UConn.
Andy Katz and Seth Greenberg check in with newsmakers from around college basketball.