Daily Word: Arizona hits the road
ideo1>
Every weekday, Andy Katz leads a panel of our college hoops experts in a discussion of the biggest issues, trends and themes happening in and around college basketball.
1. Arizona hasn't played a road game in more than two weeks. Are the Wildcats too good for venue to matter?
Andy Katz: Yes. The Wildcats have wins at San Diego State, at Michigan and at a neutral site over Duke. Nobody has three wins as good as those on the road and neutral. Still, Stanford and Cal will target these games as season-changers. Arizona will need the requisite balance that has made it so sound thus far.
Myron Medcalf: Venue seems to be the only thing that could affect Arizona. But the Wildcats had some shaky moments against Utah over the weekend. Stanford and Cal, however, aren't close to the top teams they've already beaten on the road.
Dana O'Neil: No one is too good to be susceptible to life on the road and if Arizona gets in a tussle at either Stanford or Cal as it did with Utah, it will be harder to come out with the win. That said, as young as they are, the Wildcats have proved to be tough away from the McKale Center, a good reason they are where they are in the rankings.
2. How can Georges Niang be effective against Joel Embiid the second time around?
Katz: Niang needs to get Embiid out on the perimeter. If Niang can pull Embiid out, he can drive on him and attempt to draw him into potential foul trouble. Niang can't get the high hook over Embiid the way he has been able to over other bigs in the Big 12.
Medcalf: The first thing for Niang is that he has to avoid foul trouble. And he'll help the Cyclones if he hits 3s and draws Embiid away from the rim. He'll have plenty of help as the Cyclones try to stop him. But they won't win unless Niang has a big night.
O'Neil: Niang has taken 75 3-pointers this season and that will be the secret against Embiid. He needs to get the Kansas big man out of his comfort zone where he swats shots like flies. In a one-on-one, low-post matchup, Niang would have his hands full. So the perimeter is his best shot.
3. Creighton's Doug McDermott is likely a lock for the Wooden Award, but if you had to pick second place in late January who would it be?
Katz: This is a tough question. I'm mulling Arizona's Nick Johnson, Michigan's Nik Stauskas, Syracuse's Tyler Ennis and Michigan State's Gary Harris. Johnson doesn't have the monster numbers like McDermott but he is the most invaluable player on the best team in the country. He would be the second name I would put down at this juncture.
Medcalf: Johnson is the best player on the No. 1 team in the country. He has been clutch on both ends of the floor. And there's a chance that the Wildcats might run through the Pac-12. Johnson might be McDermott's only "competition" in the end.
O'Neil: Three of my picks -- Embiid, Harris and Stauskas -- were left off the midseason list, so I'd have to lean to the most complete player on the best team and that's Nick Johnson. As good as Aaron Gordon is, as critical as T.J. McConnell has been to the Wildcats' success, Johnson stirs the drink. He does everything for Arizona and does it all well.
---
Earlier Words: 1/28 »1/27 »1/24 »1/23 »1/22 »1/21 »1/20 »1/17 »1/16 »
Games To Watch
Memphis at UCF, 7 p.m. ET, ESPNU


Led by Joe Jackson and Shaq Goodwin, Memphis is enjoying the easier part of its American schedule. UCF, on the other hand, has lost five of its past six games.
---
Arizona at Stanford, 9 p.m. ET, ESPN2


Arizona is off to its best start in school history and has some wondering if an undefeated regular season is attainable. The Wildcats, however, haven't played a road game in more than two weeks.
---
Iowa State at Kansas, 9 p.m. ET, ESPNU


Iowa State has fallen far since starting the season 14-0. The Cyclones have lost three of their past four and are struggling to stay afloat in the difficult Big 12. Kansas is starting to look better by the minute.
ESPNU Basketball Podcast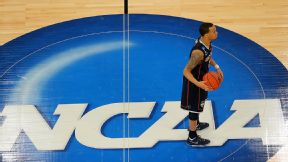 Adam Hunger/USA TODAY SportsAndy Katz and Seth Greenberg offer their thoughts on Kentucky vs. UConn.
Andy Katz and Seth Greenberg check in with newsmakers from around college basketball.