Daily Word: Cincinnati's test at Louisville
ideo1>
Every weekday, Andy Katz leads a panel of our college hoops experts in a discussion of the biggest issues, trends and themes happening in and around college basketball.
1. Cincinnati has played only one of the American powers. How far will Thursday's game at Louisville go in determining the Bearcats' legitimacy?
Andy Katz: The Bearcats don't have to win this game to gain more legitimacy in the eyes of the conference or the selection committee. Cincinnati has already earned respect and is a lock for a solid seed. The Bearcats will face Louisville at home, still play Memphis at home and then have two games against UConn. The Bearcats still own the inside track on the league title because Louisville lost at home to Memphis.
Myron Medcalf: It's an important game. But beating Pitt and winning at Memphis gave Cincy all the street cred it really needs. Its nonconference wins weren't great overall, but it's already proved something by rising to the top of the American.
Dana O'Neil: Cincinnati is legit, but of course there are doubters. A win at Louisville would help erase them. At this point, the Bearcats are also playing for their seed, and a quality road win would really add a shine to their résumé.
2. Is Nik Stauskas your Big Ten player of the year? If not, who is?
Katz: At this point, Stauskas has the award. But let's see how it plays out in the coming weeks. Gary Harris can still make a case if the Spartans can come back and win at Michigan. The Spartans should be healthy by then. But Stauskas has certainly put himself on the All-American list.
Medcalf: Has to be right now. He's the best guy on the best team in the Big Ten. And it's not like he has the luxury of playing with a premier big man who can draw defenders. Teams are pressuring him, and he's responding.
O'Neil: Right now it's Stauskas' award. He's been fantastic, especially considering the workload he's been given without Mitch McGary. I don't count out a late run by Michigan State's Gary Harris to make it interesting. List Iowa's Roy Devyn Marble as a solid dark horse.
3. Wisconsin, Iowa State and Ohio State went down again. Whose ship is sunk? Who can turn it around?
Katz: Iowa State will be fine. The Cyclones lost at Kansas and played well. Wisconsin lost at home to a surging Northwestern team and struggled to score. Ohio State lost at home in overtime to a weaker Penn State and couldn't guard D.J. Newbill -- even with Aaron Craft. Ohio State appears sunk right now. The other two can steer toward safe waters.
Medcalf: Call me crazy, but I can't count these teams out yet. Iowa State has lost to some good teams. Wisconsin has a great collection of wins despite its recent struggles. And Ohio State has the pieces and time to figure it out. But I think the Buckeyes are in more trouble than the rest.
O'Neil: All three can turn it around, but I have less and less confidence in Ohio State. The Buckeyes are so weak offensively, and there doesn't appear to be a remedy for that.
---
Earlier Words: 1/29 »1/28 »1/27 »1/24 »1/23 »1/22 »1/21 »1/20 »1/17 »
Games To Watch
Cincinnati at Louisville, 7 p.m. ET, ESPN


Cincinnati is the only undefeated team left in the American, but Louisville is leading the chase with only one conference loss. The first meeting between these teams should go a long way in determining how the race shakes out.
---
Florida at Mississippi State, 7 p.m. ET, ESPN2


Big news came down for Florida's program Wednesday, when much-talked-about freshman Chris Walker was cleared to participate. The Gators have to get by the Bulldogs on the road first before they'll see how Walker can help.
---
Purdue at Michigan, 9 p.m. ET, ESPN


It's difficult to argue that Michigan is the nation's hottest team after the Wolverines took down three top-10 teams in eight days. Purdue has meandered through its Big Ten schedule and has yet to beat a top-tier-conference team.
They Said It
Very proud of our team tonight earning a very tough road win! Always great hearing the UofA chants on the road! #BearDown

— Sean Miller (@UACoachMiller) Jan. 29, 2014
ESPNU Basketball Podcast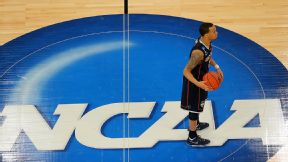 Adam Hunger/USA TODAY SportsAndy Katz and Seth Greenberg offer their thoughts on Kentucky vs. UConn.
Andy Katz and Seth Greenberg check in with newsmakers from around college basketball.