Daily Word: Which freshman will impress?
ideo1>
Every weekday, Andy Katz leads a panel of our college hoops experts in a discussion of the biggest issues, trends and themes happening in and around college basketball.
1. All six top freshmen will play Saturday. Who will we be talking about on Sunday?
Andy Katz: Syracuse's Tyler Ennis. He will have his hands full with Quinn Cook of Duke. But Ennis has proved that he's a player who excels in the last five minutes of a game. Expect him to make a decisive play to beat the Blue Devils and extend the Orange's undefeated streak.
Eamonn Brennan: If we're forced to pick one, I actually think Andy's choice of Ennis is dead on. I would expect each of the top players to have a big day Saturday, because they're all really good at basketball, but that Syracuse-Duke game is going to be a massive draw. If Ennis keeps up his habit of big games against big opponents, he'll have all eyes on him in the aftermath.
C.L. Brown: I'm thinking Kansas' Andrew Wiggins will continue to build on his momentum after back-to-back career-high scoring games (27 against TCU and 29 against Iowa State). That's not to say he'll top 30 against Texas, but it appears coach Bill Self will no longer have to prod Wiggins' to be aggressive offensively.
2. We enter the weekend with three undefeated teams. Will it stay that way?
Katz: Yes. Syracuse will escape over Duke. Wichita State will beat Evansville. Arizona will outlast Cal. The Bears have hit the skids lately.
Brennan: After what Duke did to Pittsburgh on Monday, and with five days for Coach K to prepare, it's awfully tempting to pick the Blue Devils against Syracuse, for a host of matchup reasons (3-point shooting, lack of turnovers and so on). But I think Syracuse will hold on by dominating on the glass. Wichita State and Arizona should be fine (emphasis on "should").
Brown: No, I think it's most likely going to be Syracuse losing because of the way Duke can shoot against that zone. But it may not stop there. Arizona looked awfully vulnerable at Stanford, and even though Cal is struggling now, the Bears are capable of having a shining moment. Evansville swept the Shockers last season, and D.J. Balentine is coming off a 43-point performance against Northern Iowa.
3. Kentucky is 2-5 away from Rupp Arena. What do the Wildcats have to do to win a road game?
Katz: Close. The Wildcats haven't played poorly, but they aren't closing games. LSU was in control late, but the miscues seem to catch up with Kentucky on the road much more than at home. The same was true at Arkansas. Guard play will determine if the Wildcats can win at Missouri. The Wildcats have the edge inside, but getting the ball inside and preventing a player from driving on them and getting to the basket will be major factors against Mizzou.
Brennan: Their defense is still a bit of a work in progress, and that never helps on the road in conference play. But more than anything Kentucky is still as a whole far less than the sum of its parts -- there just isn't a lot of cohesion and intuition in their offense right now. It's all about overpowering opponents with talent. That's especially tough outside your own gym.
Brown: The Wildcats have played only four true road games, and as Andy alluded to, they haven't figured out how to close out games -- especially when they're trying to rally from a late deficit. Just look at their breakdowns at the end of overtime against Arkansas (not boxing out) and against LSU (not fouling to extend the game). Kentucky is still learning on the fly.
---
Earlier Words: 1/30 »1/29 »1/28 »1/27 »1/24 »1/23 »1/22 »1/21 »1/20 »
Weekend Games To Watch
Ohio State at Wisconsin, Saturday, noon ET, ESPN


These two teams started the season a combined 31-0. Since then? They have combined to go 2-9. Both are coming off Wednesday losses that weren't supposed to be losses, and neither can afford to lose one more and fall into a deeper hole.
---
Kansas at Texas, 4 p.m. ET, ESPN


Kansas has won seven straight games and has already proved its ability to win on the road by beating Oklahoma and Iowa State. Texas is nipping at Kansas' heels and has won its last five, three of which came against ranked opponents.
---
Duke at Syracuse, 6:30 p.m. ET, ESPN


Not only is Syracuse one of three unbeaten teams left in the nation, but the Orange rule the ACC in their first year as members of the league. Duke will be looking to win one for the conference's "old guard" in a tough environment.
They Said It
I wish people would quit asking me is SK IS A PRO? Just watch us play!!!

— Mick Cronin (@CoachCroninUC) Jan. 30, 2014
ESPNU Basketball Podcast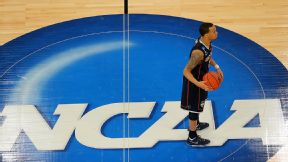 Adam Hunger/USA TODAY SportsAndy Katz and Seth Greenberg offer their thoughts on Kentucky vs. UConn.
Andy Katz and Seth Greenberg check in with newsmakers from around college basketball.