Daily Word: Will Syracuse have a letdown?
ideo1>
Every weekday, Andy Katz leads a panel of our college hoops experts in a discussion of the biggest issues, trends and themes happening in and around college basketball.
1. Syracuse and Duke played the game of the year on Saturday. How hard will it be for the Orange to get back on the floor Monday night to face Notre Dame?
Andy Katz: If Syracuse was playing a different team on another court, then I would say the Orange may have a letdown. But Notre Dame hasn't played well as of late and had to come back to defeat a beaten-down BC team in overtime. The Orange are playing too well at key positions and finish too well to fret much over this one.
Dana O'Neil: I think it will be difficult, but not so difficult that the Orange will lose. For starters, the game is at home and even if Syracuse sleepwalks early, the crowd will see them through. I also think this team is really good, so good that it can even overcome sluggish starts and mental hangovers.
Myron Medcalf: I think it will be difficult. That was a war. And it was as mentally draining as it was physically. Sure, Duke is much better than Notre Dame. But I won't be surprised if Cuse comes out rusty after a long weekend.
2. Does Marcus Smart's demeanor on the floor lately concern you?
Katz: Yes. Smart hasn't shown the type of leadership necessary to elevate Oklahoma State. He needs to calm down a bit and refocus his energy at times when he gets frustrated -- especially when he's getting pushed, pulled and tugged by opponents. If it weren't for the play of Markel Brown and at times Le'Bryan Nash, the Cowboys would be in a world of hurt right now. Smart is too talented and too much of a winner, though, to think he won't right his season -- and the Cowboys' -- soon.
O'Neil: It bothers me more than it concerns me. Smart was rightly heralded for making a mature, albeit risky, decision to go back to school, but now he's behaving in a thoroughly immature way. I can imagine it's difficult because he commands so much attention and opponents are being physical with him, but great players put their heads down and just play. That's what Smart needs to do.
Medcalf: Nah. His forced shots are a much bigger concern. He's always been a good leader, but he's frustrated for a lot of reasons. He's just not playing to his potential. And Stevie Clark's latest arrest won't help the team.
3. How much will Arizona miss Brandon Ashley? Are the Wildcats still a title contender? A Final Four team?
Katz: Ashley's injury takes away a versatile scoring/rebounding forward. But the Wildcats have depth with Aaron Gordon, Kaleb Tarczewski and Rondae Hollis-Jefferson. Yes, the Wildcats are more than Final Four worthy. They can win a title.
O'Neil: It's a blow and it definitely forces Arizona to regroup and reconfigure, but the strength of this team is its versatility. The Wildcats have options and depth, so no, I wouldn't count them out.
Medcalf: Well, they were a different team without him in the loss to Cal on Saturday. This team's frontcourt is not as strong now. But coach Sean Miller can throw Rondae Hollis-Jefferson into the starting rotation with minimal drop-off. This team can still make a run to the Final Four.
---
Earlier Words: 1/31 »1/30 »1/29 »1/28 »1/27 »1/24 »1/23 »1/22 »1/21 »1/20 »
Games To Watch
Notre Dame at Syracuse, 7 ET, ESPN


Syracuse is coming off the game of the year. It's safe to say the atmosphere in the Carrier Dome won't be quite the same as it was against Duke. The opponent won't be, either. ND has lost 6 of 8.
---
Iowa State at Oklahoma State, 9 ET, ESPN


Both teams stand at .500 in the ultra-competitive Big 12. The Cyclones have lost three in a row away from Hilton Coliseum. OK State has lost three of four.
They Said It
I will bounce back and be better. Proud of the way my team fought tonight and again I appreciate all the love and prayers. #beardown

— Brandon Ashely (@_Bash21) Feb. 2, 2014
ESPNU Basketball Podcast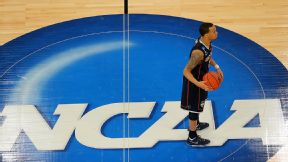 Adam Hunger/USA TODAY SportsAndy Katz and Seth Greenberg offer their thoughts on Kentucky vs. UConn.
Andy Katz and Seth Greenberg check in with newsmakers from around college basketball.