Daily Word: Franchise freshman?
ideo1>
Every weekday, Andy Katz leads a panel of our college hoops experts in a discussion of the biggest issues, trends and themes happening in and around college basketball.
1. If you had to start an NBA franchise around one -- and only one -- of these six standout freshmen, who would be your choice?
Andy Katz: That's a tough call. But I would go with Joel Embiid. I may regret that if Andrew Wiggins or Jabari Parker become a super star. But those positions are more plentiful. Embiid has the potential of becoming a game changer on the defensive end. He's only scratched the surface of what he could become in the years ahead. If his offensive game continues to progress, he'll be a long-time pro.
Eamonn Brennan: I think I'd have to say Embiid. It's far from a guarantee that he's going to be the best NBA player of the group, but as far as building a franchise, real-deal NBA All-Star-level centers come along once every, what, 10 years. And at this rate, how good will Embiid be in five?
C.L. Brown: As long as the game is centered around getting buckets, I'd be partial to players who are skilled offensively. And with the first pick, I'd take Parker. They all have tremendous upside, but I think he has more ways to score than the rest.
Katz: This shouldn't be disruptive. Walker is an immense talent and Billy Donovan isn't going to jeopardize what the Gators have going to feature him. He will use Walker as needed and won't siphon away key minutes from other big men just to get him on the floor if he's not effective. If Walker rebounds, defends and finishes on the offensive backboard, as well as uses some fouls to take pressure off Patric Young, he will have contributed well.
Brennan: Walker is super talented, but he's not going to displace Casey Prather or Patric Young. That said, not only does he give them another body, he gives Billy Donovan a handful of different looks to employ. And if he defends and rebounds, Donovan will put him to use.
Brown: This reminds me a lot of Louisville's Wayne Blackshear, who, because of injuries, didn't play his first game as a freshman until Feb. 11. And like Blackshear, who averaged seven minutes a game in 2011-2012, I think Walker will fill a reserve role that doesn't shake up what the Gators have already established. His presence just makes them deeper.
3. After a players-only meeting, Kentucky finally closed out a road game. Do the Wildcats look more like a team now than they ever have?
Katz: Yes. But assistant Orlando Antigua said the challenge of a young team is to get them to consistently compete and not be satisfied with a single-game effort. Antigua said the Wildcats will need to string together a few games of intensity and consistent competitiveness. Do all of that, then yes, they will be a team that can go deep next month.
Brennan: Eh. I take Kentucky's kids at face value that they really are trying to figure this whole "being a team" thing out. But the fact that they're in February and John Calipari is still rolling his eyes and begging his guys to care and be selfless is probably not the best sign.
Brown: Not really. One game doesn't mean much. But with road trips coming up against teams in the lower tier of the SEC (Mississippi State and Auburn), I believe the young Wildcats can continue to build their confidence to win away from Rupp. There's still time, albeit limited, for them to develop into that team we all expected to see in the preseason.
---
Earlier Words: 2/3 »1/31 »1/30 »1/29 »1/28 »1/27 »1/24 »1/23 »1/22 »
Games To Watch
Ohio State at Iowa, 7 p.m. ET, ESPN


Ohio State emerged as the victor against Wisconsin on Saturday in the battle of struggling Big Ten teams. Now, the Buckeyes have a chance to notch a quality road win at Carver-Hawkeye Arena. Iowa is 2-2 in its past four games.
---
Kansas at Baylor, 7 p.m. ET, ESPN2


Kansas showed it is not invincible on Saturday when the Jayhawks were outrebounded by Texas in an ugly loss. Did they learn their lesson or are they in for another road surprise against a Baylor team that just beat Oklahoma State?
---
Missouri at Florida, 9 p.m. ET, ESPN


All eyes will be on the Gators in this one as the long-awaited arrival of freshman Chris Walker is here. How will he fit in with a top-three team that hasn't lost since early December?
They Said It
Trevor Cooney to the rescue! 33 points, 9 threes carry No. 1 @Cuse (22-0) past Notre Dame, 61-55. #NDvsCUSE pic.twitter.com/9X0BJc4azd

— NCAA March Madness (@marchmadness) Feb. 3, 2014
ESPNU Basketball Podcast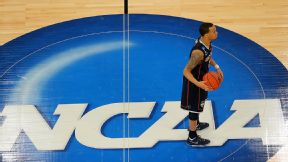 Adam Hunger/USA TODAY SportsAndy Katz and Seth Greenberg offer their thoughts on Kentucky vs. UConn.
Andy Katz and Seth Greenberg check in with newsmakers from around college basketball.