Daily Word: Shockers' weakness?
ideo1>
Every weekday, Andy Katz leads a panel of our college hoops experts in a discussion of the biggest issues, trends and themes happening in and around college basketball.
1. If Wichita State has an Achilles' heel, what is it?
Andy Katz: A team with great size and length could be a problem for Wichita State. The Shockers can beat a team off the dribble and make shots, but how they handle foul issues in the post is a question. This team has been tested and has played from behind in games, but can it do so against stronger competition? That is still a question mark.
Dana O'Neil: The Shockers can and have handled all sorts of competition in the past year, so I'm not sure there is a formula to beating them. Certainly, teams from higher-caliber conferences have bigger guys inside, and that could be trouble
Myron Medcalf: The Shockers haven't been golden from the 3-point line. They're shooting 33.5 percent from beyond the arc in Missouri Valley play, eighth in the league. But Wichita State's defense is so good and its offense is so versatile that it continues to prove that its weaknesses are few.
2. We know Virginia plays impressive defense, but do the Cavs have what it takes on offense to play deep into March?
Katz: Yes. This team has strong guards who aren't afraid to take the big shot or drive the ball. Malcolm Brogdon was a perfect example at Pitt. The Cavs don't have to wait for Joe Harris to bail them out. They have multiple options who aren't timid. They may keep the score low, but the shot selection is still high.
O'Neil: Virginia has enough since Joe Harris is no longer a one-man show, but frankly the Cavs' defense is so good it forgives the offensive woes. So long as Virginia can dictate tempo, it will give teams trouble.
Medcalf: Virginia is currently ranked 89th in adjusted offensive efficiency per Ken Pomeroy. Last season, Florida Gulf Coast, now recognized as "Dunk City" following its Sweet 16 run, finished 104th. Virginia has defeated the bulk of its ACC opponents by double digits. The Cavs won't drop 100 points anytime soon, but they can produce enough offense to win some games in March.
3. What has Ohio State proved in its last two wins?
Katz: That this team doesn't quit. OSU grew up quite a bit on the road this week. They handled the pressure and stuck together. Credit the staff and the upper-class leadership. Winners.
O'Neil: It proves that news of the Buckeyes' death is premature. This team is always going to have offensive inefficiencies, but if Ohio State takes its cue from Aaron Craft and plays with energy and plays hard on defense, it can get back on track.
Medcalf: They've proven that they're not viewing their season the way many have thus far. It's not over for the Buckeyes. Their defense is beginning to look like the defense Thad Matta's program employed earlier this season. And Lenzelle Smith Jr. and LaQuinton Ross are becoming more reliable offensive threats. It's not easy to win on the road, especially in the Big Ten.
---
Earlier Words: 2/4 »2/3 »1/31 »1/30 »1/29 »1/28 »1/27 »1/24 »1/23 »
Games To Watch
Boston College at Virginia, 7 p.m. ET, ESPN2


Virginia hasn't been getting much buzz, but the Cavaliers have come a long way since losing to Green Bay and being blown out by Tennessee. They are the top defensive team in the country as they allow just 55.5 points per game.
---
Wichita St. at Indiana St., 8:05 p.m. ET, ESPN3


This could be the toughest hurdle left in Wichita State's path to an undefeated regular season. The Sycamores sit alone in second place in the Missouri Valley standings. When the two teams met in Wichita, the Shockers left with a 20-point win.
---
Louisville at Houston, 9 p.m. ET, ESPNU


The defending national champions are alone in second place in the American standings, chasing Cincinnati. Second-leading scorer Montrezl Harrell is in the nation's top 10 in field goal percentage, converting on 62.3 percent of his attempts.
They Said It
"Now Wiggins from half court - GOT IT." #SCTop10 http://es.pn/1iqwiwy

— ESPN College BBall (@ESPNCBB) Feb. 4, 2014
ESPNU Basketball Podcast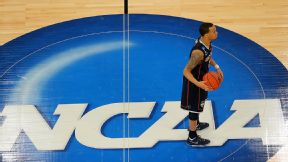 Adam Hunger/USA TODAY SportsAndy Katz and Seth Greenberg offer their thoughts on Kentucky vs. UConn.
Andy Katz and Seth Greenberg check in with newsmakers from around college basketball.