Daily Word: What fuels Cincinnati?
Every weekday, Andy Katz leads a panel of our college hoops experts in a discussion of the biggest issues, trends and themes happening in and around college basketball.
1. Cincinnati has its highest ranking in 10 seasons. What makes the Bearcats so hard to beat?
Andy Katz: This team is led by men. The Bearcats have a presence about them. They don't wilt. They are as tough a team as any in the country. Experience matters.
Eamonn Brennan: They're not dissimilar from San Diego State: They guard like crazy, and, when games are close, they rely on capable senior guards to take things home. The Aztecs have Xavier Thames; Cincinnati has Sean Kilpatrick. There are limits here, but when you defend this well, you can mask them.
C.L. Brown: The Bearcats are so tough defensively. Take a guy like 6-foot-7 forward Titus Rubles. When he gets switched on a pick and has to defend a smaller guard, he can do it. Opponents find it hard to create a mismatch to their advantage. That's why Cincinnati is fourth nationally in scoring defense (56.7 points per game).
2. Arizona hasn't topped 70 points in its past four games. Does that concern you?
Katz: Yes, and that was before the season-ending injury to Brandon Ashley. Nick Johnson is not going to go 1-for-14 again, but the Wildcats need to get some bench scoring, whether that's from the perimeter or inside. There needs to be at least one more reliable scorer.
Brennan: Nah. Arizona is the best defensive team in the country; if anyone is equipped to win games below the 70-point barrier, it's the Wildcats. If a game against Arizona is being played at a slow pace (say, 60 possessions), chances are you are going to put fewer points on the board per trip than they are. The resulting count is less important than how efficiently the Wildcats score on the other end.
Brown: Arizona is now 8-1 in games it doesn't score 70, so, no, that's not a concern. But they will probably have to get used to it, as teams have decided playing a slower pace is the way to have a chance at beating Zona. Utah averages nearly 80 points per game but scored just a season-low 56 because it didn't want an up-and-down game versus the Cats.
Katz: Book it. I'm not believing in Northern Iowa Saturday. I see the Shockers going undefeated into the Missouri Valley tournament. I'm not sure I see a real challenger in the Valley tourney, either. I project the Shockers will be the first undefeated team entering the NCAA tournament since the 1991 UNLV Runnin' Rebels.
Brennan: On Wednesday, ESPN's Basketball Power Index (BPI) had the Shockers at about 51 percent before Indiana State; after that win, Ken Pomeroy's projection math gave it about a 56 percent chance. In other words, the odds are good -- much higher than they've been for any team in a long, long time.
Brown: On paper, Wichita State should probably finish the regular season unbeaten. Missouri State is the only team with a winning conference record the Shockers still have to face. But I don't think they get it done. Every team has an off night, when the calls seem to all go in favor of the opposition and the shots don't fall. With four road games left, my guess is it happens on one of those nights.
---
Earlier Words: 2/5 » 2/4 » 2/3 » 1/31 » 1/30 » 1/29 » 1/28 » 1/27 » 1/24 »
Games To Watch
Michigan at Iowa, Saturday, 2 p.m., ESPN


Michigan bounced back from its loss at Indiana by pounding Nebraska at home. After 12 straight games of scoring in double figures, Nik Stauskas has just 15 total points in the Wolverines' past two games.
---
Gonzaga at Memphis, Saturday, 9 p.m., ESPN


This rare nonconference game provides both teams with an opportunity to post a solid résumé-building victory outside of league play. Gonzaga has dominated the West Coast Conference, but how much will that mean to the selection committee?
---
Clemson at Syracuse, Sunday, 6 p.m., ESPNU


Clemson isn't the most dangerous team left on Syracuse's schedule, but any time the No. 1 team in the country takes the floor, it's worth noting. The Tigers are one of the best defensive teams in the country, allowing 55 points per game.
They Said It
Still undefeated! No. 4 @GoShockers hold off Indiana State, 65-58, to move to 24-0. #ncaaMBB

— NCAA March Madness (@marchmadness) Feb. 5, 2014
ESPNU Basketball Podcast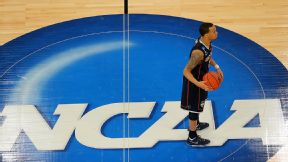 Adam Hunger/USA TODAY SportsAndy Katz and Seth Greenberg offer their thoughts on Kentucky vs. UConn.
Andy Katz and Seth Greenberg check in with newsmakers from around college basketball.