Daily Word: Marcus Smart's punishment
video1>
Every weekday, Andy Katz leads a panel of our college hoops experts in a discussion of the biggest issues, trends and themes happening in and around college basketball.
1. Was Marcus Smart's suspension the appropriate length?
Andy Katz: Yes. Three games is a significant hit for him and the team. But if Oklahoma State wanted to put even more teeth in the punishment, they could have prevented him from practicing too. His apology was sincere, but he still needs to answer why he allegedly told a radio staffer that he heard a racial slur.
Dana O'Neil: Yes. It needed to have some substance to send the proper message that his behavior was not tolerable but also allow Smart a chance to rebuild himself and his reputation before the season is out.
Myron Medcalf: I think the punishment fits the crime. But a lengthier suspension wouldn't have been an injustice. Jeff Orr crossed the line by shouting at a 19-year-old, but there's no room in this game for Smart's response.
2. How will Oklahoma State fair over the next three games without Smart?
Katz: The Cowboys will likely lose at Texas. The Oklahoma game in Stillwater then becomes a massive game for the Pokes. OSU needs to get that one before a road game at Baylor. I will say a 1-2 stretch.
O'Neil: It's hard to imagine things will go well for the Cowboys without Smart since they haven't been going terribly well with him. Sometimes teams rally around adversity and find a new purpose in a season going terribly awry. But with three tough opponents, including two on the road, that's a tall order for Oklahoma State.
Medcalf: Well, the Pokes weren't too hot with him. They had just lost to Texas Tech when Smart was available, so more stumbles seem likely, especially since they're at Texas, versus Oklahoma and at Baylor during this three-game stretch. This team's NCAA tournament hopes become slimmer by the day.
3. What do you expect from Smart when he returns?
Katz: Smart will come back more focused. He will still be intense but will be more selective with his shot. He needs to reshape his image, and this is his chance to lead OSU back into the NCAA tournament. He needs to do this for NBA personnel decision-makers too.
O'Neil: That will be interesting. Hopefully, he will find a way to still play with passion and fire but temper his emotions and channel them properly. Smart can't afford to play like a zombie because he's fearful that everyone will be watching his every move. Yet at the same time, he has to be conscious of where the line is and not dare to even come close to it.
Medcalf: I think Smart will learn from this and change his ways. I think he'll be focused on basketball. But he's such a gamer that he might try to carry too much of the load when he comes back. He returned for his sophomore season, in part, because he wanted to lead his team to the Final Four. They're so far from that dream that Smart might feel like he has to do everything once he's back, which wouldn't be good for Oklahoma State.
---
Earlier Words: 2/7 » 2/6 » 2/5 » 2/4 » 2/3 » 1/31 » 1/30 » 1/29 » 1/28 » 1/27 »
Games To Watch
Iowa State at West Virginia, Monday, 7 p.m. ET, ESPNU


Iowa State has snapped out of its midseason funk with three straight Big 12 wins. West Virginia saw its three-game winning streak end at the hands of Kansas in Lawrence on Saturday.
---
Kansas at Kansas State, Monday, 9 p.m., ESPN


Kansas served up a healthy helping of humble pie in the season's first edition of the Sunflower Showdown, beating Kansas State 86-60, but the Wildcats have won 12 straight at home and are coming off a 74-57 win over Texas.
---
Maryland at Virginia, Monday, 9 p.m., ESPNU


At 10-1, Virginia is off to its best start in ACC play since 1982, when Ralph Sampson was patrolling the paint for the Cavaliers. Maryland is entering the teeth of its league schedule, and the Terps are desperate to stay on the right side of .500 in the ACC.
They Said It
I know we say this every year, but the Selection Committee will have some difficult decisions to make in the coming weeks.

— Myron Medcalf (@MedcalfByESPN) February 10, 2014
ESPNU Basketball Podcast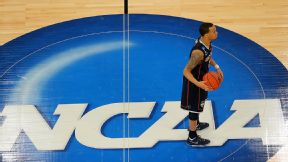 Adam Hunger/USA TODAY SportsAndy Katz and Seth Greenberg offer their thoughts on Kentucky vs. UConn.
Andy Katz and Seth Greenberg check in with newsmakers from around college basketball.