Daily Word: Life without Marcus Smart
video1>
Every weekday, Andy Katz leads a panel of our college hoops experts in a discussion of the biggest issues, trends and themes happening in and around college basketball.
1. We can talk off-the-floor implications all day, but how will Marcus Smart's absence affect Oklahoma State against Texas?
Andy Katz: This will be the ultimate test for Le'Bryan Nash. He came to Oklahoma State with a slew of hype. He had an erratic freshman season but really settled in as a complement to Smart a year ago and this past season. Nash will be a much more featured player and could flourish or flail in that role. The Longhorns also don't know yet if Jonathan Holmes can play due to injury. So OSU may catch a break.
Myron Medcalf: Well, they're going to Austin without their star. That's a problem. Isaiah Taylor is a solid young guard that the Pokes might struggle to defend. Plus, facing the Longhorns without Smart will limit their ability to attack Cameron Ridley and Jonathan Holmes at the rim.
C.L. Brown: The Cowboys will have to rely on players who have played just sparingly this season as they no longer boast a deep rotation -- eight players averaged 15-plus minutes per game, now they're down to five. Here's where Markel Brown, as the lone senior in the rotation, has to make his presence felt.
2. Which matchup are you most looking forward to seeing in Michigan versus Ohio State?
Katz: Nik Stauskas against the Ohio State defense. Stauskas must get unleashed in this game for a few critical buckets if the Wolverines are going to win in Columbus. He hasn't been the same efficient shooter in the past three games. The Wolverines got worked at Iowa. If they are going to steal this one, Stauskas has to find his rhythm like he did at Michigan State.
Medcalf: Probably Stauskas-Aaron Craft. Stauskas has been struggling lately and that's clearly played a part in Michigan's two losses in its past three games (8.3 PPG). And now he has to deal with another headache in Craft.
Brown: Michigan's Caris LeVert versus Ohio State's Lenzelle Smith Jr. in a battle deciding which supporting cast is better. LeVert has been on a roll the past five games since being held to five points in the win over Iowa. Smith is the team's second-leading scorer although his production decreased to 9.7 points per game in conference play.
3. Is Xavier Thames the unquestioned player of the year in the Mountain West?
Katz: Yes. Cameron Bairstow can make a strong case at New Mexico. The only way Thames blows this is if he flops in the two games with the Lobos. Thames continues to make money plays for the Aztecs, who will need more of them to win at Wyoming.
Medcalf: Yes. I don't think it's close. He's been so vital for Steve Fisher on both ends of the floor. He can guard multiple positions and he's the best offensive player on the court every night. He deserves it.
Brown: Thames has to be the front-runner. But like Andy, I believe New Mexico has a candidate, but we differ on the player. Guard Kendall Williams ranks fourth in the Mountain West in scoring and is first in assists and steals. Should the Lobos finish strong with wins over the Aztecs, Williams would have to be given strong consideration.
---
Earlier Words: 2/10 » 2/7 » 2/6 » 2/5 » 2/4 » 2/3 » 1/31 » 1/30 » 1/29 » 1/28 »
Games To Watch
Florida at Tennessee, 7 p.m. ET, ESPN


The last time these two teams met, it wasn't pretty for the Volunteers. Florida allowed Tennessee to score just 41 points -- a season low. The Volunteers also shot just 1-for-19 from 3-point range, but this time the game is in Knoxville.
---
Oklahoma State at Texas, 7 p.m. ET, ESPN2


All eyes will be on Oklahoma State as the Cowboys begin their three-game stretch without Marcus Smart, who was suspended for shoving a fan in their loss to Texas Tech. Meanwhile, the Longhorns took a step back Saturday when they were routed by Kansas State.
---
Michigan at Ohio State, 9 p.m. ET, ESPN


It's hard to imagine the only meeting between these two teams will top either of the showdowns from last season. After floundering, Ohio State has found its footing and won three in a row, but offensive questions continue to linger.
They Said It
K S U

WILDCATS!!!!!!! Great game in the Little Apple!

— terence newman (@terencenewman) February 10, 2014
ESPNU Basketball Podcast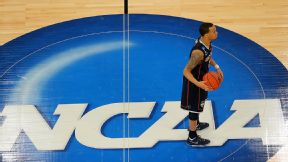 Adam Hunger/USA TODAY SportsAndy Katz and Seth Greenberg offer their thoughts on Kentucky vs. UConn.
Andy Katz and Seth Greenberg check in with newsmakers from around college basketball.