Daily Word: Can UNC maintain momentum?
video1>
Every weekday, Andy Katz leads a panel of our college hoops experts in a discussion of the biggest issues, trends and themes happening in and around college basketball.
1. Where's the biggest mismatch in Duke-North Carolina?
Andy Katz: If the Tar Heels rebound the way they did earlier in the season, when they beat Louisville and Michigan State, then it is inside. North Carolina has the size advantage with Kennedy Meeks, Brice Johnson and James Michael McAdoo, who is playing his best basketball of the season. Jabari Parker is an exceptional rip-and-run player, grabbing a rebound and initiating the offense himself. UNC's bigs will need to prevent him from starting a one-man fast break.
Dana O'Neil: Besides the obvious -- there is no one in a Tar Heels uniform even close to Parker's talent -- the biggest mismatch comes where it always does for the Blue Devils -- inside. North Carolina can hit the glass hard, and if Duke can't, that could make things interesting.
Eamonn Brennan: Probably on Duke's defensive glass. UNC, for all of its various offensive woes, rebounds nearly 40 percent of its misses in ACC play. The Blue Devils rank seventh in defensive rebounding rate. Whether that imbalance is enough to give North Carolina an advantage against a peerless Duke offense remains a huge question. But it can't hurt.
2. Syracuse continues to lean on Tyler Ennis late in games, but where do the Orange go if he has an off night?
Katz: That may be their Achilles' heel. Still, if the Orange can get the ball to C.J. Fair, he is more than capable of making a play. He has the utmost confidence in his game. A baseline jumper or quick drive are both well within his range.
O'Neil: The reason Ennis has been so effective in late games is he has so many options, so if he's having an off night as a scorer, there are plenty of places for the Orange to go. Fair is a pretty good choice and can get to the rim on his own if, for some reason, Ennis can't get the ball to him.
Brennan: Fair is a pretty good candidate, as is Jerami Grant. And of course there's always Trevor Cooney, right? Point is, Tyler Ennis is a profoundly calm and careful late-game player, but Syracuse is still unbeaten because it is so talented and so adaptable.
3. Is Oklahoma State's season beyond saving?
Katz: No. The Cowboys play in the toughest conference in the country with plenty of opportunity for quality wins. If OSU can get on any kind of a winning streak against the right teams when Marcus Smart returns, and show well in the Big 12 tournament, it can still make it work. All hope is not lost yet.
O'Neil: Not quite but not far off. The selection committee will put an asterisk next to these three games without Smart, but the catch is, the Cowboys haven't been playing exactly well with him in the lineup. Oklahoma State has to survive for two more games and then hope that when Smart returns, it re-energizes and refocuses a team that has lost its way. Salvaging things will take a late -- and really hard -- push.
Brennan: That's too harsh. The Cowboys merely need to hold the line in their next three games and then turn some kind of corner when Marcus Smart comes back, and I don't think either feat should be considered impossible. The tournament is everything. As long as they get there, redemption is within reach.
---
Earlier Words: 2/11 » 2/10 » 2/7 » 2/6 » 2/5 » 2/4 » 2/3 » 1/31 » 1/30 » 1/29 »
Games To Watch
Syracuse at Pittsburgh, 7 p.m. ET, ESPN


When these two teams met at the Carrier Dome, Syracuse trailed with less than five minutes remaining but leaned on freshman point guard Tyler Ennis to carry it to victory. Will a change of venue tip things in Pitt's favor?
---
Duke at North Carolina, 9 p.m. ET, ESPN


North Carolina has won five straight games, but the competition hasn't been stellar. In fact, the Tar Heels haven't defeated a ranked team since December. They have, however, shown an ability to rise to the occasion in big moments.
---
UCF at Memphis, 9 p.m. ET, ESPNU


Memphis used a 10-0 run to end the game and beat Gonzaga over the weekend. Now it's back to conference play for the Tigers. They're two games behind conference leader Cincinnati and need to win games like this one to stay within shouting distance.
They Said It
Tough game but that's what you got teamates for! il take the w any day. #shockernation #family 26-0 back to work to get ready for sunday!

— Fred Van Vleet (@FredVanVleet) February 11, 2014
ESPNU Basketball Podcast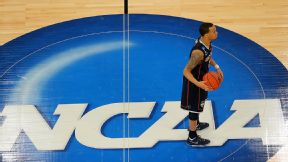 Adam Hunger/USA TODAY SportsAndy Katz and Seth Greenberg offer their thoughts on Kentucky vs. UConn.
Andy Katz and Seth Greenberg check in with newsmakers from around college basketball.