Daily Word: Who will be the No. 1 seeds?
Every weekday, Andy Katz leads a panel of our college hoops experts in a discussion of the biggest issues, trends and themes happening in and around college basketball.
1. A month from today, when the NCAA field is official and complete, who will be the four No. 1 seeds?
Andy Katz: Syracuse, Florida, Wichita State and Arizona. Kansas will make a late push because of a potential Big 12 title. Arizona may lose another game or two, but the road/neutral wins over San Diego State, Michigan, Duke and UCLA have tremendous shelf life. Florida played a terrific schedule and will win the SEC handily. Syracuse has the road/neutral wins, even if it were to lose the ACC to Virginia. Wichita State will go undefeated and be hard to deny.
Dana O'Neil: I'm pretty solid on this, even a month out: Syracuse, Arizona, Wichita State and Florida deserve the top spots. It's already Feb. 17, and choosing outside of this quartet is in danger of becoming prisoner of the moment. These four have distinguished themselves, not just in the past month, but for the entire season, and deserve the top spots.
C.L. Brown: Florida, Wichita State, Syracuse and Michigan State. The committee will have to weigh Arizona's record without Brandon Ashley and I believe the Wildcats are headed for more trouble down the stretch. The Big Ten or Big 12 champion, which I believe are the best two conferences this season, should be rewarded. In this case, I think the Spartans get healthy and get it done.
2. Oklahoma State and Baylor have had their troubles. Will either, neither or both be in the NCAA field?
Katz: Both. That may sound crazy but OSU still has opportunities ahead in the Big 12, and Marcus Smart will be refocused when he returns. Baylor has a few more chances, too. The Bears have the lifeline to pull it off. And the overall strength of the Big 12 will pull them through. Hey, someone has to be in the field.
O'Neil: I'd say neither. I know Baylor won this weekend, but the Bears have a way sub-.500 conference record, abysmal losses and only a little to negate them. Frankly, Oklahoma State has a better chance to redeem itself. The Cowboys' record sans Marcus Smart will have an asterisk in the committee's eyes. So if Smart returns and OSU plays well, that will have more sway.
Brown: If either team could get to .500 in the Big 12, I think they would receive a bid. Problem is, with both sporting identical 4-8 records in the league, I don't see either winning five out of six games to secure that finish. At the least, I consider Monday's matchup of the Cowboys and Bears an elimination game.
3. North Carolina has a busy week ahead. When the week is over, what will the Tar Heels need to have done for it to be considered a success?
Katz: North Carolina will be 2-1 after winning home games against Duke and Wake Forest but losing a late-possession game to start the week at Florida State. The Tar Heels will re-emerge as a legit second-weekend team in the NCAA tournament and one that can be seen as a danger. James Michael McAdoo and Marcus Paige will be seen as a 1-2 dynamic punch with the ability to change the offensive narrative of a game.
O'Neil: The Tar Heels have pulled themselves away from the brink of disaster, but that doesn't mean they can afford bad losses. Florida State and Wake Forest would be bad losses. Even though the Duke game is at home, there is no tragedy in losing that one; but the other two have to be W's for North Carolina to come away a success.
Brown: Beating Florida State and Wake Forest would make it a good week, because it would signify the Tar Heels really have changed from the beginning of the season when they were prone to letdowns. A win over Duke would make the week great because it would mean the Heels are angling toward a chance to play their opening NCAA tournament games in Raleigh.
---
Earlier Words: 2/14 » 2/13 » 2/12 » 2/11 » 2/10 » 2/7 » 2/6 » 2/5 » 2/4 » 2/3 » 1/31 »
Games To Watch
North Carolina at Florida State, 7 ET, ESPN


After losing three of four, North Carolina has rattled off six straight wins. But this starts a busy week for the Tar Heels, who travel to Florida State, then host Duke and Wake Forest in a six-day stretch.
---
Oklahoma State at Baylor, 9 ET, ESPN


Talk about two teams that desperately need this win. Oklahoma State has lost six in a row. This will be the Cowboys' last game without Marcus Smart, who returns from suspension Saturday against Texas Tech. Baylor, after its own meltdown when it lost 8 of 10, has won two in a row.
They Said It
Doug McDermott passes Larry Bird in scoring as Creighton beats Nova http://es.pn/1kMHAP4 pic.twitter.com/0QYXrwQbi7

— ESPNU (@ESPNU) Feb. 16, 2014
ESPNU Basketball Podcast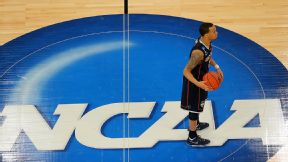 Adam Hunger/USA TODAY SportsAndy Katz and Seth Greenberg offer their thoughts on Kentucky vs. UConn.
Andy Katz and Seth Greenberg check in with newsmakers from around college basketball.