Can Duke solve Syracuse riddle in Round 2?
Every weekday, Andy Katz leads a panel of our college hoops experts in a discussion of the biggest issues, trends and themes happening in and around college basketball.
1. What can Duke learn in the film room from its last loss to Syracuse?
Andy Katz: Nothing the Blue Devils didn't already know. Duke made shots, especially 3s, in the close loss at Syracuse. The game plan won't change at Cameron. They will attack the zone by driving, and will try to create openings for 3s. Syracuse will be ready to bounce back after the Boston College loss. The Orange have the poise to handle a road environment, even one as tough as Cameron.
Dana O'Neil: Put Jabari Parker at the high post. He started the game down low and got clobbered repeatedly by the back of the Syracuse zone. Once coach Mike Krzyzewski moved him, he was more effective, and Duke needs Parker to be effective to win.
C.L. Brown: Unless Syracuse uncharacteristically breaks out in man-to-man, I'm with Andy. Duke didn't need to learn anything new. If anything, the formula for beating the Orange's zone got reinforced from watching Boston College go against it. If the Blue Devils can penetrate and kick out, they'll get open shots.
2. Which bubble team needs a win most this weekend?
Katz: I've got two. St. John's has positioned itself into the conversation for a bid. A win at Villanova could potentially clinch it for the Red Storm after they beat Creighton. But Ole Miss especially needs a win over an elite team. The Rebels blew a chance to beat Kentucky. Handing Florida its first loss in the SEC would give Ole Miss a jolt to do more in the final few weeks and in the SEC tournament.
O'Neil: St. John's. The Red Storm have done everything right to get in the conversation. A win against Villanova on the road, partnered with a win against Creighton at home, ought to make things a little more secure for Steve Lavin's squad.
Brown: Oklahoma State. The Cowboys still have a chance to change the narrative of their late-season collapse. That begins with beating Texas Tech on Saturday. It's not so much that it would be a résumé boost, but the Cowboys have to stop their seven-game losing streak.
3. Which conference title race will be more clear on Monday morning?
Katz: The American. If Cincinnati beats Louisville, the Bearcats are likely to win the conference's regular-season title because of the sweep over the Cardinals. Cincinnati's schedule isn't easy, with a road game at Connecticut and a home game against Memphis, but beating Louisville would make it hard for the Cardinals to recover in the final two weeks.
O'Neil: It won't be crystal clear, but believe it or not, I'm going with the ACC. I know Syracuse still has a tough road ahead, but I think the Orange will beat Duke on Saturday and Maryland on Monday. Losing to Boston College was exactly what Syracuse needed to refocus; losing to North Carolina is exactly what the Blue Devils didn't need. The combination will make this a two-horse race between Syracuse and Virginia.
Brown: Atlantic 10. If Saint Louis beats George Washington, it will own at least a three-game lead with four games to go. That includes a winnable home date with Duquesne, which remains in the bottom third of the league. So even if the Billikens drop three straight to end the regular season, they'll still own at least a share of the title.
---
Earlier Words: 2/20 » 2/19 » 2/18 » 2/17 » 2/14 » 2/13 » 2/12 » 2/11 » 2/10 » 2/7 »
Games To Watch
Syracuse at Duke, Saturday, 7 ET, ESPN


These teams' first meeting provided what many are calling the best game of the regular season to date. Syracuse walked away with an overtime win. The Orange, though, are no longer undefeated. Will a change in venue tilt things in Duke's favor?
---
Texas at Kansas, Saturday, 7:30 ET, ESPNU


Texas used its size and strength to handle Kansas in Austin. The two are a combined 7-3 since that game and are battling for Big 12 supremacy. Another win for the Longhorns would pull them one game closer to first place.
---
Arizona at Colorado, 9 ET, ESPN


Arizona took the first meeting in Tucson as the Buffs were still reeling from the loss of leading scorer Spencer Dinwiddie. Brandon Ashely -- who has since been lost for the season -- had 15 points for the Wildcats that night.
They Said It
From end of #UNCBall win vs. Duke to rushing the court & final 'Jump Around' ... the Dean Dome was special tonight: http://bit.ly/1jTPcPE

— GoHeelsTV (@GoHeelsTV) Feb. 21, 2014
ESPNU Basketball Podcast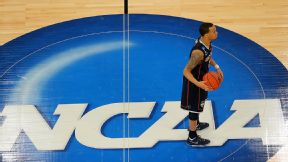 Adam Hunger/USA TODAY SportsAndy Katz and Seth Greenberg offer their thoughts on Kentucky vs. UConn.
Andy Katz and Seth Greenberg check in with newsmakers from around college basketball.