Daily Word: Bubble games for Arkansas, Oregon
Every weekday, Andy Katz leads a panel of our college hoops experts in a discussion of the biggest issues, trends and themes happening in and around college basketball.
1. Does Arkansas need to beat Kentucky to get into the bubble conversation?
Andy Katz: Yes. And even then, I don't see how Arkansas gets in the field. The Hogs have hardly been a team of consistency. A sweep of Kentucky would at least give Arkansas something to shout about. LSU nearly did it but blew the game at Rupp.
Eamonn Brennan: At the outside. Even then, it's not like the Razorbacks' profile is going to look great. Their chances have more to do with an ever-softening bubble, where teams like Missouri utterly refuse to finish the job.
Myron Medcalf: Arkansas' résumé won't be overwhelming even if it sweeps Kentucky. Two wins over the Wildcats, a neutral-site victory over Minnesota and a November win against SMU won't guarantee anything for Mike Anderson's program. But the bubble is so soft, anything could happen.
2. Iowa has lost two straight. Are the Hawkeyes headed in the wrong direction?
Katz: The Hawkeyes have hit a rough patch. But they have the experience to win the Big Ten tournament and make a deep run in the NCAAs. Iowa is the type of team that needs to see a nonconference opponent again. This team may feel a sense of freedom getting out from this schedule, one of the toughest, if not the toughest, in the Big Ten.
Brennan: No, they're mostly fine, because a loss at Minnesota in conference play is a reasonable loss to suffer. To me, the Wisconsin loss at home Saturday -- despite how much better the Badgers are -- is more concerning. Iowa still has the same problem, which is that it has let good wins slip through its fingers, and may end up underseeded in March because of it.
Medcalf: Yes, they are. But there might be a correlation between the slide and Melsahn Basabe's stomach illness. That's not an excuse, though. Iowa is failing to finish games and that's the issue that plagued the program last season. There's still time, however, for the team to build more momentum entering the Big Dance.
3. Is Thursday's game at UCLA a must-win for Oregon?
Katz: I wouldn't say a must-win. Oregon has four games left. Going 3-1 would put the Ducks into the field. But the one loss can't be USC. If Oregon were to beat Arizona, Arizona State and USC, the Ducks can make March plans. If they can get the UCLA win, an Arizona victory won't be a must.
Brennan: It's pretty close. Not only would it give the Ducks a high RPI road win, but it would help them get closer to .500 in the Pac-12, which is a thing they should probably do if they want to play in the tournament.
Medcalf: I think the bigger concern is that March 1 matchup at USC. That's a can't-lose. But a 2-2 finish in a four-game stretch that features three possible NCAA tourney teams (Arizona, Arizona State and UCLA) would boost their chances.
---
Earlier Words: 2/26 »2/25 » 2/24 » 2/21 » 2/20 » 2/19 » 2/18 » 2/17 » 2/14 » 2/13 »
Games To Watch
Arkansas at Kentucky, 7 ET, ESPN


Who could forget the way the game finished the previous time these two teams met? After Kentucky sank two desperation 3-pointers, Arkansas' Michael Qualls slammed home a putback dunk at the buzzer. The rematch, though, is at Rupp Arena.
---
Iowa at Indiana, 9 ET, ESPN


This game was originally scheduled for Feb. 18, but structural problems at Indiana's Assembly Hall forced the postponement. Both teams are making a short turnaround after losses. Indiana fell to Wisconsin on Tuesday, and Iowa lost at Minnesota.
---
Oregon at UCLA, 11 ET, ESPN2


This game is much more valuable for Oregon than it is for UCLA in terms of tournament résumés. The Ducks were listed in Joe Lunardi's next four out on Monday. It's safe to say a win at Pauley Pavilion would help their case.
They Said It
ICYMI: Michigan's Glenn Robinson III hits a buzzer-beater in OT to beat Purdue, where his dad was a star player. » http://youtu.be/XOO0g4SxygI

— SportsCenter (@SportsCenter) Feb. 26, 2014
ESPNU Basketball Podcast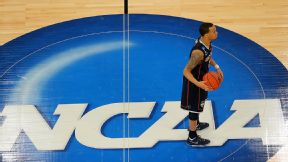 Adam Hunger/USA TODAY SportsAndy Katz and Seth Greenberg offer their thoughts on Kentucky vs. UConn.
Andy Katz and Seth Greenberg check in with newsmakers from around college basketball.