Daily Word: ACC's defensive battle
Every weekday, Andy Katz leads a panel of our college hoops experts in a discussion of the biggest issues, trends and themes happening in and around college basketball.
1. Syracuse and Virginia are both top-10 defensive teams. Where's the offense going to come from on Saturday?
Andy Katz: Both teams can score. Syracuse will need to move the ball quickly against the pack line defense of Virginia. The Virginia guards are strong, long and able to find the seams against the zone. The key will be whether the Cavs can rebound within the zone. First one to 60 wins?
Dana O'Neil: Good question, especially for a Syracuse team that's been struggling offensively lately. My guess is whoever can win the battle of the boards and get easy putbacks or push transition will have the edge, but it will be the slimmest of advantages.
C.L. Brown: Offense will be limited only because the pace won't be pushed. This Syracuse team is on pace to be the lowest scoring Orange team since Jim Boeheim was a freshman in 1962-63, according to the Syracuse Post-Standard. The Cavs have won seven of their eight home games in conference play by more than 10 points. They average 66.9 points in ACC games and I see no reason why that won't continue against the Orange.
2. Missouri State is the only team to take Wichita State to overtime. Was it a fluke or do the Bears know something the rest of the Valley doesn't?
Katz: It wasn't a fluke. The Bears caught the Shockers at the right time when they were ripe to be beat. The game was at Missouri State, too. But this is senior day at Wichita State with a perfect regular season on the line. No shot.
O'Neil: Fluke probably is unfair but I don't see it happening again. Missouri State shot insanely well in the first half to build that 19-point lead and I can't imagine that being replicated here. More, I can't imagine Wichita State, which has done so much on its march toward history, laying an egg in its last regular-season game at home.
Brown: It wasn't a fluke, but any team can turn into a world beater at home. But on the road, where Missouri State has won just one conference game, I don't see an upset on the horizon.
3. What does Oklahoma State need to do in its final three games to get an NCAA tournament bid?
Katz: Winning two of three would certainly help quite a bit. The Cowboys have opportunities with home games against Kansas and Kansas State and a road game at Iowa State. The selection committee looks for teams that take advantage of situations like this one. Go 2-1 and the Pokes will be in before the Big 12 tournament.
O'Neil: Just win, baby. The Cowboys have a chance to beat three good opponents, starting with Kansas, to even their conference record at .500 and resurrect what has been a tumultuous season. There's only one way to do all that -- win out.
Brown: The Cowboys will likely be underdogs against Kansas and at Iowa State. They need to win at least one of those games they're not favored to win. And they absolutely have to close out Kansas State, which won't be easy by any stretch, at home. I agree with Andy in that two wins can get them in without having added pressure on winning in the Big 12 Tournament.
---
Earlier Words: 2/27 »2/26 » 2/25 » 2/24 » 2/21 » 2/20 » 2/19 » 2/18 » 2/17 » 2/14 »
Games To Watch
Missouri St. at Wichita St., Saturday, 2 ET, ESPN


Wichita State's final regular-season game comes against the Bears, who are the only team to take the Shockers to overtime. Wichita State trailed by 19 in the first meeting, but leaned on Cleanthony Early and rallied.
---
Syracuse at Virginia, Saturday, 4 ET, ESPN


Virginia sits in the driver's seat of the ACC title race and controls its own destiny. Two-loss Syracuse needs a road win if it wants any chance at the title in its first year in the league.
---
Kansas at Oklahoma State, Saturday, 9 ET, ESPN


Oklahoma State has to win out just to get to .500 in league play, but the Cowboys are riding a two-game winning streak with Marcus Smart back in the fold. Those wins came against Texas Tech and TCU, both far cries from the Big 12 champs.
They Said It
SWEEP!!! @RazorbackMBB completes the season sweep of Kentucky and has now won 3 straight vs UK! #WPS pic.twitter.com/BwW7zLcFDp

— Arkansas Razorbacks (@ArkRazorbacks) Feb. 26, 2014
ESPNU Basketball Podcast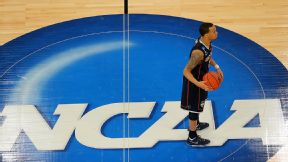 Adam Hunger/USA TODAY SportsAndy Katz and Seth Greenberg offer their thoughts on Kentucky vs. UConn.
Andy Katz and Seth Greenberg check in with newsmakers from around college basketball.