Daily Word: Who has most at stake this week?
Every weekday, Andy Katz leads a panel of our college hoops experts in a discussion of the biggest issues, trends and themes happening in and around college basketball.
1. Last week of the regular season. Who needs this week the most?
Andy Katz: Oregon. The Ducks host Arizona State and Arizona this week. The Ducks have underachieved this season after a strong start. They can erase the bad games, poor finishes and inconsistent play with a homestand sweep to lock up a bid.
Myron Medcalf: Cuonzo Martin assembled a roster that seemed capable of reaching and advancing in the NCAA tourney. Now Tennessee is on the bubble, and a road game against Auburn and home matchup against Missouri could not only decide the Vols' postseason fate but also affect Martin's tenure as frustration among supporters builds. Tennessee and Martin need this week more than anyone else.
Eamonn Brennan: It's hard to pick one specific team off the bubble, because they all need this week. But Iowa and Michigan State are two good examples of teams already in the tournament that need to shore things up fast in the next two weeks.
2. Mick Cronin had a tirade. John Calipari got tossed. And those were just the latest in a season of coaches behaving badly. What, if anything, should be done?
Katz: Consistency. Please. Maryland coach Mark Turgeon admitted that he should have received a technical when he stepped inside the 3-point line to protest the no-call against Nick Faust in the final seconds against Syracuse. If there will be a coach's box, enforce it. If there will be rules on decorum, enforce them. If officials won't be consistent, rid the rulebook of these rules.
Medcalf: I just think we need uniform standards that are both explained and consulted in those situations. If coaches are crossing the line, it would be nice to know what that line is and to see it governed accordingly and equally. Things are too arbitrary when it comes to technical fouls and ejections in those scenarios.
Brennan: You would hope that a group of highly paid men who preach respect and leadership to unpaid students would be able to avoid childish behavior.
3. Which was bigger this weekend: Wichita State finishing a perfect regular season or Syracuse again falling flat?
Katz: Wichita State. The Shockers dealt with every team's best shot. The crowds were 2,000-plus more for Wichita State in the Valley than for every other team in the conference. The Shockers had to maintain their focus and not slip once. I don't care which league you're playing in, going unblemished for 31 games is quite a feat.
Medcalf: Wichita State, especially because this Cuse deflation began weeks ago. And the Shockers made history. Folks will knock their schedule, but it's not like we see this every season. The Shockers deserve credit for what they've done.
Brennan: Wichita's perfect season, easily. Syracuse lost to a really, really good team on the road. The Shockers polished off a historic feat.
---
Earlier Words: 2/26 »2/25 » 2/24 » 2/21 » 2/20 » 2/19 » 2/18 » 2/17 » 2/14 » 2/13 »
Games To Watch
Notre Dame at North Carolina, 7 ET, ESPN


Remember those inconsistent days the Tar Heels had earlier in the season? Well, those days seem long gone. North Carolina has won 11 in a row. Granted, five of the past six victories have been by single digits.
---
Kansas State at Oklahoma State, 9 ET, ESPN


Oklahoma State looks like the team everyone thought it would be before the season began. The Cowboys are coming off a big win over the weekend against Kansas, one in which Marcus Smart looked comfortable and in rhythm.
They Said It
I wish I didn't get thrown out of the game so that I could fight with our team.

— John Calipari (@UKCoachCalipari) March 1, 2014
ESPNU Basketball Podcast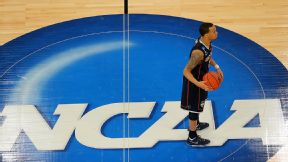 Adam Hunger/USA TODAY SportsAndy Katz and Seth Greenberg offer their thoughts on Kentucky vs. UConn.
Andy Katz and Seth Greenberg check in with newsmakers from around college basketball.