Daily Word: Great American race
Every weekday, Andy Katz leads a panel of our college hoops experts in a discussion of the biggest issues, trends and themes happening in and around college basketball.
1. The American is crowded at the top and Thursday's Memphis-Cincinnati game will go a long way in deciding the regular-season title. Who's your pick to win the league?
Andy Katz: Louisville. Memphis could easily go to Cincinnati and win if the Bearcats can't get their offense in gear. Louisville ends the season at home against UConn. The Huskies are more than capable of pulling off the upset, but they haven't been as consistent on the road. Since the Cardinals and Bearcats split their season series, they'll finish in a tie if they both win out.
Dana O'Neil: Louisville. The Cards, despite what are becoming a few signature and troubling lapses, looked awfully good at SMU on Wednesday night, and Russ Smith was even better. UConn could make things interesting in the season finale at Louisville, but this team looks as though it's gaining steam at just the right time.
Eamonn Brennan: If I was forced to pick one team, I'd take Louisville -- the Cardinals played their best game of the season on the road at SMU on Wednesday night and appear to be fully rounding into NCAA tournament form. But I think the best bet is a Cincy-Ville split, with Cincinnati beating Memphis on Thursday night (and Rutgers on Saturday) and Louisville holding serve against UConn in the Yum! Center on Saturday afternoon.
2. Who has more issues to correct in Thursday's game: Iowa or Michigan State?
Katz: Iowa. The Hawkeyes need to learn how to defend late in games and finish. They did so against Purdue, but that was the exception, not the norm. Michigan State just needs to get healthy and practice together.
O'Neil: Iowa. At some point, it would be nice if the Hawkeyes recognized that defense is actually part of this sport, too. You don't necessarily have to be Ohio State -- great at it, but an attempt every now and again would serve this Iowa team well. I was really high on Fran McCaffery's team a few weeks ago. Now, until the Hawkeyes show at least a half-hearted commitment to defense, it's hard to get behind them.
Brennan: With Michigan State, the issues are (still) synonymous with injuries. Iowa, on the other hand, is at full strength, has been all season, and (A) is playing worse defense than at any point to date and (B) is still frustratingly unable to finish otherwise winnable games. The Hawkeyes, easily.
3. If the season ended today, who are your four No. 1 seeds?
Katz: I would go with Arizona in the West, Florida in the South, Wichita State in the Midwest and Kansas in the East. The two teams to keep an eye on are Wisconsin, if the Badgers win out and claim the Big Ten tournament title, and Virginia, if the Cavs were to win out and claim the ACC tournament title.
O'Neil: Arizona, Florida and Wichita State are the easy ones. It's the fourth, and likely East, that gets tricky. I posed this question on Twitter on Wednesday night and got a ton of answers -- Virginia, Villanova and Kansas being the most common. It's tricky -- Villanova's league isn't as strong, but the Wildcats did beat the Jayhawks. Kansas played in the toughest league, but seven losses is an awful lot for a No. 1 seed, and shipping the Jayhawks East may not be doing them as big a favor as a 2-seed in the Midwest. And Virginia's two best wins are at home. Forced to pick, I'd lean toward Kansas, but not with a lot of conviction.
Brennan: Arizona, Florida, Wichita State and Kansas. The good news for the No. 2s and No. 3s is that the tournament always comes down to matchups far more than it does straight seeds. Being a No. 1 is nice, but it only means so much.
---
Earlier Words: 3/5 »3/4 » 3/3 » 2/28 » 2/27 » 2/26 » 2/25 » 2/24 » 2/21 » 2/20 »
Games To Watch
Memphis at Cincinnati, 7 ET, ESPN


The chase for the American's first regular-season title is on as Cincinnati and Louisville angle for first place. Memphis could make things a lot more interesting with a road win against the Bearcats.
---
Iowa at Michigan State, 9 ET, ESPN


Both teams have issues. They are a combined 2-8 in their last four outings and Michigan State hasn't lost three consecutive home games since 1997. Iowa, meanwhile, ranks 166th in the nation for points allowed (69.8).
---
UCLA at Washington, 9 ET, ESPN2


Prior to last season, UCLA had not won a game at Alaska Airlines Arena since 2004. Now, the Bruins can get a winning streak going in the arena that has vexed them. This is the only time the teams will meet this season.
They Said It
Kansas wins a 31st-straight home season-finale. #kubball #kuseniornight pic.twitter.com/BFwpPdWhga

— Kansas Basketball(@KUHoops) March 5, 2014
ESPNU Basketball Podcast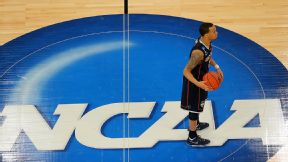 Adam Hunger/USA TODAY SportsAndy Katz and Seth Greenberg offer their thoughts on Kentucky vs. UConn.
Andy Katz and Seth Greenberg check in with newsmakers from around college basketball.