Daily Word: Champ Week gets into full gear
Every weekday, Andy Katz leads a panel of our college hoops experts in a discussion of the biggest issues, trends and themes happening in and around college basketball.
1. What are you most looking forward to seeing over the final week leading into Selection Sunday?
Andy Katz: I'm most intrigued by Oklahoma State. The Cowboys could make a run in the Big 12 tournament to upset the seed lines or they could flame out early and be seeded well below their talent level. The Cowboys will be the hardest team for the committee to figure out this week.
Myron Medcalf: I'd like to see which Iowa team shows up in Indianapolis for the Big Ten tournament. The way the Hawkeyes have limped to the finish line (1-5 in their last six games), they certainly don't have the right to overlook Northwestern in the opening round. Fran McCaffery's program has a lot to prove.
Dana O'Neil: I'm curious to see how far Nebraska can take what is already a Cinderella season. The Cornhuskers probably eliminated all bubble drama by beating Wisconsin in their regular-season finale, but I have a feeling Nebraska isn't done yet. Tim Miles led his team to an improbable 4-seed in a conference tournament that should be relatively unpredictable.
2. How hard will it be for Wichita State to sit around for 11 or 12 days? Big deal? Small deal? No deal?
Katz: The Shockers have been rolling along. The layoff won't bother them since they will be a No. 1 seed and will likely beat the 16. The issue could be on how stacked the bracket is for the Shockers and what type of team waits for them in the third round. That was going to be an issue regardless of when the MVC tournament ended.
Medcalf: I think they're used to the wait with the way the Missouri Valley is set up during Champ Week. I don't think it's an issue for the program. The Shockers will be working hard and will also have the benefit of facing a 16-seed in the second round.
O'Neil: I actually spoke to Gregg Marshall about this very issue for a story later this week (shameless plug alert). In his entire head-coaching career, this is the only way Marshall has done it -- with a long break between his conference tournament and the NCAA tournament. He believes it's a chance to rest his team and tweak whatever needs tweaking, but I am slightly curious about this Wichita State team. The Shockers feed off anger, energy and perceived slights: Can they keep that edge through their idle time and more, with a No. 1 seed?
3. The West Coast Conference tournament has reached its semifinal round. How do you handicap the four remaining teams?
Katz: Gonzaga and BYU are the class of the league. San Francisco is the dark horse, and if it can get past BYU in the semifinals, the Dons have the potential to rattle the Zags (assuming they top Saint Mary's in the semis). The Zags didn't play well at all in escaping Santa Clara on Saturday -- Sam Dower saved Gonzaga before David Stockton finished it off with a game-winning layup. Gonzaga doesn't want to sweat on Selection Sunday, so it would be wise to reach the final.
Medcalf: It's Gonzaga and everyone else. Przemek Karnowski has averaged 13 points and 8 rebounds in his last four games. Sam Dower is playing well, too. But Tyler Haws has led BYU on a five-game winning streak that includes a win over the Zags. San Francisco, 46th in Ken Pomeroy's adjusted offensive efficiency ratings, has won six in a row, and Saint Mary's is probably slightly behind the Dons.
O'Neil: Gonzaga looked a little shaky in its quarterfinal game against Santa Clara, so I'm not sure this is the gimme it looked like early. But the Zags also need to get past Saint Mary's to eliminate any Selection Sunday drama, so my guess is we're headed to the expected BYU-Gonzaga final, after the Cougars top San Francisco in the semifinals.
---
Earlier Words: 3/7 »3/6 » 3/5 » 3/4 » 3/3 » 2/28 » 2/27 » 2/26 » 2/25 » 2/24 » 2/21 »
Games To Watch
Manhattan vs. Iona, 7 ET, ESPN2


The MAAC title is up for grabs. These teams have split this season's two meetings, with Manhattan taking the most recent matchup in overtime on Feb. 28.
---
W. Carolina vs. Wofford, 9 ET, ESPN2


Western Carolina threw a wrench into the Southern Conference tournament by upsetting top-seeded Davidson in the semifinals. Can the Catamounts finish the job and get that NCAA tourney berth?
---
Saint Mary's vs. Gonzaga, 9 ET, ESPN


Gonzaga has routed Saint Mary's twice already this season, the most recent coming March 1, when the Bulldogs handed the Gaels a 75-47 loss on Saint Mary's home floor.
---
San Francisco at BYU, 11 ET, ESPN2


The other WCC semifinal has two teams with identical 13-5 conference records. BYU won both matchups during the regular season.
They Said It
STerps close out ACC reg season in style with OT W over ACC champ VIRGINIA SAD in a way as they head to Big 10 #belonginACC

— Dick Vitale (@DickieV) March 9, 2014
ESPNU Basketball Podcast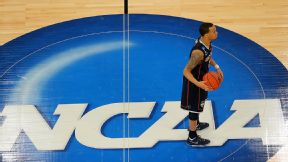 Adam Hunger/USA TODAY SportsAndy Katz and Seth Greenberg offer their thoughts on Kentucky vs. UConn.
Andy Katz and Seth Greenberg check in with newsmakers from around college basketball.