Daily Word: Kansas without Embiid
>
Every weekday, Andy Katz leads a panel of our college hoops experts in a discussion of the biggest issues, trends and themes happening in and around college basketball.
1. Can Kansas win the Big 12 tournament without Joel Embiid?
Andy Katz: I don't see the Jayhawks winning the tournament title without Embiid, in large part because of the bracket. Kansas could face Oklahoma State and Iowa State before a final matchup against Texas, Oklahoma or West Virginia. An early exit in the Big 12 could mean a seed line drop.
Eamonn Brennan: Kansas can, sure, because that's a really good team generally. But the Big 12 tournament doesn't matter. What really matters is the NCAA tournament and whether Embiid can return. Without him, Kansas is still good enough to win the Big 12 and, it stands to reason, good enough to make it through the first weekend of the tournament. But without him, the Jayhawks lose a major defensive presence, which changes their outlook the deeper they get into the tournament.
C.L. Brown: Of course they can. I get that the Jayhawks will be completely different defensively without Embiid's shot-blocking. But Kansas still has enough offensive firepower to outscore teams, so all is not lost.
2. What must BYU do to upset Gonzaga in the WCC final?
Katz: BYU has to take care of the ball and boards. The Cougars can be careless and have empty possessions. They haven't played for the WCC title since they joined the league. A win would do wonders for the Cougs' profile.
Brennan: Score a whole mess of points. The Zags' defense has really improved over the course of this season, and BYU's has not. The Cougars are at their best getting up and down the floor and putting lots of points on the board. If they get stuck in a slower game or have to grind out possessions, that's trouble. But if they turn the game into a 75-possession shootout, that's a game they absolutely can win.
Brown: The good thing for BYU is it won the last meeting with the Zags, so off the top, it has the confidence needed to dethrone them. The Cougars' Matt Carlino could be the game's X factor off the bench. The reserve guard scored 15 in the win over Gonzaga but was 1-for-6 for 2 points in their loss in the first meeting.
3. The Horizon League and NEC will crown their champions Tuesday. Which has a better chance of scoring an NCAA tournament upset?
Katz: Neither. The Horizon's best shot was Green Bay. This isn't the Robert Morris team of a few years ago. If Robert Morris or Mount St. Mary's ends up in a 16-seed game in Dayton, that may be the place for a win.
Brennan: I would probably lean toward the NEC, if only because I think Robert Morris' experience as a tournament team in recent years gives it a little added edge. Otherwise, these teams are mostly equal, and predicting which might play just well enough to win its first tournament game is practically impossible.
Brown: Dang, Andy. Is it not still March? Upsets can happen, and Robert Morris could be the team that pulls one off. The Colonials played 11 nonconference road games, so their early results are kind of skewed. But senior guard Karvel Anderson, who shoots 50.8 percent from the field and 45.8 percent from 3-point range, is just the type of guard who can make a name for himself in the tournament.
---
Earlier Words: 3/10 » 3/7 » 3/6 » 3/5 » 3/4 » 3/3 » 2/28 » 2/27 » 2/26 » 2/25 » 2/24 »
Games To Watch
Milwaukee vs. Wright State, 7 ET, ESPN


Milwaukee is riding high after upsetting top-seed Green Bay despite taking a sub-.500 conference record into the tournament. Wright State entered as the No. 3 seed; a win would send it to the NCAA tournament for the first time since 2007.
---
Mount St. Mary's vs. RMU, 7 ET, ESPN2


Robert Morris won the NEC's regular-season title and is looking to get back to the NCAA tournament for the first time since 2010. The Mountaineers, meanwhile, upset No. 2 seed Wagner and hasn't been dancing since 2008.
They Said It
Party like it's 1999! Delaware headed to NCAA Tournament for first time in 15 years. pic.twitter.com/gN7g4RTLGc

— NCAA March Madness (@marchmadness) March 10, 2014
ESPNU Basketball Podcast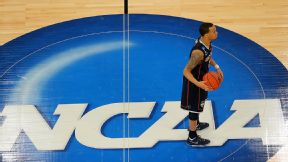 Adam Hunger/USA TODAY SportsAndy Katz and Seth Greenberg offer their thoughts on Kentucky vs. UConn.
Andy Katz and Seth Greenberg check in with newsmakers from around college basketball.