Daily Word: That was fun ... now what?
Every day, Andy Katz leads a panel of our college hoops experts in a discussion of the biggest issues, trends and themes happening in and around college basketball.
1. Which remaining team is the most dangerous? Maybe not the best, but the most dangerous?
Andy Katz: Tennessee. The Vols, although against UMass and Mercer, have looked pretty strong inside and have made the necessary shots to pull away from teams. They have more than enough to beat Michigan, and if they do, they would match up well against Kentucky or Louisville. It's not crazy to think the Vols could go from the First Four to the Final Four.
Eamonn Brennan: What about Kentucky? If you're good enough to beat Wichita State, you're good enough to beat anybody. Now that the Wildcats are finally connected on both ends of the floor, their size and athleticism could pose major issues for any team in the field. What a remarkable turnaround.
Dana O'Neil: Aside from the obvious answers of Florida and Arizona, UCLA. The Bruins might be flying lower under the radar than any other team left in the bracket. Seriously, is anyone talking about UCLA? Yet UCLA has won five in a row and seven of its past eight. The Bruins' defense might still be a liability, but when the offense is cooking as well as it is right now, it might not matter.
2. Which team are you most surprised is still left standing?
Katz: Dayton. The Flyers had to get by two of the toughest teams to get to the Sweet 16 in defensive pest Ohio State and a possible title contender in Syracuse. The Flyers played extremely hard in both games and finally recaptured the way they played in November. This Flyers team has bookended quite a season.
Brennan: Dayton, definitely. You can argue that Stanford's size made it a reasonable matchup for both New Mexico and Kansas, but not that many people saw it coming anyway. Dayton, on the other hand, played great defense and took advantage of two horrible shooting teams in Syracuse and Ohio State, and did enough on offense to sneak past both.
O'Neil: Stanford. The Cardinal don't even look like the same team from a week ago. Johnny Dawkins' team has reworked itself, is playing with confidence and is using its length and size to seriously disrupt. Yes, Kansas didn't have Joel Embiid, which seriously changed things for the Jayhawks, but Stanford didn't steal that game. It won it.
3. What's the most intriguing matchup in the Sweet 16? One rule: You can't pick Kentucky-Louisville.
Katz: Florida-UCLA. The Gators will have their hands full with the Bruins' offense. UCLA doesn't have the girth inside to deal with Patric Young but can spread a team out with its ability to score. Florida will have the home edge -- relatively -- in Memphis, but this will be a stern test for the top-seeded Gators.
Brennan: Virginia-Michigan State. On Sunday, John Calipari told reporters that his team's game against Wichita State was an Elite Eight game -- that both teams should have been playing for a spot in the Final Four, not in the round of 32. We could say just the same for Virginia and Michigan State. One is a deserving No. 1 seed; the other the popular pick to get to Arlington, Texas, a consensus national title contender finally getting healthy at the most important point of the season. Great game.
O'Neil: Baylor-Wisconsin. I'll be honest. I didn't think the Bears were an NCAA tournament team -- much less a Sweet 16 team -- a month ago, but this team has played extraordinarily well down the stretch, particularly on the defensive end. This is not your old Bo Ryan Wisconsin team. Yes, the Badgers can slow it down if they need to, but this team can get out and score. After stifling Doug McDermott and Creighton, can Baylor shut down Wisconsin?
---
Earlier Words: 3/23 » 3/22 » 3/21 » 3/20 » 3/19 » 3/18 » 3/17 » 3/16 » 3/15 » 3/14 »
The Latest Dish
After all the brilliance Creighton senior Doug McDermott displayed over his four-year career in Omaha, Neb., his final act wasn't pretty.
Baylor -- a team that isn't known for its defensive astuteness -- used its zone defense to hold McDermott to just 15 points, his third-lowest scoring output of the season.
ESPNU Basketball Podcast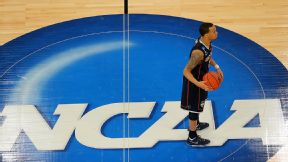 Adam Hunger/USA TODAY SportsAndy Katz and Seth Greenberg offer their thoughts on Kentucky vs. UConn.
Andy Katz and Seth Greenberg check in with newsmakers from around college basketball.