Daily Word: Whose flaw could be exposed?
Every day, Andy Katz leads a panel of our college hoops experts in a discussion of the biggest issues, trends and themes happening in and around college basketball.
1. No team is perfect. Which obvious flaw could be exploited in the Sweet 16?
Andy Katz: How does UCLA defend a strong man inside? The Bruins have not flourished in the half court but may need to for a win. Florida can expose that weakness.
C.L Brown: Louisville's frontcourt isn't as big or deep as Kentucky's. The Cardinals have their work cut out for them on the boards.
Eamonn Brennan: Arizona's offense has a tendency to occasionally stagnate, and San Diego State thrives on its all-court team defense. I'm not exactly sure how the Aztecs will go about scoring on the Wildcats, either, but if both defenses play a chess match and things stay tight late, Xavier Thames is an awfully good player to have handling the ball. You never know.
2. Which coach has done the most impressive job so far?
Katz: Kevin Ollie. The Huskies were humbled by Louisville a week ago. They are refocused. And Ollie has Amida Brimah as a force inside now.
Brown: I'm going with Scott Drew. Baylor lost eight of 10 to start Big 12 play, and he could have easily lost his team for the rest of the season. But the Bears have been one of the hottest teams in the nation since mid-February, and I wouldn't consider it an upset if they beat Wisconsin.
Brennan: I like the Scott Drew and Kevin Ollie shoutouts, and we could highlight Cuonzo Martin, John Beilein, Johnny Dawkins, Archie Miller and several others without missing a beat. But what about John Calipari? A month ago, the Kentucky coach looked like he completely missed the boat with this team -- recruited the wrong guys, failed to develop Alex Poythress and Willie Cauley-Stein, spoke too soon about his team's skill level, got too far ahead of himself in the preseason. And some of those things may have been true. But he and his team have figured things out in the past three weeks and look utterly terrifying as a result.
3. We have two rematch games. Which team has the better chance of changing the regular-season result?
Katz: Louisville. The Cardinals are playing much better, especially defensively. Kentucky has improved, as well, but the Cards have become an even stingier defense.
Brown: Louisville. Rick Pitino's teams usually don't fully click on their press until late January, and that was the case this season. The Cards were still getting their rotations figured out when they lost to the Wildcats in December. Defensively, the Cards will be a much different team than they were in the first meeting.
Brennan: Louisville, no question. Kentucky has gotten much better guard play from the Harrisons, but the Wildcats are still a little turnover-prone, which is exactly what the Cardinals -- in their also-terrifying late-season stomp -- are better at taking advantage of than any team in the country. For all of the storylines here, this game is going to be even better on the floor.
---
Earlier Words: 3/25 » 3/24 » 3/23 » 3/22 » 3/21 » 3/20 » 3/19 » 3/18 » 3/17 » 3/16 »
The Latest Dish
According to BPI projections, Arizona has the best chance of winning the NCAA tournament (25.6 percent), and it isn't hard to see why.
The Wildcats are in the Sweet 16 because of their defense. They rank first nationally in fewest points allowed per 100 possessions and are the only team in the country that has not allowed an opponent to eclipse 75 points. They handled Weber State with ease and were essentially running a layup line against Gonzaga in the round of 32, scoring 31 points on 21 forced turnovers.
They Said It
Want to let Jayhawk Nation know, I will be returning for my sophomore season! Cant wait to get to work & get back in the fieldhouse #KUCMB

— Wayne Selden Jr.(@WayneSeldenJr) March 25, 2014
ESPNU Basketball Podcast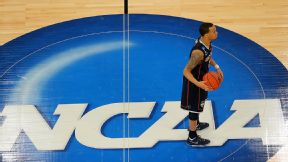 Adam Hunger/USA TODAY SportsAndy Katz and Seth Greenberg offer their thoughts on Kentucky vs. UConn.
Andy Katz and Seth Greenberg check in with newsmakers from around college basketball.