Daily Word: Secret to Kentucky's turnaround?
Every day, Andy Katz leads a panel of our college hoops experts in a discussion of the biggest issues, trends and themes happening in and around college basketball.
1. We know Kentucky is playing better basketball. But what specifically have the Wildcats done better?
Andy Katz: Decision-making. Defense. Late-game management. The Wildcats are playing as one, and it has shown over the past two weeks.
Eamonn Brennan: What Andy said. They are also shooting better from the perimeter, especially Aaron and Andrew Harrison. Everything Kentucky runs is super simple; all the strategic frills are stripped away. Earlier this season, that made UK's stagnation doubly obvious. Now that the guard play is lights-out, though, Kentucky has combined really smart, simple offensive stuff with the offensive rebounding of Julius Randle, and all that talent just wears people down. (In short, everything.)
Myron Medcalf: Adding to what Eamonn and Andy said, Kentucky has been a different team from beyond the arc. The Wildcats shot 32 percent from the 3-point line in the SEC, and they have made 40 percent of their 3-pointers in the NCAA tournament. They are stretching teams and limiting opponents' ability to pack the lane to deal with Randle and that Kentucky frontcourt.
2. The sum of the seeds (18) in the Final Four is tied for the fourth-highest since the field expanded to 64 teams in 1985. Is the playing field more level than it's ever been?
Katz: No. I would say it's more a reflection on the poor seeding the committee did with the bracket. Kentucky played to an 8-seed at times but wasn't an 8-seed the last week of the season. UConn (7-seed) never should have been seeded below UMass (6-seed). The committee gets the selections right, but the seeding needs work.
Brennan: Not really. These are all teams with rather sizable athletics budgets and outlays for basketball spending; these are not four Cinderellas. There were some seeding issues involved with UK and UConn, but I will say this: As we wrote on Selection Sunday, this felt like one of the deepest tournament fields in years. I don't think that has as much to do with parity as it does with just having 15 or 20 really good teams all season long. Things just lined up this way, you know?
Medcalf: I'm not sure this is much different from what we've seen in recent years. I think this was just another year when the selection committee was asked to slot a bunch of similar teams that could have been seeded higher (see UConn, Kentucky) but didn't exactly have Teflon cases for elevation.
3. Which player hasn't performed up to expectations and could break out this weekend?
Katz: Nigel Hayes. The freshman had given Wisconsin a considerable lift during the season with multiple double-figure games. But he has cracked double figures only once in the four games of the NCAA tournament. He must produce against Kentucky.
Brennan: Casey Prather didn't play great in Memphis, and it didn't really matter because Florida is so deep and well-rounded that the All-American candidate who carried the Gators for the first three months didn't really need to play well for them to get to the Final Four. But he may yet be the star on both ends of the floor against UConn.
Medcalf: Sam Dekker could be a first-round selection whenever he decides to turn pro. He has scored only 14 points (5-for-13) in the past two games. He's definitely helping in other ways, but the sophomore could have a big offensive weekend in Arlington. The Badgers might need that.
---
Earlier Words: 4/2 » 4/1 » 3/31 » 3/30 » 3/29 » 3/28 » 3/27 » 3/26 » 3/25 » 3/24 » 3/23 »
The Latest Dish
We often hear about how winning in March is about doing all the little things right and being detail-oriented. Nobody knows that better than UConn, especially when it comes to the Huskies' performance at the free throw line.
The Huskies are shooting 77.4 percent on their free throws this season, ranking fourth nationally. In the tournament, they are 81-for-92 (88 percent). If they can keep up this pace, they will break the team record for free throw percentage in a single tournament (St. John's shot 87 percent in 1969 and lost in the Sweet 16).
They Said It
Are You Ready? (via @FinalFour) pic.twitter.com/39wLx3gFlv

- ESPN College BBall (@ESPNCBB) April 1, 2014
ESPNU Basketball Podcast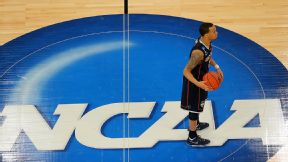 Adam Hunger/USA TODAY SportsAndy Katz and Seth Greenberg offer their thoughts on Kentucky vs. UConn.
Andy Katz and Seth Greenberg check in with newsmakers from around college basketball.