Daily Word: What's the way to stop UConn?
Every day, Andy Katz leads a panel of our college hoops experts in a discussion of the biggest issues, trends and themes happening in and around college basketball.
1. If you were Billy Donovan, what is the one thing you'd be hammering into your players most this week in preparation for Connecticut?
Andy Katz: Don't give up 3-pointers. The Gators have to push out on the guards to prevent the Huskies from getting back in the game with a 3 or stretching a lead with a 3-pointer. The Gators should have the back-line defense, but it won't matter if UConn is converting 3-pointers at a high clip.
Dana O'Neil: Slow down Shabazz Napier and Ryan Boatright. If they get inside or get going, UConn will get going, too. The Huskies aren't a tough riddle, but they are a tough riddle to solve.
C.L. Brown: UConn is more than just Shabazz Napier. The first meeting was so tight because the Gators kept everyone else in check. DeAndre Daniels had 14 points, but he was the only other player in double figures beside Napier's 26. Florida again has to keep the supporting cast like Ryan Boatright and Niels Giffey in check.
2. How about Kentucky? What should most concern the Wildcats about Wisconsin?
Katz: Frank Kaminsky. Frank Kaminsky. Frank Kaminsky. The Wildcats can stretch out and cover shooters such as Sam Dekker and Ben Brust, but Kaminsky is a matchup problem, forcing a big man to chase. If Kaminsky can score facing up then the Badgers can win.
O'Neil: The Badgers can stretch the defense, which will mean more work for Julius Randle. It's not unlike what Kentucky faced with Michigan, but the Cats need the same defensive discipline.
Brown: Be prepared to play defense well into the shot clock. The Badgers will pass until they find a shot they like. Kentucky can't allow defensive breakdowns that come from letting up as the clock winds down.
3. Sometimes a player comes from out of nowhere to make an impact at the Final Four? Who are some under-the-radar candidates?
Katz: Amida Brimah could have that impact for UConn if the Huskies are to win. Chris Walker hasn't had any kind of impact for Florida, but he does have the talent to be impactful. Kentucky's Marcus Lee has already had his moment. But I'm sure there could be a Tim Henderson-like Louisville or Spike Albrecht-like Michigan performance coming.
O'Neil: He's not totally under the radar, but if DeAndre Daniels can play here like he did last weekend, then he could make things interesting for Connecticut. Ditto Marcus Lee. It's unfair to expect him to match the night he had against the Wolverines, but he has the potential to be a real X factor again for Kentucky
Brown: UConn's Niels Giffey, because he shoots 49 percent from 3-point range. Florida's Dorian Finney-Smith, the SEC's Sixth Man of the Year, can erupt at any time. Kentucky's Alex Poythress came up big in closing minutes against Louisville. Wisconsin's Nigel Hayes, arguably the most athletic player on the team, played well against Arizona's Aaron Gordon.
---
Earlier Words: 4/3 » 4/2 » 4/1 » 3/31 » 3/30 » 3/29 » 3/28 » 3/27 »
The Latest Dish
Kentucky was fifth in the nation in rebounding, averaging 41.3 per game. Without the injured Willie Cauley-Stein, the team's second-leading rebounder, the Wildcats grabbed 35 against Michigan. Yes, they still outrebounded the Wolverines by a sizable margin -- the final total was 35-24 -- but can they do it again against Wisconsin if Cauley-Stein is out again?
There is a benefit to playing Wisconsin. The Badgers were 261st in the nation in rebounding this season, getting just 33.2 per game.
They Said It
Connecticut's 6-1 record at the Final Four is the best in NCAA tournament history by any team that has played at least 3 games

ESPN College Basketball (@ESPNCBB) April 2, 2014
ESPNU Basketball Podcast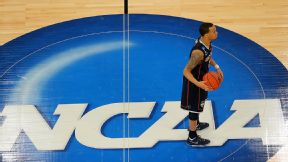 Adam Hunger/USA TODAY SportsAndy Katz and Seth Greenberg offer their thoughts on Kentucky vs. UConn.
Andy Katz and Seth Greenberg check in with newsmakers from around college basketball.