Daily Word: Cats' youth vs. Badgers' experience
Every day, Andy Katz leads a panel of our college hoops experts in a discussion of the biggest issues, trends and themes happening in and around college basketball.
1. Kentucky coach John Calipari has a young team. Wisconsin coach Bo Ryan has an experienced team. Calipari suggested Thursday that it won't matter, that both teams will feel the nerves of the Final Four. You buying that?
Andy Katz: Yes. You cannot duplicate what both teams will experience when they step on the court in the massive AT&T Stadium in Arlington, Texas. Expect the first few minutes to be filled with anxious play.
Dana O'Neil: Yes, I am but only for the first five minutes or so. Wisconsin is experienced but not experienced at playing in front of 75,000 people and Kentucky, while free of some of the pressure, still is expected to win. That could make for some nerves early. Eventually, though, I think things settle down and they just play basketball.
Myron Medcalf: Yep. Neither team has played in front of a crowd this large. Neither team has faced these stakes. Doesn't matter if you're a veteran or a young guy. With everything that's on the line, both squads will be, should be, nervous.
2. Will both games be close? Or is there a potential blowout lurking in there?
Katz: I don't see a blowout in either affair. Wisconsin is too tough, too strong defensively when it focuses, and the Badgers can hang offensively with Kentucky on the perimeter. Florida has the potential to pull away from UConn. But the Huskies have proved -- most recently against Michigan State -- that they can rally with the use of the 3-pointer.
O'Neil: I know some folks think Connecticut and Wisconsin are doomed mismatches against Florida and Kentucky. I don't, and I don't see a blowout on either side, either. The Huskies and Badgers are too good defensively to allow that to happen. I think these games will be like most of the tournament -- very good until the bitter end.
Medcalf: I don't think any team in the Final Four will go down without a fight. Florida is favored, but Connecticut beat a Gators team that shot 49 percent from the floor in December. Kentucky looks unstoppable right now, but Wisconsin outplayed a big, athletic Arizona squad that was playing the best defense in America entering that game. I expect three tight games.
3. The Final Four has routinely been held in football stadiums. The NCAA has embraced the dome environment. And this stop, at AT&T Stadium, is the biggest yet. Do you like the dome setting?
Katz: No. But this is the reality. The criteria limits it to domes. There is no chance it will change in the short term. I love the regional finals in NBA arenas and would like to see it happen more often.
O'Neil: No, not at all. Is that clear enough? They suck the noise, energy and atmosphere right out of the building. Occasionally the NCAA has gotten lucky -- Butler in Indianapolis, Michigan State in Detroit -- but for the most part, the only things these stadiums are is big.
Medcalf: Not really. I think basketball should be played in arenas. I understand that the dome matches the stage. The Final Four is a big deal and Jerry World is a gigantic facility. But the atmosphere isn't a real college basketball atmosphere.
---
Earlier Words: 4/3 » 4/2 » 4/1 » 3/31 » 3/30 » 3/29 » 3/28 » 3/27 » 3/26 » 3/25 »
The Latest Dish
Most of the questions Florida coach Billy Donovan faced in Thursday's news conference centered around how to stop UConn guard Shabazz Napier, and it isn't hard to see why.
Napier is just the fourth player with at least 90 points, 20 rebounds, 15 assists and 5 steals in the first four games of an NCAA tournament (since steals were officially recorded in 1985-1986). He's the first player to put up such numbers since his then-teammate Kemba Walker during the Huskies' most recent title run in 2011.
They Said It
Two legends, @KentuckyMBB 's @UKCoachCalipari & UW's Bo Ryan, sharing a moment at today's presser #BBN #MarchMadness pic.twitter.com/nr6TOuh9qN

UK Photo (@UKphotogs) April 2, 2014
ESPNU Basketball Podcast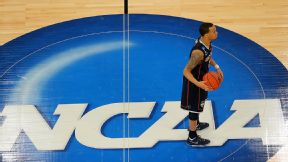 Adam Hunger/USA TODAY SportsAndy Katz and Seth Greenberg offer their thoughts on Kentucky vs. UConn.
Andy Katz and Seth Greenberg check in with newsmakers from around college basketball.