Daily Word: Can Yale pull another stunner?
Every weekday, a panel of our college hoops experts discusses the biggest issues, trends and themes in and around college basketball.
1. Yale already pulled off one stunner by beating UConn. Any chance for another against struggling Florida?
Andy Katz: Yes. Yale can beat Florida in a half-court game. The Gators struggle to score in that environment. Yale defended UConn well and the Bulldogs have the ability to do the same to Florida. James Jones said Saturday the Bulldogs can pull the upset if they follow a similar game plan.
Myron Medcalf: Definitely a chance for Yale. Any team that can drop UConn despite making just 14 percent of its 3-pointers has a shot against a Florida team that just can't find any offense. The Gators had one of the best offenses in the country last season. This season, however, they can't shoot (267th in effective field goal percentage) and they're committing a bunch of turnovers (20 percent of their possessions result in turnovers). The way the Gators are playing right now, they're definitely vulnerable for another upset.
Dana O'Neil: Even as shaky as Florida has looked, that seems like a tall order. The game is at Florida -- a slightly longer commute than Storrs -- and the Gators won't make the same mistake as the Huskies. They won't look past Yale. I won't say it's impossible, but it's not likely.
2. What was the biggest surprise over the weekend?
Katz: St. John's. The Red Storm have flirted with big wins but failed to close out with one until Saturday at Syracuse. This could finally be a sign the Red Storm have arrived.
Medcalf: Other than the obvious -- Michigan's debacle against the New Jersey Institute of Technology -- San Diego State's 36-point output Sunday against a respectable Washington squad that gave up 69 to Pacific and 70 to Long Beach State was also a shock. I think we all knew that SDSU's offense would suffer in the post-Xavier Thames era. But the same team that scored 59 against Arizona failed to crack 40 against Washington? Interesting.
O'Neil: Has to be NJIT. Not just because of who the Highlanders are but because of how poorly Michigan played. The Wolverines' perimeter defense was woeful. To lose a game like that at home is wildly out of character for a John Beilein coached team.
3. Which team has the most to gain this week?
Katz: UCLA. The Bruins aren't going to beat Kentucky in Chicago, and they still have to go to Alabama. That makes Saturday's game against Gonzaga a significant game for their potential at-large résumé. Lose and the Bruins may not have much to show in March.
Medcalf: Seton Hall faces Wichita State on Tuesday. The Pirates are undefeated after making some dramatic gains compared to last season. Sterling Gibbs has been a star for the Pirates, who also possess a top-50 defense (99th in efficiency last season). Plus, freshman Isaiah Whitehead has averaged 17.5 PPG and 4.5 APG in his last four contests. Seton Hall has a shot to get a significant road win this week.
O'Neil: Utah. The Utes opened some eyes with their upset of Wichita State. Now they've got a chance to beat rival BYU and go for the Kansas sweep, with a game against the Jayhawks on Saturday. Utah is a very good under-the-radar team, but this week could put the Utes front and center.
---
Earlier Words: 12/5 » 12/4 » 12/3 » 12/2 » 12/1 » 11/26 » 11/25 »
Games To Watch
Yale at Florida, 7 ET, SEC Network


Normally, this wouldn't be a fair fight. But right now, things aren't normal. Florida is off to a 3-4 start and looking utterly lost. Yale, meanwhile, is coming off a stunning last-second win over defending champion UConn in Storrs.
They Said It
Amazing win by the NJIT Men's basketball team, defeating 17 ranked Michigan in Ann Arbor! Congrats Highlanders--making NJ proud!

— Governor Christie (@GovChristie) Dec. 6 2014
ESPNU Basketball Podcast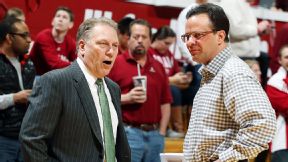 Brian Spurlock/USA TODAY Sports
Andy Katz and Seth Greenberg check in with newsmakers from around college basketball.