Daily Word: Next in line for a No. 1 seed?
Every weekday, some of our college hoops experts discuss the biggest issues, trends and themes in and around college basketball.
1. More capable of leapfrogging Villanova as a No. 1 seed: Wisconsin or Arizona? Or someone else?
Andy Katz: Wisconsin. The value of winning the Big Ten tournament will be treated with more respect by the committee as compared to the Pac-12.
Eamonn Brennan: It's a really narrow margin at this point, and I'd be inclined to give Arizona the slight advantage coming off a road win at Utah. Assuming both teams win out the rest of the way, including the conference tournaments, and we're assuming Wisconsin plays Maryland (again) and Arizona plays Utah (again) then I'd probably still go with Arizona because I think Utah is better than Maryland. But seeing as things almost never go as planned in March, the best answer is: Let's wait and see.
Dana O'Neil: Tricky one, since both have less than attractive losses and both leagues are a little wonky. That said, I think the Big Ten is marginally better than the Pac-12, and presuming both win out I would give the edge to Wisconsin
2. Who comes out of this week with the Atlantic 10's regular-season title?
Katz: Davidson will share the title with Dayton. That means the Wildcats take out VCU at home on Thursday.
Brennan: Dayton. VCU would have to win at Davidson to possibly force a tie; Davidson would have to beat VCU to keep up with the Flyers' four-loss pace. Those are almost equally difficult tasks -- and both teams have one more game on the weekend, too. All the Flyers have to do is handle business at La Salle. That's not only the simplest outcome, but the most likely, too.
O'Neil: Dayton is definitely in the driver's seat based on what lies ahead, but I don't discount Davidson beating VCU and grabbing a share. Regardless, when this is all over, the conference tourney ought to be fun.
3. What's Arkansas' ceiling, as far as NCAA tournament seeding is concerned?
Katz: The Hogs still have a lot of work to do, but I could see them in the six-to-seven range with a decent showing in the SEC tournament.
Brennan: If you think Arkansas can beat Kentucky on a neutral floor (anyone? Bueller?) then its seed ceiling may be as high as No. 3. If you don't think Arkansas can beat Kentucky on a neutral floor, then their ceiling is about where they are right now (No. 5-ish). The SEC isn't as bad as it's been made out to be, but it doesn't offer a Utah/Maryland/Georgetown/UNC/everyone-in-the-Big 12-style combination of a team that is both beatable and highly regarded by the RPI.
O'Neil: Five at best. The SEC scheduled up, which helps the Razorbacks' appeal, but when you put them head to head with the North Carolinas of the world, I'm not sure they stack up.
---
Earlier Words: 3/4 » 3/3 » 3/2 » 2/27 »2/26 » 2/25 » 2/24 » 2/23 » 2/20 » 2/19 »
Games To Watch
No. 6 Wisconsin at Minnesota, 7 p.m. ET, ESPN


Wisconsin already locked up at least a share of the Big Ten's regular-season title. The Badgers can clinch an outright championship and the No. 1 seed in the conference tournament with a win at Williams Arena. The catch? They haven't won there since Feb. 9, 2012.
---
California at No. 5 Arizona, 9 p.m. ET, ESPN

Like Wisconsin in the Big Ten, Arizona has a share of the Pac-12's regular-season title sewn up. A win over Cal would give the Wildcats the outright championship. After Gonzaga's home loss to BYU, Arizona now owns the nation's longest home winning streak at 36 games.
---
VCU at Davidson, 9 p.m. ET, ESPNU


The Atlantic 10 might be the nation's most interesting conference title race in the regular season's final week. Six teams have a chance to grab a piece of the crown. Davidson can stay ahead of the pack with a win, while a victory for VCU would leave Dayton (which doesn't play until Saturday) alone at the top.
They Said It
Congrats to Coach Matta! #GoBuckshttps://pbs.twimg.com/media/B_TMXVGU4AA90-8.jpg

— OSU BASKETBALL (@OhioStateHoops) March 4, 2015
ESPNU Basketball Podcast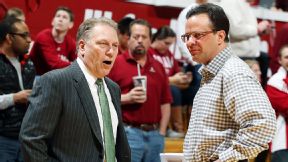 Brian Spurlock/USA TODAY Sports
Andy Katz and Seth Greenberg check in with newsmakers from around college basketball.