Florida Gulf Coast plots its next act for Dunk City
FORT MYERS, Fla. -- Six months ago, they were celebrities after "Dunk City" evolved into the most viral storyline in March Madness history.
Last week, though, members of Florida Gulf Coast men's basketball team were practicing in a high school gym. That magical Sweet 16 run certainly changed things for the program, but obviously it didn't alter everything.
The practice switch was prompted by a preteen volleyball tournament that had commandeered Alico Arena, the team's usual home floor.
While Florida Gulf Coast, a campus nestled in a neat platform of protected land in Fort Myers, Fla., is still affected by the occasional facility challenges that most non-BCS basketball programs experience, the school does boast an impressive collection of athletic buildings.
There were only a few dunks in that session. The season, thus far, hasn't exactly been a slam, either. The Eagles are 5-4 (they've lost three of their last four) entering Tuesday's matchup at South Florida on ESPNU.
New coach Joe Dooley, who accepted the gig after Andy Enfield left to take the USC job, believes he can capitalize on the Dunk City phenomenon that transformed the program's -- and the university's -- national reputation.
But Dooley, a former Kansas assistant, is not relying on last year's run alone.
"I think the pros are, from a recruiting standpoint and a recognition standpoint, it has really helped the university and helped us recruiting," Dooley said. "People knew who Dunk City was. I think the cons are that it's over. Last season is last season. I've said this a million times: The only reason it became Dunk City was because they won."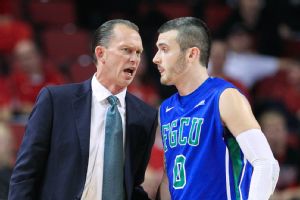 AP Photo/Nati HarnikWith Andy Enfield gone, it's Joe Dooley's task to keep Dunk City going.
Long before the inception of Dunk City, there were cattle and thick marsh.
The 760 acres that contain Florida Gulf Coast University were suffocated by weeds and animals.
"There were no roads to it, no utilities," said Susan Evans, the school's spokesperson. "So in our early years, in terms of coming to the campus, we had our environmental consultants bring us out by four-wheel drive. They would use machetes to cut paths for us. And there were wild cows roaming around."
That was two decades ago.
Today, FGCU is simply known nationally by its social media-inspired moniker Dunk City, a phrase that spread after the 15th-seeded Eagles used thrilling alley-oops to burn Georgetown and San Diego State in last season's NCAA tournament just a year after becoming eligible for Division I postseason competition.
The school went international as letters and emails arrived from Sweden and China. Its website exploded. The squad won an ESPY. Even LeBron James tweeted about the Eagles. And a YouTube rap video, "FGCU Dunk City," by rapper-student Black Magic has topped 750,000 views.
But enjoying the spoils was the easy part for coaches, players, administrators and city officials who'd like to use that run to push a much broader vision that extends beyond basketball.
"It happened so quickly, yet at the same time it's still going on, and our responsibility is to maintain it so it's not considered a fluke and one two- or three-week period," athletic director Ken Kavanagh said. "So it's something we can say that Gonzaga and Butler and other teams have done."
Florida Gulf Coast's Sweet 16 journey is not just a basketball story. It's a tale about the undeniable power of collegiate athletics.
Gradually, although last week's practice was conducted at 100 mph, a pace Dooley enjoys.
There were rugged pickup games, repetitive drills and running. So much running.
The Eagles admit that the drawback of the Dunk City philosophy was a tendency to abandon schemes in favor of run-and-gun basketball. But Dooley demands discipline.
He introduced the team to his ways with a preseason boot camp that players discuss with a smirk that suggests they'd rather not remember it.
"Last year, we did a lot of freestyle, kind of just go out there and hoop," senior Chase Fieler said. "We either won with it or we lost with it. As coach says, it keeps both teams in the game sometimes. The structure, when it's working, we'll go with it, but when that's not working [we want] to be able to pull it out, slow it down and really grind out games and win games that aren't as fast-paced."
The death of Dunk City?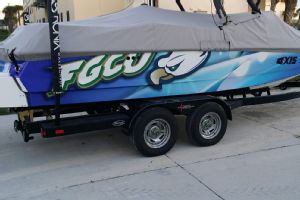 Myron Medcalf for ESPNWant to go for a spin on the water? Take the FGCU boat.
"Dunk City's definitely not dead," Fieler confirmed.
Last year's run might have encouraged a false reality that few Cinderellas sustain.
But Dooley has some pieces. Fieler, Brett Comer, Bernard Thompson and Eric McKnight are all back from last year's squad. And in the offseason, the program added Division I transfers Julian DeBose (Rice), Brian Greene Jr. (Auburn) and Marc Eddy-Norelia (Tulane).
The latter can't help until next season, when every player on the roster except Fieler is set to return.
Dooley is convinced that Florida Gulf Coast will grow if he can just lure recruits to the school about two hours southwest of Tampa.
The pristine campus positioned along Lake Como resembles a resort with classes.
Students can rent the university's boat.
During finals last week, one young woman sat on the FGCU private beach with her laptop.
Don't like the beach? Well, the theme park-style swimming pool across campus -- near a pond populated by alligators that wait on the edge of the water at dinnertime -- might be suitable. Too hot? The palm trees provide shade.
The dorms are more like condos. The weather is beautiful. And everything on site is essentially new -- in college terms -- since the school didn't hold its first classes until 1997.
Basketball was just a sideshow before Dunk City. Now, FGCU Lake Parkway West, the single road that leads to Alico Arena, is jammed on game nights; season-ticket purchases have increased threefold since March. More than 2,000 members of the student section, the Dirty Birds, pack the gym during home games.
Last season, there weren't many road signs pointing motorists to the school. Now, they're everywhere.
And the local sporting goods store a mile away didn't carry one FGCU item before the Sweet 16 run. And restaurants didn't post "Home of Dunk City" posters atop their awnings, either.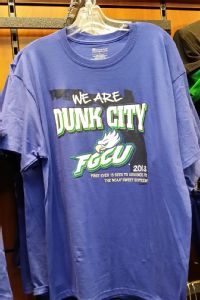 Myron Medcalf for ESPNDunk City went national a season ago, and FGCU knows it can only capitalize off that name recognition.
The "Dunk City" brand is so powerful and potentially lucrative that eight separate groups or individuals, including Florida Gulf Coast University, have applied to trademark and exclusively utilize the phrase with the United States Patent and Trademark Office.
The legal process is ongoing.
"There's no debate. That's ours," Evans said. "There was no Dunk City until us. In fact, we are in the process of trademarking 'Dunk City.' That's underway. There are others. But we think we will prevail."
Dunk City was an impetus for interest that's prompted FGCU's leadership -- inside and outside athletics -- to ponder a future that arrived earlier than they'd anticipated. Admissions for next fall have already skyrocketed by nearly 40 percent, and new donors have come forward from nearby -- and wealthy -- places like Naples, Fla.
And now that the team is filling up Alico Arena, there are thoughts about a future with a larger facility. Even football has been discussed as a possibility, although a feasibility study conducted a few years ago exposed various challenges the school would have to overcome.
FGCU is physically limited because it was built on preserved land. So the university has access to only half of the school's massive footprint per state laws.
Fort Myers officials seem willing and excited to help, if expansion occurs.
"I have a very selfish interest in the future expansion of FGCU in the sense that we have a beautiful downtown here, situated on the outstanding Intracoastal Waterway known as the Caloosahatchee River," Mayor Randy Henderson Jr. said. "I hope to partner with FGCU in ways that maybe offer them a chance to have a presence in downtown Fort Myers. I think it'd be great for our city. ... I believe that when you have a good thing like FGCU, it's not gonna stop. It's just going to keep going."
All of this fervor about the future is tied to basketball.
Without ongoing Florida Gulf Coast basketball success, then Dunk City might not become anything more than a name on a sweatshirt at the school store, a highlight reel that airs every March or a rap video on YouTube.
If last postseason was just the first of many hardwood milestones, however, then Dunk City might have been the seed for something that enhances a program, an athletic department and an entire university.
"This is Dunk City," said Nicolas Hall, a freshman political science major at FGCU. "That's where we go to school. It's not Gulf Coast. It's Dunk City."
And that's a good thing because "Cow City" wouldn't have had the same allure.
ESPN Staff Writer
Covers college basketball
Joined ESPN.com in 2011
Graduate of Minnesota State University, Mankato
Andy Katz's Weekly Honors
Monday's Game Plan
Game Plan is our new morning primer, designed to give you everything you need to know about the games that were and the games that will be in college hoops this week. Send us feedback and submissions via email and Twitter.
The Texas Longhorns are in sort of a weird place right now.

After a decade-plus of mostly uninterrupted success thanks to a mostly uninterrupted gift of talent acquisition, Texas coach Rick Barnes finally stubbed his toe last season. The culpable rock was Myck Kabongo's run-in with the NCAA: When the former decided to take airfare and instruction from an NBA agent (and mislead Texas compliance when questioned), the latter decided to suspend Kabongo for 23 games.
The ordeal left Barnes with a massive hole at point guard on a team that disproportionately required one, and the Longhorns' ugly turnover-prone offense saw them slip to just 16-18 in 2012-13 -- the first sub-20 win season of Barnes' career.
A year later, with Kabongo in the NBA and the rest of a young group rounding into shape, a more cohesive Longhorns group is off to a don't-look-now 9-1 start. The lone loss came in a close game against BYU in Kansas City; the best win came on the road at Temple. Sophomore forward Cameron Ridley has morphed into one of the nation's best shot-blockers (Ridley swats 12.8 percent of available attempts, eighth-best in the country), and junior Jonathan Holmes isn't far behind. Together, the two have made Texas the second-shot-blockingest team (20.8 percent) in the country this season. Simply put: Opponents don't score easy buckets against the Longhorns.
To read all of Monday's Game Plan, complete with ICYMI, state of the week and games you need to see, click here.
Freshman Tracker
Each week we release the Freshman Tracker, and each week there are new names and plenty of movement.
Last week we went through the weaknesses of each player in the Top 10. This week we give you an NBA comparison for each guy.
Check back each week as we'll have updates on how they did on the floor and give you the rundown on the top first-year players in the country, in a season in which the young guys have taken center stage.

1. Jabari Parker, F, Duke Blue Devils 6-foot-8, 235 pounds
The Blue Devils had the week off.
Comparison: Glenn Robinson. "He's a less athletic version of the Big Dog. Can score in so many different ways." -- NBA executive
This week: Monday vs. Gardner Webb; Thursday vs. UCLA at Madison Square Garden
Stats: 22.1 PPG, 7.8 RPG, 47 percent 3-point shooting | Previous rank: 1

2. Julius Randle, PF, Kentucky Wildcats 6-9, 250 pounds
Randle had another double-double in the Wildcats' win against Boise with 17 points and 11 boards, but struggled in their loss against North Carolina, finishing with just 11 points and five rebounds.
Comparison: Zach Randolph. "Julius has some small forward skills and is more athletic. They are both strong and tough, and both lefties. Both are aggressive scoring the ball." -- NBA executive
This week: Saturday vs. Belmont
Stats: 17.2 PPG, 11.4 RPG, 2.3 APG | Previous rank: 2

3. Aaron Gordon, F, Arizona Wildcats 6-9, 225 pounds
Gordon's numbers aren't quite indicative of his play this season. He had 11 points and four boards in a win over New Mexico State and was terrific on both ends in Arizona's win at Michigan. He finished with 14 points and five rebounds, but also locked down Glenn Robinson III defensively in the second half.
Comparison: Kenneth Faried. "I'm not sure this is who Gordon wants to be, but this is who he needs to be. He's a tremendous athlete who brings toughness and energy -- and could be a terrific rebounder at our level." -- NBA executive
This week: Thursday vs. Southern University
Stats: 12.1 PPG, 8.2 RPG | Previous rank: 3
To see the entire top 10 in this week's Freshman Tracker, click here.

What To Watch
MONDAY
• Gardner Webb at Duke, 7 ET, ESPNU
TUESDAY
• Pittsburgh vs. Cincinnati at MSG, 7 ET, ESPN
• Jacksonville at UCF, 7 ET, ESPN3
• FGCU vs. USF in Las Vegas, 7 ET, ESPNU
• Howard at Liberty, 7 ET, ESPN3
• Charlotte at Florida State, 7 ET, ESPN3
• St. Bonaventure at Wake Forest, 7 ET, ESPN3
• MD-E Shore at Purdue, 7 ET, ESPN3
• Tenn. Tech at Green Bay, 8 ET, ESPN3
• New Mexico St. at New Mexico, 9 ET, ESPN3
• Austin Peay at Vanderbilt, 9 ET, ESPN3
• Missouri Stat at Louisville, 9 ET, ESPN2
• Wichita State at Alabama, 9 ET, ESPNU
• Florida vs. Memphis at MSG, 9 ET, ESPNU
WEDNESDAY
• Texas at North Carolina, 7 ET, ESPN2
• NC State at Tennessee, 7 ET, ESPN3
• Texas Southern at Temple, 7 ET, ESPN3
• Southern Miss at WKU, 8 ET, ESPN3
• Miami (OH) at UMKC, 8 ET, ESPN3
• Tx-Pan American at SMU, 8:30 ET, ESPN3
• Stanford at Connecticut, 9 ET, ESPN2
• LSU at Texas Tech, 8:30 ET, ESPNU
THURSDAY
• Duke vs. UCLA at MSG, 7:30 ET, ESPN
• Florida A&M at South Florida, 7 ET, ESPN3
• Clemson at Auburn, 8 ET, ESPN3
• Florida Gulf Coast at Miss. St., 8 ET, ESPN3
FRIDAY
• High Point at Syracuse, 7, ESPN3
• Liberty at Furman, 7 ET, ESPN3
SATURDAY
• Belmont at Kentucky, noon ET, ESPNU
• Georgetown at Kansas, noon ET, ESPN
• ECU at NC State, noon ET, ESPN3
• Boston at Maryland, 1 ET, ESPN2
• Mid. Tenn St. at Cincinnati, 2 ET, ESPN3
• Murray State at WKU, 2 ET, ESPN3
• UNC Greensboro at Wake Forest, 2 ET, ESPN3
• W. Carolina at Georgia, 2 ET, ESPN3
• Kansas State at Gonzaga, 3:30 ET, ESPN2
• Northern Iowa at Virginia, 4 ET, ESPN3
• Cal Poly at Pittsburgh, 4 ET, ESPN3
• Georgia Tech at Vanderbilt, 4 ET, ESPN3
• Davidson at North Carolina, 5 ET, ESPNU
• Oklahoma at Texas A&M, 7 ET, ESPNU
• Xavier at Alabama, 7 ET, ESPN3
• Notre Dame at Ohio State, 7:30 ET, ESPN2
• Towson at N. Dakota St., 8 ET, ESPN3
• SE Miss. St. at Memphis, 8 ET, ESPN3
• New Mexico at Marquette, 9 ET, ESPN3
• Oklahoma Stat at Colorado, 11:30 ET, ESPN2
SUNDAY
• Purdue at West Virginia, 1 ET, ESPNU
• Army at Rutgers, 2 ET, ESPN3
• Boston College at Auburn, 2 ET, ESPN3
• AR-Pine Bluff at Iowa, 2 ET, ESPN3
• Valparaiso at UCF, 2:30 ET, ESPN3
• La Salle at Miami, 3 ET, ESPN3
• UConn at Washington, 3:30 ET ESPNU
• DePaul at Illinois State, 4:30 ET, ESPN3
• Iowa State at George Mason, 5:30 ET, ESPNU
• W. Michigan at Missouri, 7 ET, ESPNU
• Ore. St. vs. Akron in Hawaii, 7:30 ET, ESPNU
• S. Car. vs. S. Mary's in Hawaii, 11 ET, ESPNU
• Boise State at Hawaii, 1 a.m. ET, ESPNU