Marshall Henderson is all grown up
Editor's note: This story has been updated with new information about the exchange between Marshall Henderson and Rick Ray.
Marshall Henderson was heading back to his team's bench last week, a victory over rival Mississippi State in hand, when he shouted out a phrase including an obscenity.
Thinking it was directed at the Mississippi State team, Bulldogs coach Rick Ray responded with an obscenity directed at Henderson. The Bulldogs' coach apologized a few hours later.
Whether Henderson intentionally instigated this exchange depends on who you ask. Both sides have their opinions.
A year ago, there would have been no doubt. Henderson was the instigator. He was the villain. He was not a sympathetic figure.
More on ESPN.com

Haven't heard about any problems with Marshall Henderson? That's because there haven't been any, writes Andy Katz. Story

---

It was a wild Saturday across college basketball. So the Bracket Math must be all jumbled? Not so fast, writes Joe Lunardi. Story

---

Arizona enters the next phase of its life now that the Wildcats face the rest of the season without Brandon Ashley, writes Eamonn Brennan. Story

• Goodman: Cats without Ashley


• DW: Cuse letdown coming?
• Nation blog

Henderson is still the one player the opposing fans love to hate. But he has tuned them out and is just playing basketball, not listening or taking the bait of the jeers. He'll certainly hear them again Tuesday when he makes his one trip to Rupp Arena to face Kentucky.
Henderson, who sat out three games this season (the season opener and first two SEC games) due to a suspension because of a failed drug test in the offseason, is leading the Rebels by averaging 19.2 points a game. He's the only senior on the defending SEC tournament champs, and if Ole Miss is able to pull off an upset at Kentucky and move into sole possession of second place behind Florida then most likely it will be by Henderson's hand.
"I'm excited about this, but it won't be anything different," Henderson said of his Ole Miss' date with Kentucky (7 ET, ESPNU), a team, that like Ole Miss, stands at 6-2 and trails Florida (8-0 in the SEC). "It's a big-time place, big-time crowd and big-time team. We're tied for second place. That's what this game is about Tuesday."
But Ole Miss coach Andy Kennedy knows the focus will be on Henderson, which is not lost on Henderson, either.
He's the target.
"People paint our heroes and our villains early and we don't allow them to get out of a box," Kennedy said. "Marshall was painted as a villain and it was some of his own doing. He's not harmless in the equation. But he's already projected as the guy. We go to Coastal Carolina, Western Kentucky and it's a sellout to see him. We're at Tennessee the other night in a damn snow storm and they still had 15,000 people there.
"People love to antagonize the antagonist. He's been good at not taking the bait."
Why?
"I honestly don't care as much about that anymore," Henderson said. "I've always been good about blocking it out. Going on the road has been nothing new for me. I know what it means to go and play at a packed house. I always tried to block out but I responded more last year."
The Auburn game was epic in the SEC last season, with Henderson flashing his jersey at the fans after a road win and drawing their ire. The video became a viral hit.
None of that has happened this season.
When Michigan beat Michigan State last month in East Lansing, the Wolverines Nik Stauskas was blowing kisses to the crowd. No one labeled him a troublemaker. If that were Henderson, he wouldn't have heard the end of it.
"He has handled himself well," Kennedy said. "He has to play with an edge. But his focus has been good."
Henderson has softened, too. And others have noticed.
"Credit Andy Kennedy and his staff and the University for sticking with Marshall when everyone else was ready to quit on him," South Carolina coach Frank Martin said. "Because of basketball and Ole Miss it looks like a lot of growing up has taken place with Marshall."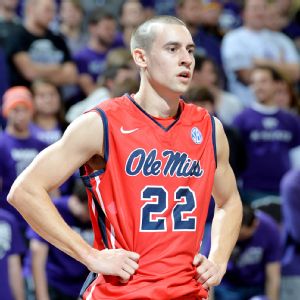 Peter G. Aiken/Getty ImagesMarshall Henderson has been quiet this year, knowing full well all eyes are on him.
There was no choice. Henderson was on the shortest leash possible. He was subject to constant drug testing and has been under the microscope the entire season. Henderson said in an extensive interview in October that he has been able to stay clean and sober during the basketball season, but it has always been after the season when his life goes awry. This upcoming offseason -- the one in which a professional basketball career will be in the balance -- will be his ultimate test.
"I wouldn't be playing if I wasn't [clean]," Henderson said. "I'm still on ultra-lockdown. If anyone thinks I'm not, they're crazy."
Henderson has played much better lately, making 52 percent of his two-pointers and 90 percent of his free throws over the past seven games. Over the first 11 games of the year, he shot 25 percent on twos and 77 percent at the line.
"He's defending a lot better and I'm having to play him a lot of minutes," Kennedy said.
Henderson realized the responsibility of being a senior leader when he was cleared to return. Still, it's been a process.
"I knew I didn't have a leg to stand on at the beginning of the year," Henderson said. "I knew I needed to change some things. I'm growing more and more. I'm the only senior. We've got 10 games left. I've got to be the guy after a turnover to say 'Next play.' My eyes have been opened up more and more."
Henderson said the Rebels' predicament as they hunt for an NCAA berth is their own doing. The late-game losses came thanks to shot selection and defensive breakdowns.
Aside from the Tennessee loss, the switch seems to have been flipped. A split with Kentucky, or an upset at Rupp, would certainly change the narrative.
"I know it's hard to get to the NCAA tournament for teams like Ole Miss," Henderson said. "We're not Duke or Kentucky who make it every single year. If we make it this year it would mean so much to me. Everyone forgot we won the SEC last year. No one gave us a chance again. No one expected us to do anything. If we make it back this year and show everyone that didn't give us a chance that would mean a lot."
Henderson is back on national stage Tuesday at Kentucky. The focus, the spotlight, will be on him. He has shown no reason to believe he won't block out the noise. Whether he plays well or leads the Rebels to a win, though, remains unknown.
"He's super-excited to be at Rupp Arena," Kennedy said. "He's never been there. He'll never go back. He has matured. He is putting his energies in the right direction."
Andy Katz's Weekly Honors
Monday's Game Plan
Game Plan is our Monday morning primer, designed to give you everything you need to know about games that were and the games that will be in college hoops this week. Send us feedback and submissions via email and Twitter.
It is a testament to how good Arizona has been for so long that today, Feb. 3, is the first in which it is appropriate to talk about what they can't do, what they don't have, what adjustments they need to make.
It is also, of course, a testament to Brandon Ashley.

On Saturday night, the best and most balanced team in the country lost its first game of the season. It did so at Cal in a brutal shooting performance that persisted until the final minute, when guard Nick Johnson earned a great 15-foot look at a go-ahead bucket and just plain missed. ...
All of this was very fun. It was also no big deal to Arizona. The Wildcats shot horribly and lost a conference game on the road in the final minute; these things happen. In a vacuum, Sean Miller would have left that game feeling fine. No thinking fan's impression of Arizona would have changed.
But Arizona's loss was much greater than any single game. It lost Ashley, its starting power forward, to a broken foot that ended his season.
To read all of Monday's Game Plan, complete with ICYMI, state of the week and games you need to see, click here.
Freshman Focus
ARIZONA
• Thursday vs. Oregon, 9 ET, ESPN
• Oregon vs. Arizona, 7 ET, Pac-12
DUKE
• Tuesday vs. Wake Forest, 9 ET, ESPNU
• Saturday at Boston College, 6 ET, ESPN
KANSAS
• Tuesday at Baylor, 7 ET, ESPN2
• Saturday vs. West Virginia, 4 ET, ESPN
KENTUCKY
• Tuesday vs. Ole Miss, 7 ET, ESPNU
• Saturday at Miss. State, 1:30 ET, ESPN3
SYRACUSE
• Monday at Notre Dame, 7 ET, ESPN
• Sunday vs. Clemson, 6 ET, ESPNU
Freshman Tracker
Each week we release the Freshman Tracker -- and each week there are new names and movement.
Here is our updated ranking of the 10 best freshmen in college basketball.
1. Tyler Ennis, G, Syracuse Orange 6-foot-2, 180 pounds
He continues to be steady and lead his team to win after win. Ennis had 18 points, five boards and four assists in a win at Wake and then scored 14 points, dished out nine assists and committed just two turnovers in a 40-minute effort in the overtime victory over Duke at the Carrier Dome. He ranks among the nation's best in assist-turnover ratio at nearly 4-to-1.
This week: Monday vs. Notre Dame
Stats: 12.4 PPG, 5.6 APG, 3.3 RPG, 2.7 SPG | Previous rank: 1
To see the entire top 10 in this week's Freshman Tracker, click here.

MONDAY
• Notre Dame at Syracuse, 7 ET, ESPN
• Hampton at Morgan State, 7:30 ET, ESPNU
• Iowa State at Oklahoma State, 9 ET, ESPN
• PV A&M at Alabama A&M, 9 ET, ESPNU
TUESDAY
• Ohio State at Iowa, 7 ET, ESPN
• Ole Miss at Kentucky, 7 ET, ESPNU
• Kansas at Baylor, 7 ET, ESPN2
• Texas at TCU, 8 ET, ESPN3
• Wake Forest at Duke, 9 ET, ESPNU
• Missouri at Florida, 9 ET, ESPN
WEDNESDAY
• Boston College at Virginia, 7 ET, ESPN2
• Oklahoma at West Virginia, 7 ET, ESPNU
• Pittsburgh at Miami, 7 ET, ESPN3
• Wichita State at Indiana State, 8 ET, ESPN3
• Stanford at Cal, 9 ET, ESPN2
• Louisville at Houston, 9 ET, ESPNU
• Wyoming at New Mexico, 11 ET, ESPNU
THURSDAY
• Connecticut at Cincinnati, 7 ET, ESPN
• LSU at Georgia, 7 ET, ESPN2
• Robert Morris at LIU Brooklyn, 7 ET, ESPNU
• Oregon at Arizona, 9 ET, ESPN
• Penn State at Michigan State, 9 ET, ESPN2
• Murray Sate at Belmont, 9 ET, ESPNU

FRIDAY
• Manhattan at Canisius, 7 ET, ESPNU
• Detroit at Valaparaiso, 9 ET, ESPNU
SATURDAY
• North Carolina at Notre Dame, noon ET, ESPN3
• Virginia at Ga. Tech, noon ET, ESPN3
• Alabama at Florida, noon ET, ESPN
• Virginia Tech at Pitt, noon ET, ESPN3
• Cleveland State at Wright State, 1 ET, ESPN2
• Nebraska at Northwestern, 1 ET, ESPNU
• Kentucky at Miss. State, 1:30 ET, ESPN3
• Texas at Kansas State, 1:30 ET, ESPN3
• Michigan at Iowa, 2 ET, ESPN
• Florida State at Maryland, 3 ET, ESPN2
• West Virginia at Kansas, 4 ET, ESPN
• TCU at Iowa State, 4 ET, ESPN3
• Saint Louis at La Salle, 5 ET, ESPN2
• Duke at Boston College, 6 ET, ESPN
• Baylor at Oklahoma, 7 ET, ESPN2
• Cincinnati at SMU, 7:30 ET, ESPNU
• Wichita State at N. Iowa, 9 ET, ESPN2
• Gonzaga at Memphis, 9 ET, ESPN
• Oklahoma State at Texas State, 9:30 ET, ESPNU
• Nevada at San Diego State, 10 ET, ESPN3
SUNDAY
• Connecticut at UCF, 6 ET, ESPN2
• Clemson at Syracuse, 6 ET, ESPNU
• Washington at Colorado, 8 ET, ESPNU