Michigan Passes Chemistry Test With Win
Myron Medcalf
ESPN.com
MINNEAPOLIS -- Trey Burke and Tim Hardaway Jr. have bonded through video games, the universal passion of young men on campuses around the country.
Yes, an Xbox 360 helped the duo connect a year after they realized Michigan would become what is has become -- a squad that quieted naysayers after a Sunday loss at Ohio State and justified its top-five ranking when it stomped No. 9 Minnesota 83-75 on Thursday in Minneapolis -- only if they jelled.
They'd tussled with moments of inefficiency throughout 2011-12. Their on-court vibe occasionally felt more like punk rock than jazz, even though the talented players led the Wolverines to a slice of the Big Ten title that they split with Michigan State and Ohio State.
But what if they clicked more once they left the court? Burke figured "NBA 2K" and "Madden" could provide the platform for a union that would boost the entire program.
"That connect, that bonding off the court, I think that's real critical, real important for us because it brings us together," Burke said.
Hardaway, however, didn't like video games last season. He had no interest. His teammates, however, loved them.
So he eventually jumped in, too.
[+] Enlarge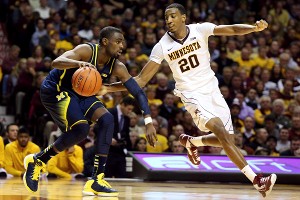 Cal Sport Media/AP ImagesTim Hardaway Jr. had 17 of his 21 points in the first half for Michigan.
"I wasn't a video game guy last year, but it's great to have that chemistry off the court and just try to build a bond and know what [Burke's] character is like off the court as well as on the court," Hardaway said.
And now it's a regular pastime for Burke and Hardaway, who combined to score 39 points against the Gophers (15 turnovers).
At this point, it doesn't matter if the two standouts developed their relationship through video games, yoga classes, a book club or "Scandal" viewings. There's clearly a freshness and fluidity in how they operate today. That -- not the vehicle -- is the most meaningful component of their growth in 2012-13.
On Thursday night, Burke (18 points, 9 assists, 1 turnover) prompted Minnesota's defensive confusion -- both zone and man-to-man schemes failed -- with his penetration, jumpers and sweet passes. As he dazzled, Hardaway (17 of his 21 points in the first half) picked the perfect spots and shots.
If Burke cut to the basket, Hardaway found room on the edges. If the point guard raced up the floor on a fast break, Hardaway sprinted toward the rim. If Burke slowed the pace, Hardaway adjusted and waited for the play to develop.
They're now more like Miles Davis and John Coltrane collaborating in a 1950s studio. And we're the privileged spectators peering through the glass as they record another captivating track.
"You can see the difference in knowing exactly where they want the ball at, how they want the ball," said former NBA star Tim Hardaway Sr., who attended his son's game in Minneapolis. "[Hardaway] knows [Burke's] voice when he's running up and the down the court. … That chemistry has to be there. You gotta know your teammates. You've gotta help your teammate out. And that's what they're doing."
When Hardaway and Burke compete with the swagger they tapped into on Thursday, the Wolverines are as powerful as any program in the country.
"It's my job to keep him going, continue to get him the ball where he scores best at," Burke said.
In the first half, the Wolverines connected on six of their 11 3-point attempts. Hardaway collected four of them, Burke was responsible for the other two.
The Wolverines (10-for-20 from the 3-point line), who'd forced 10 turnovers in the first half, led 36-30 at halftime.
And then, they orchestrated a stretch that not only contrasted their struggles at Ohio State on Sunday, but also featured some of the most beautiful basketball of the year. A flurry of layups and dunks anchored a 20-7 rally that gave the Wolverines a 56-37 lead with 12:31 to play.
The box score suggests the Gophers climbed back into the game. And technically, they did. They were down by seven points in the final minutes.
By then, however, their opponents had snatched the mojo of a top-10 team playing in front of its home crowd. It was the most impressive win of the year for Michigan. It was a victory that voters must weigh as they finalize their rankings in the coming days.
In the game, just three of Burke's passes were assists on Hardaway buckets.
But their collective success disrupted Minnesota's defensive principles. When the Gophers tried to force Hardaway into tougher shots, they ultimately gave Burke more room to work. When they focused on Burke, Hardaway assumed the role of heartbreaker.
"They really look for each other," John Beilein said after the game.
Two weeks ago, Hardaway and Burke partnered together in the team's video game "challenge," which separated the freshmen, sophomores/juniors and seniors.
The seniors won the tournament.
Hardaway, however, might not have participated a year ago. Burke might not have invited him due to his apathy.
Their friendship, however, is different now.
And something as simple as a video game enhanced it.
"We're just playing out there," Burke said. "Just working out together in the summer, getting to know each other better off the court; you can tell that our chemistry is better on the court. We're just out there finding each other when we need to."
Added Hardaway: "It's great just reading each other's eyes, knowing what spots you want the ball on the court. It's great just to have a point guard that you can trust. And he can trust me in any situation."
Home Court Live Chat
ESPN.com staff

Two top-10 teams meet at The Barn on Thursday, and our experts will be here to talk about it. Join Myron Medcalf and Eamonn Brennan as they discuss Wolverines versus Gophers and all the other action starting at 7 p.m. ET:
Northwestern Stuns Illinois
Thursday Accolades
By Eamonn Brennan, ESPN.com
Game of the night: No. 22 VCU 92, Saint Joe's 86. One of the more entertaining games of the season thus far. Saint Joe's -- the preseason A-10 favorite but a slightly disappointing outfit to date -- went to an absolutely raucous Siegel Center in Richmond and gave VCU absolutely everything it could handle. Down four in the final moments, VCU needed a 3 from Troy Daniels and a lightning-fast, game-tying bucket from Darius Theus to push the game to overtime, at which point the Hawks (but not the Hawk, their tirelessly flapping mascot) ran out of gas. Even so: great game.
Surprise of the night:
Northwestern 68, No. 23 Illinois 54. It was fair to expect the Illini to regress to the mean during the Big Ten season, but this? A 68-54 home loss to a team that had been outscored by .20 points per possession in its first four Big Ten games? The Illini, so reliant on the 3 all season, shot just 3-of-20 from beyond the arc Thursday night and are shooting just 23 percent in their first five Big 10 games. When they're on, they can play with anybody. When they're not, the inverse is true.
Performance of the night:
Kevin Van Wijk
, Valparaiso;
Nick Minnerath
, Detroit. We're splitting this superlative because both players had insane nights, and the fact that they did it in the same game only accentuates things. Van Wijk had 31 points and five rebounds. Minnerath had 36 points, four rebounds and three steals. And these performances came after Valpo rebounded from a 50-32 halftime deficit to win 89-88.
Big Second Half Fuels Duke
Loss Leaves Gophers Grasping
By Andy Katz, ESPN.com
MINNEAPOLIS -- Minnesota can no longer blame injuries and defections for the Golden Gophers' sudden issues.
Blaming the competition doesn't fly, either.
Minnesota probably shouldn't win at Indiana (Wisconsin did) or beat Michigan at home (Ohio State did). But the Gophers are no longer the Gophers from the past two seasons, when issues dogged the team.
Yet, the convincing Jan. 9 victory at Illinois was followed up by flops in the first halves at Indiana and then again Thursday against Michigan. The Gophers had chances to come back in both games, playing to their strengths by getting rebounds, spreading the floor, causing turnovers and making shots.
But it was too late in both games and now, after the 83-75 loss to the No. 5 Wolverines, the Gophers are 3-2 in the Big Ten and looking up at not just Michigan and Indiana, but also Michigan State, Ohio State and 4-0 Wisconsin.
"I'm disappointed,'' said Minnesota coach Tubby Smith. "Usually we respond much better. I don't know what happened.''
The ninth-ranked Gophers dug themselves a huge hole against the Wolverines, much as they did against the Hoosiers. Turnovers dogged Minnesota early and often; so, too, did missed free throws. Oh, and the inability to even cover Tim Hardaway Jr., let alone Trey Burke -- arguably one of the best backcourts in the country -- led to a 19-point deficit at one point.
"We can't be digging these holes like we do,'' said Minnesota's Rodney Williams, who fouled out after scoring 11 points. "We can't be out there and not be on the same page."
To read the rest of Katz's story on Minnesota's loss to Michigan, click here.