Champions Classic Brings The Drama
Dana O'Neil
ESPN.com
ATLANTA -- This is usually the avert your eyes and hide the children part of the season, the time of year when even the most dedicated hoops fan has to admit that many of the games aren't beautiful in the eyes of the most rose-colored beholder.
Which is why Tuesday night was downright stunning. It was, in the words of longtime Philadelphia hoops observer Jack Scheuer, vvg hoops -- very, very good hoops.
Hard-fought. Intense. Not terribly sloppy. Down to the wire. If the Champions Classic, which tipped us off to the national title game last season, is giving us a taste of what college basketball is going to be this year, bring it.
This was April basketball gift wrapped five months early. The Georgia Dome is the site of this year's Final Four, but the games aren't until April. Did anyone tell the players? Because they played like their shining moment was dependent on it.
Heck, the season isn't even a week old and we already have our first controversy. At halftime, Calipari said of Duke's players, "They're flopping all over the place. In the NBA, they'd all be suspended.''
[+] Enlarge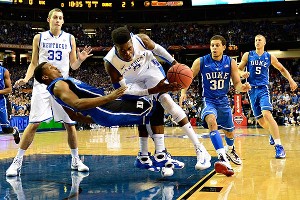 Paul Abell/US PresswireTwo top-10 teams duked it out Tuesday in Atlanta.
Told of the comments, Mike Krzyzewski offered his trademark smirk.
"We took charges. There's a difference between a charge and a flop,'' he said. "Besides, we don't make money. We can't be fined.''
Pressed on the issue after the game, Calipari turned the flop into a flip. "I did? I don't even remember,'' he said. "It was a joke. You guys at Duke can take a joke, right?''
It probably slides down a little easier now, what with Duke getting the win and all.
But even the losers in this one -- or as the NCAA once called them, the non-winners -- can't go home with hangdog faces. Both games could have gone either way. John Calipari said the difference between his team winning and losing was a few 90-second spans when the Wildcats didn't play great.
He was right. The margin in both games was that slim.
"This was a heckuva game,'' Krzyzewski said. "To have these four teams in the Georgia Dome, the whole concept behind this has been amazing. It's why we wanted to be a part of it. This was top quality play.''
And the good news is it is only November.
The coaches, of course, preached that they had work to do. All of them. From victorious Krzyzewski and Tom Izzo to disappointed Calipari and Bill Self, they all said they were satisfied with their current product, that they saw plenty of things to work on.
It's coachspeak, but not entirely nonsensical in this case. They are only two games in. The Kentucky freshmen, on a dog-year maturation process, do need to understand that the game is 40 minutes. Chances are, Calipari will preach that.
The Jayhawks do have to help newcomers Ben McLemore and Perry Ellis, pivotal pieces to their team's process, look to score and play more aggressively.
The Spartans and the Blue Devils, too, aren't perfect. Far from it.
So that's the good news. It's November.
The better news? These games sure didn't look like it.
When Needed, Curry Comes Through For Duke
Andy Katz
ESPN.com
ATLANTA -- Seth Curry was the last Duke player to come onto the court for a Tuesday afternoon shootaround.
He had a cameo or two on the court, but he didn't do much. Who knows how long he'll have to be a part-time practice player.


But the Blue Devils will deal. They have no choice. And if Curry continues to play the way he did Tuesday night against Kentucky, then he can take as many practice possessions off as needed.
In his team's 75-68 victory over the Wildcats at the Georgia Dome, Curry was the Duke savior with 23 points, a number of them coming during a key stretch in the second half when Mason Plumlee was saddled with four fouls.
The Curry injury is being diagnosed as some sort of leg fatigue, or shin splints.
"The biggest thing is shape-wise and coach did a good job of getting me out of the game to be fresh at the end of the ball game,'' said Curry. "I'm trying to stay sharp with limited practice time and my teammates did a good job of finding me since I haven't been around them as much as I usually am in practice. They did a good job of finding me and got me going with open shots and that was key.''
MSU's Appling Finds His Groove In Win Over KU
Dana O'Neil
ESPN.com
ATLANTA -- It is not exactly how you'd imagine Tom Izzo would draw it up, at least not if the Michigan State coach had access to statistics and information. Tight game, up one, under two minutes left and Keith Appling, who hit 25 percent of the 3-pointers he tried a year ago, pulling up beyond the arc. It sounds more cringe worthy than game winner.
Except Izzo, of course, has access and knowledge to the backstory. He knows how Appling spent his summer vacation, if you will. He knows about the hours the guard spent locked in the gym.


And Izzo knows about the gun. That's the funnel-like apparatus that masochistic coaches set up over the hoop, trying to force their players to improve the arc on their shot.
For Appling, the gun was, according to Michigan State assistant coach Dane Fife, set to just about the top of the ceiling.
And so when Appling pulled up, with 7-foot Jeff Withey within an arms length no less, Izzo didn't even blink.
More important, neither did Appling. The junior rose with a confidence that Reggie Miller would admire, sinking the trey and sealing a hard-fought 67-64 victory over Kansas in the Champions Classic.
"Keith is a phenomenal athlete but I think this summer he fell in love with the game again,'' Izzo said. "I'm proud of him. When you see a kid put in the work like that, it's nice to see them get the reward in a game like this.''
After Rough Offseason, Xavier Rips Butler
Myron Medcalf
ESPN.com
It's too soon to glean any substantial benefits from Xavier's 62-47 victory over Atlantic 10 foe Butler -- the game did not count toward their mark in conference -- with the exception of one. Given the Musketeers' turbulent offseason, one that followed a frenetic regular season in 2011-12, Tuesday's win will boost the morale of a team with a new, albeit forced, persona.
"We took a good step forward today," coach Chris Mack told ESPN.com. "It gave our guys a shot of confidence. But we know there's work to do."


Mack's program lost nearly 80 percent of its offensive production from last season. Some of those reductions were natural.
Both Tu Holloway and Kenny Frease exhausted their eligibility. Other departures, however, were less seamless. Mark Lyons abruptly transferred to Arizona. Dezmine Wells was dismissed following sexual assault allegations. A grand jury decided against pursuing charges, but he ultimately joined Mark Turgeon at Maryland.
Plus, two former assistant coaches left Mack's staff. So the team's circumstances demanded a fresh start.
And a dominating win over Butler in the Cintas Center in Cincinnati offered the Musketeers that chance to move forward from the last calendar year's mess.
Lavin Victorious In His Return To St. John's
Kieran Darcy
ESPNNewYork.com
NEW YORK -- Steve Lavin is back, and his young team is off to a promising start.
After missing almost all of last season while recovering from prostate cancer, Lavin officially made his return to the sideline Tuesday afternoon. And St. John's Red Storm won its regular-season opener against Detroit, 77-74 at Carnesecca Arena.


In his postgame news conference, Lavin was asked how he felt about his comeback. "I think so much of the way I feel is a result of your team and their energy, and feeding off of that synergy," Lavin said. "Similar to a parent -- if your children are lined in the right way and they seem well adjusted and they're contributing in a meaningful way, then you feel better as a parent. And as a coach, I feel good because this team found a way to get a gritty W."
It didn't look like that was going to happen in the first half after Detroit broke open a tie game with a 9-0 run and led 37-29 at intermission. St. John's still trailed 60-53 with under nine minutes remaining, when the Red Storm took over with a 14-2 run of their own to wrest control of the game.
Temple Rides Scootie Randall To Victory
Jason King
ESPN.com
When Scootie Randall injured his knee prior to last season, there were people who said the Temple standout would never be the same.
They were right.
Playing in his first game in more than a year, Randall hardly looked like his old self in the Owls' 80-66 victory at Kent State.


Instead, he even was better.
Randall scored a career-high 31 points on 10-of-19 shooting to propel Temple to a hard-fought road win in its first game of the season. Randall, who hadn't played in a game since March of 2011, also made four steals against a Kent State squad that was high on momentum after upsetting Drexel in overtime four days earlier.
Temple coach Fran Dunphy was asked after the game if he was surprised by Randall's breakout performance after such a long layoff.
"Not really," Dunphy told ESPN.com. "He has no fear. He's not afraid to make a mistake. He's worked really hard for this moment."
Randall, who redshirted last season after tearing the meniscus in his left knee, connected on 5 of 12 attempts from 3-point range. His biggest moment came when he swished back-to-back 3s to turn a 46-46 tie into a 52-46 Temple lead.
The Owls would never trail again.
"Coach Dunphy always says, 'To take shots, you've got to get shots,'" Randall told ESPN.com. "I was working extra hard out there to create opportunities for myself.
"The last year has been tough, but my teammates kept pushing me. They kept me involved. It felt good to be back."
Carter Not An Unlikely Hero To Minutemen
Steve Richards
ESPNBoston.com
AMHERST, Mass. -- With the bulk of its key contributors back from an NIT Final Four season, the University of Massachusetts men's basketball team enters this season with more anticipation and greater expectations than it has in more than a decade.
Yet with 1:21 remaining in its season opener against a Harvard team that lost two of its mainstays during an offseason cheating scandal, the Minutemen trailed by five, their fans bracing for a letdown they've felt before in the 14 years since their last NCAA tournament appearance.


So with the game on the line in the closing seconds, UMass turned to (who else?) a kid who missed the bulk of last season with a hip injury and hadn't scored a point all game.
But to hear the Minutemen and coach Derek Kellogg tell it, having Sampson Carter hit a winning 3-pointer with one second to play to give UMass a 67-64 victory was just how they drew it up.
With game tied at 64 with 28 seconds to play, the Minutemen took possession after Chaz Williams and the UMass pressure defense forced a Harvard turnover along the sideline. Williams let the clock run down before making his move, driving the lane. As Crimson defenders converged, Williams dished the ball to an open Carter in front of the UMass bench, and Carter calmly drained the shot with 1.5 seconds to go.
"Once I saw Chaz go baseline and my man came off, I knew I was getting it because it's something we work on," Carter said. "I knew to slide to the corner."
With time winding down, Carter said he didn't have to think about whether or not to shoot.
"I heard the bench behind me saying, 'Knockdown' so I knew it was a knockdown and I was totally confident."
A Look Back: Tip-Off Marathon Chat
From breakfast to a midnight snack, we devoured college basketball all day long during Tip-Off Marathon Live, an interactive chat involving a number of writers, TV analysts, fans and Twitter users. One hearty soul, Eamonn Brennan, was in there the entire time. Read below and re-live all the fun:
Highlights: Duke Holds Off UK
Who Needs Sleep Anyway?
I am tired. I am groggy. I am fatigued. I am happy.
ESPN's 24-hour Tip-Off Marathon encouraged this level of sleep deprivation, albeit for a good cause. We didn't have to stay up or wake up for college basketball. We did it because we wanted to do it. We did it because deep down, we wanted to test our devotion.
So we gulped caffeine and energy drinks, and we positioned ourselves in front of a TV/tablet/computer and tried to watch every game. And we were treated with a thrilling slate of early-season matchups that created more intrigue about the rest of the year.
Michigan State handled Kansas and Duke topped Kentucky, results that will shift the next set of national rankings.
Massachusetts escaped a Harvard team that looked like an Ivy League favorite. Detroit and VCU, however, did not.
In the very first game, Gonzaga orchestrated the most impressive effort of the entire Marathon. The Bulldogs' opponent, West Virginia, produced its worst.
New Mexico and St. John's were strong down the stretch. Davidson and Butler were not.
Overall, we learned a little more about some of the top teams in the country. We know things will change four months for now. Some teams will improve. Others will regress. It's not safe to make any assumptions about the 2012-13 season based on one night.
But we've all reached one conclusion: We really love college basketball. And we have the bags under our eyes to prove it.
--Myron Medcalf
Highlights: MSU Gets By Kansas
Highlights: Shockers Pull Surprise
Highlights: Michigan On To NYC
Highlights: Pitt Overwhelms Lehigh
Highlights: Xavier Stifles Butler
Medcalf: Marathon's Best And Worst
All-Marathon Team
G -- Keith Appling, Michigan State
G -- Gary Bell Jr., Gonzaga
G/F -- Tony Snell, New Mexico
G/F -- Scootie Randall, Temple
C -- Mason Plumlee, Duke

Best game: Kansas versus Michigan State lived up the hype. The finish, which I mentioned early, was fabulous. But this game featured the best competition and skill of the Marathon. Both teams were coming off subpar efforts in their first games of the year. They played like they had something to prove. KU had control of the game late until Michigan State launched a comeback. Appling's drive in the final seconds sealed it. Great game.
Best matchup: Mason Plumlee versus Nerlens Noel (16 points, nine rebounds and three blocks). The two battled inside throughout the Marathon's most-anticipated duel. Noel's defense kept the Wildcats alive. Plumlee attacked the rim, production that was crucial in Duke's win.
Most confusing: I know West Virginia is adjusting to life without former All-American Kevin Jones and the additions of three transfers who commanded heavy minutes. But Tuesday's loss to Gonzaga was embarrassing. The Mountaineers were 15-for-55 from the field and committed 18 turnovers. Yes, they have a bunch of new faces and yes, the Kennel isn't an easy place to win. But that deplorable effort was still baffling.
Biggest upset: VCU lost 53-51 at home to a Wichita State team that replaced most of the key members from last season's NCAA tournament team. The Rams are -- were? -- expected to compete for the Atlantic 10 title during their first year in the league. But they didn't look the part of a contender during this Marathon upset.
Best hair: Hawaii's Isaac Fotu wins this one. Easily. The 6-foot-8 New Zealander's curly Afro should be trademarked. It was the highlight of the Warriors' win over Houston Baptist.
• To read all of Medcalf's superlatives from the Marathon, click here »
Highlights: St. John's Holds On
Highlights: Owls Notch Road W
Midday Roundup From The Hub
While You Were Sleeping
Myron Medcalf's observations from the Tip-Off Marathon's first five games:
• Gonzaga sparked Final Four talk after its lockdown defense fueled the Bulldogs' 84-50 win against West Virginia. Gonzaga's talent is rarely questioned, and the Bulldogs have dominated the WCC for more than a decade. But they've fallen short of expectations in the past. Gonzaga hasn't been gritty enough in the late stages of the season. The 2012-13 squad, however, not only executed offensively (26-for-50 from the field), but it also smothered the Mountaineers (3-for-26 from beyond the arc, 18 turnovers) with its defense. Gonzaga didn't reveal many flaws in the lopsided win. The Bulldogs looked very dangerous.
• You missed a great game between Davidson and New Mexico. Davidson took a 22-6 lead eight minutes into the game. But the Lobos fed off the energy in The Pit and surged in the second half as they secured an 86-81 win. The teams were locked in a 70-70 tie with 3:20 to go. Tony Snell's 3-pointer with 1:10 to play gave the Lobos a six-point lead. Davidson just couldn't close the gap. But the Wildcats fought hard. Great effort by both teams.
• Rider and Stony Brook were tied 41-41 with 4:10 to go. And that's really all you need to know about Stony Brook's 54-46 victory over Rider. They combined for 35 turnovers. They collectively shot 9-for-34 from beyond the arc. But that's what happens when you play at 6 a.m. St. John's transfer Nurideen Lindsey (17 points) will keep the Broncs alive in a lot of MAAC games this season. Stony Brook's offense will demand more contributors with playmaker Bryan Dougher gone.
• To read all of Medcalf's observations from the early action, click here »
Highlights: Harvard-UMass Thriller
Analysis: Valpo Handles NIU