Indiana's Statement Is Loud And Clear
Myron Medcalf
ESPN.com
BLOOMINGTON, Ind. -- Hours before tipoff of No. 1 Indiana's 83-59 victory over No. 14 North Carolina Tuesday night, Hoosiers fans twisted and turned in a disjointed line that seemed to circle the entire campus. The faithful eventually poured into Assembly Hall and chanted, cheered and chewed up the opposing Tar Heels with vocal cords that collectively echoed the trembles of a train rolling through a Southern countryside. Their piercing tones rivaled the significance of the event, the most highly anticipated matchup on Day 1 of the ACC/Big Ten Challenge and another meaningful game in Indiana's ongoing renaissance. After a brief fizzle in the first half -- once Carolina became feisty for a brief stretch -- the team's backers regained their fervor.
[+] Enlarge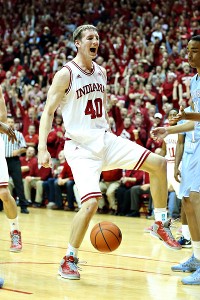 Andy Lyons/Getty ImagesCody Zeller had reason to celebrate against North Carolina.
But with every offensive wave that turned a competitive encounter into an embarrassment for the visitors, their pitch changed. They no longer screamed like stunned observers surprised by the turn of a program that won just three Big Ten games a few years ago. They began to react like a crowd that expected victory, even against a perennial titan. The Hoosiers were good last season. Whipping North Carolina wasn't necessary to prove that. But this 7-0 start -- a run that has included wins over an average Georgia squad, an underrated Georgetown program and the overmatched Tar Heels -- is the trailer to the program's evolution. Entranced supporters spilled onto the team's home floor after its win over No. 1 Kentucky on Christian Watford's buzzer-beater last December. Less than a year later, however, players, coaches and fans acted like folks attached to a program with much loftier goals. The Heels kept the matchup close in the first 15 minutes. But a late run in the first half turned the nozzle of an offense that flooded the young program after halftime. With nearly 10 minutes to play, Indiana led by nearly 30 points.
Cody Zeller
finished with 20.
Victor Oladipo
and
Will Sheehey
added 19 apiece.
Jordan Hulls
, however, recorded the night's most impressive stat line: 13 points (3-for-5 from beyond the arc), seven rebounds, eight assists, two steals and zero turnovers. Indiana's commitment to defense has been questioned throughout Tom Crean's tenure. But when the Hoosiers pressured, the Tar Heels started the second half 1-for-20 from the field. All indicative of its status. "This program, over the past couple years, has really been struggling," Oladipo said. "We're trying to get it back to where it belongs and that's on top." Let's eliminate the excuses now.
P.J. Hairston
stayed in Chapel Hill due to injury. This is one of Roy Williams' youngest teams. And it was obvious early. The Tar Heels don't know how to play together, so they certainly didn't have a clue when challenged to respond as the nation's most efficient offense entered Beast Mode. But the margin is significant. Indiana pounced when it could have coasted. The win alone wasn't sufficient. The Hoosiers wanted to make a statement. Here's what they said: We're elite again. Sure, the focus of last season's success was the program's surge after the initial challenges that Crean inherited when he took over the program in 2008. But Indiana's victory over the Tar Heels -- and its overall start to the 2012-13 season -- signified that it has renewed its membership to college basketball's country club. In recent years, the Hoosiers had been denied access. They stood outside the door name-dropping -- "Bob Knight, Isiah Thomas, Quinn Buckner, Scott May?" -- in their effort to maintain the slot they'd enjoyed for so long. But they were phased out of the national conversation by their recent misfortunes. The program's legacy was slowly buried by its crumbling prospects. Yet Crean began to rebuild with a crazy vision that's led to IU's position as the No. 1 team in the country. Hello, Hoosiers. Right this way. We'll show you to your table. Last season, there were glimpses of the program's possibilities. This year, through seven games, there's just proof. Proof that Indiana can be and will be the best team in America come April, if this progress continues. After Tuesday's lopsided win, players were loose. At one point, Oladipo sang a line from the "Cops" theme song after calling Hulls "a bad boy." Sheehey laughed. Zeller feigned sympathy when he was told that the Cleveland Cavaliers, the team that drafted his brother and former North Carolina forward Tyler Zeller, had lost to the Phoenix Suns. They didn't beat their chests because they beat up the Tar Heels. They didn't make promises they'd regret by sunrise. They remained humble while espousing their obvious potential. "We can't be comfortable where we're at," Zeller said. After Crean entered the press room, he offered a similar perspective on his team's furious November. Nothing beyond the typical coaching clichés. The team will work hard and continue to improve. That's the goal. But he also admitted that this experience is one that the entire program is still deciphering. "I've never been a part of a team that was No. 1 in the country to start the season," he said. "We're all learning together." Tuesday's lesson: The Hoosiers can beat any team in America.
Michigan's Burke, Stauskas Up To Challenge
Michael Rothstein
ESPN.com
ANN ARBOR, Mich. -- It is an adjustment which could seem massive, but became subtle the second Michigan sophomore point guard
Trey Burke
saw what he was working with. Making the decision to spurn the NBA for a second year in college, he showed up for summer open gyms, watched his new and returning teammates and figured his role could change slightly this season. How else to explain how, in just one half, Burke tied his career high for assists in a game Tuesday during No. 3 Michigan's
79-72 victory
over No. 18 North Carolina State in the ACC/Big Ten Challenge. Oh, he didn't score in the half, either. A scoreless Burke, even for a half, might have led to a Michigan loss a season ago. Almost certainly it would have led to a major struggle for the Wolverines back then. "Oh, that would have been difficult," Michigan coach John Beilein said. "But with nine assists, though, at the end of those nine assists someone is scoring." This season, it is merely just part of the transformation, where arguably the nation's best point guard can distribute first, second, third and fourth, take only two shots in a half, find guys open nine times for baskets and his team could lead for the majority of the half anyway.
To read the rest of this story, click here.
ACC/Big Ten Challenge Live Chat
ESPN.com staff

Whether at home or on press row, our staff of writers chatted for hours Tuesday night during the ACC/Big Ten Challenge. Relive the debates and commentary here:
ACC/Big Ten Challenge (Tuesday)
Cody Zeller On Indiana's Rout
Highlights: Minnesota-Florida State
North Carolina 'Playing For March'
By Andy Katz, ESPN.com
BLOOMINGTON, Ind. -- North Carolina coach Roy Williams said earlier Tuesday that he had to stop himself from being too critical during his team's loss to Butler last week in Maui because of the freshmen on the court.
He knew he had to be patient. But that patience might be wearing thin.
The Tar Heels could use an excuse that P.J. Hairston was back in Chapel Hill with a sprained left knee, that the freshmen had never been in such a hostile environment as Assembly Hall or that the veterans like Dexter Strickland, Leslie McDonald and James Michael McAdoo were either injured or hardly significant players last season.
But Williams isn't using any of those as a crutch, and neither were his players after a humbling 83-59 defeat to the top-ranked Hoosiers.
To read the rest of this story, click here.
Northwestern Disappoints
By Scott Powers, ESPNChicago.com
EVANSTON, Ill. -- Once the question began to unfold, Northwestern Wildcats sophomore point guard David Sobolewski began shaking his head in disapproval.
His squad had just been routed on its home floor, losing 77-57 to the Maryland Terrapins in the ACC/Big Ten Challenge on Tuesday. The query was whether Northwestern's loss was anything more significant than an early-season defeat, considering the Terps were the first major-conference opponent the Wildcats had faced after starting the season 6-0.
Sobolewski jumped on the question as soon as it was finished.
"No, it wasn't," Sobolewski said. "It was a November game against an ACC team. It's not the end of the season. We got a lot of work to do for sure, but we're not going to stop working. If anything, this will make us hungrier to improve in practice. So it was nothing more than a loss in November."
Some would debate that.
To read the rest of this story, click here.
Highlights: NC State-Michigan
By The Numbers
By ESPN Stats & Information
Here are some fun historical facts Stats & Info gathered up before the start of the Challenge, which is now in its 14th year. Numbers dare updated with Tuesday's results.
• The Big Ten has won three straight Challenges after losing the first 10. From 1999 to 2008, the Big Ten went just 35-62 (.361 win percentage) against the ACC. Since then, it has flipped the script, going 24-16 (.600).
• Six of the 12 ACC teams have winning records in this event (UNC is now .500 after Tuesday's loss). Only Ohio State (6-5) can make that claim in the Big Ten.
• Duke has won 11 of the 13 games it has played in the Challenge. However, both of its losses have come in the past three years (at Wisconsin in 2009; at Ohio State in 2011).
• Minnesota and Florida State met in the Challenge for the fourth time. Five other games were or are being played for the third time: UNC-Indiana; NC State-Michigan; Ohio State-Duke; Iowa-Virginia Tech; Purdue-Clemson.
• The most-successful Challenge programs? Duke (11-2), Wake Forest (10-3) and Boston College (5-1). The least successful? Iowa (2-10) and Miami (1-4).
• In the 137 games in ACC/Big Ten Challenge history, 13 have been decided by two points or fewer -- only two have come since 2009.
• Of the 12 games with the largest margin of victory, the ACC has won nine of them. The largest? Virginia's 92-52 beatdown of Northwestern in 2007.
Best and Worst
• Most points (team): 100 (Indiana, vs. Wake Forest in 2003)
• Fewest points (team): 39 (Penn State, vs. Maryland in 2010)
• Most combined points: 187 (UNC 98, Ohio State 89 in 2006)
• Least combined points 87 (Iowa 45, NC State 42 in 2005)
• Most points (player): 37 (Wake's Justin Gray, 2007/Clemson's Will Solomon, 1999)
• Most rebounds: 17 (UNC's John Henson in 2011)
• Most assists: 13 (Duke's Chris Duhon in 2002)
Expert Predictions
By ESPN.com staff
Six of our brave ESPN.com writers took a shot at predicting all 12 games of the ACC/Big Ten Challenge. Will there be much disagreement? Any upset picks? To see all of the picks and the reasons for the selections, visit the Nation blog »