UCLA's Win Measures Up To Expectations
Dana O'Neil
ESPN.com
TUCSON, Ariz. -- The wheels screeched out of town late on the evening of Nov. 25, the bandwagon leaving Los Angeles so quickly that those still undecided had to either hang on for dear life or fall to the wayside like road kill.
That was the night that UCLA lost to Cal Poly, the most damning nail in their expensive, top-recruiting-class lined coffin. The Bruins were, it seemed, the basketball personification of their hometown -- pretty to look at but devoid of substance.
[+] Enlarge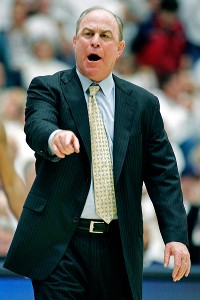 AP Photo/John MillerBen Howland noted that the win keeps UCLA in reach of conference leader Oregon.
Fast forward to this morning, two months to the day after that debacle and the sound you hear is a hundred muffled apologies (from this writer included).
With two games still to play in January, the Bruins have lost just twice since Cal Poly and a team once merely handed the mantle of lofty expectations appears finally to be earning it.
UCLA didn't so much beat Arizona, 84-73, as it did wear the Wildcats down, mop them up and spit them out. The Bruins beat Arizona on the boards, beat the Wildcats in transition, beat them in front of a raucous white-out wearing crowd and beat them without Travis Wear for the entire second half.
That's equal parts talent and equal parts chutzpah. The Bruins always had the first. It's the blossoming of the second that matters.
"I still think we're the team to beat," Larry Drew II said. "The games we lost, I think we should have won but people now are starting to realize what a tough team we are. And I don't think we've peaked yet. We're only going to get better."
Naturally, Ben Howland wouldn't go there. He's a coach, and coaches like to discuss their team's status in basketball hierarchy about as much as they like to host news conferences.
The Bruins' upside, Howland said, is to be determined: "That's simple. We have to try to win the next game." But even he had to acknowledge the significance of the win, both historical and current.
Arizona's first home loss of the season also was the Bruins' first road win against a top-25 team since Kevin Love was on the roster (in 2007-08). That's a long time for average teams; an eternity for a blueblood.
It's also a signature win for a team in desperate need of some NCAA tournament résumé stuffing. Until Thursday night, the Bruins' biggest win was against Missouri. Now they've got the cap of Arizona and its No. 2 RPI, No. 6 ranking, on the road for bonus points.
But most critical, the win keeps UCLA in reach of Pac-12 leading Oregon as it drives across the desert to play Arizona State on Saturday.
"That's huge," Howland said of the tight Pac-12 race.
What's bigger? How the Bruins won this game.
Way back in October, everyone knew that Shabazz Muhammad was a star, a lottery pick just biding his time in college until the age limit restriction ended.
He has done little to ruin that opinion since becoming eligible and against Arizona, probably earned a few more converts. He scored 23 but if scoring were graded on a degree of difficulty, he would have doubled that with his ability to sink off-balance floaters and power drives that have no business going into the hoop.
Muhammad said after his team lost to Oregon a week ago that he thought it was up to him to pull his team out of the gutter, put the Bruins on his back, so to speak.
Except he didn't really have to.
Not entirely, anyway.
Muhammad was the Bruins' leading scorer but the box score proved that he wasn't a one-man show.
Drew dished out nine assists to just two turnovers, offering a steady handle to guide the Bruins' offense, a reliability even more critical when compared to his counterpart. To Drew's nine assists, Mark Lyons countered with zero for Arizona. To Drew's two turnovers, Lyons offered five.
"The difference maker was Larry Drew," Arizona coach Sean Miller said. "He ran their team."
Kyle Anderson pulled down 12 rebounds, stoking the Bruins' almost inexplicable 45-44 rebounding edge. Maybe one extra board doesn't seem like much, but consider Arizona came into the game at +9.4 in rebounding margin; UCLA +2.1.
"That's all we did all week in practice," Jordan Adams said. "Boxing out."
And with Travis Wear on the bench with concussion-like symptoms and Arizona yet again making like Lazarus to come back from the dead -- this time a 14-point, second-half hole -- there was little used Tony Parker converting a conventional 3-point play to stave off the Wildcats for the last time.
"I felt like I was going to have to produce," Muhammad said. "But at the end of the day, we won this game as a team. Everyone played well."
That's what most everybody thought this team was going to be a few months ago -- led by Muhammad, yes, but with solid guys all around him.
Except it wasn't.
UCLA was downright abysmal on defense -- and while it is still prone to some ole' possessions, the halfcourt defense is significantly better -- and disjointed everywhere else.
The Bruins weren't merely written off by disgruntled fans and media members in November.
They earned it.
Now their narrative is being rewritten.
They've earned that right, too.
Maybe it's time the bandwagon even reloaded for another run.
Robinson Sends A Message In Michigan Win
Michael Rothstein
ESPN.com
ANN ARBOR, Mich. -- Glenn Robinson III caught the ball on the baseline off the inbounds pass, faked the handoff and turned toward the rim. When he did, he saw one of his favorite things.

An open rim.
"My eyes get wide," Robinson said. "So I went up and just threw it down."
It finished as a one-handed tomahawk dunk over a Purdue defender, yet another in a growing list of in-game jams for Michigan's most efficient freshman. This one, though, in the first half of a 68-53 win for No. 2 Michigan over Purdue, may have been a little different.
Robinson was playing Purdue, where his father, Glenn Robinson, starred in the 1990s. The Boilermakers didn't pursue the Big Dog's son hard and while he said there were "no hard feelings," there was something extra there.
He knew Purdue guards Ronnie Johnson and Rapheal Davis from high school in Indiana. They have been talking about this game for a while and in one brief second, Robinson flashed some in-game exuberance.
After the dunk, he then turned around and gave a quick look to the Purdue bench.
"I don't know what to say about that," Robinson said.
He didn't need to. He scored 12 points on six shots, grabbed nine rebounds and played more minutes than any Michigan player, helping to set up a chance for Michigan to become No. 1 for the first time in two decades should it defeat Illinois on Sunday.
Robinson is a different player on this Michigan team. Unlike Mitch McGary, Nik Stauskas and Tim Hardaway Jr., all of whom play better with outward emotion, Robinson always appears in control.
Always the same, all of the time.
"It's tough to read him," Michigan coach John Beilein said. "He'd probably be great playing poker."
Which goes back to the dunk. For one of the few times in his Michigan career, his emotions showed up for a split second.
And after, he almost seemed embarrassed about it, looking away as he admitted it.
"Yeah," Robinson said. "I think it always means a little bit more. You definitely don't want to lose when you know people on the other team."
In part due to Robinson, it once again wasn't an issue for Michigan.
Ole Miss Improves To 5-0 In SEC
Game Of The Night
Richmond 86, No. 19 VCU 74 (OT): Darien Brothers hit a 3-pointer with 1.5 seconds to play that forced this game into overtime. VCU's havoc defense couldn't stop the Spiders, who connected on 12 of 27 3-pointers. The Spiders opened overtime with a 10-3 run. That was too much for a VCU squad that shot 3-for-17 from the 3-point line in its first loss in the Atlantic 10. The Rams were outplayed (Brothers had 18 points, Kendall Anthony had 26 points) in this entertaining affair. But there's nothing wrong with a Thursday night overtime scrap.
-- Myron Medcalf
Surprise Of The Night

UCLA 84, No. 6 Arizona 73: The Wildcats were roughed up in this one. UCLA started and finished strong. At the start of the season, the Bruins executed in spurts. Their youth, inexperience and lack of chemistry were apparent. But they were in sync in this crucial Pac-12 road win. Zona made late pushes that encouraged the crowd at the McKale Center. But UCLA didn't take its foot off the gas. This was also a showcase for Shabazz Muhammad (23 points), a freshman star who could lead the Bruins to a Pac-12 title and more. He's that good.
-- Myron Medcalf
Performance Of The Night

The voting stopped once Oakland's Travis Bader scored 47 points, a season high in Division I basketball, in an 89-71 win over IUPUI on Thursday night. Bader, a junior guard for the Oakland Grizzlies, shot 11-for-18 from the 3-point line. He was 15-for-24 overall. And he was perfect from the free throw line (6-for-6). He's averaging 20.2 points per game for an Oakland team that's 4-4 in the Summit League.
-- Myron Medcalf
Michigan Gets Past Purdue
Bruins Rise To The Occasion
By Peter Yoon, ESPN.com
TUCSON, Ariz. -- Every time you get ready to write off UCLA's season, the Bruins do something like this.
UCLA shocked No. 6 Arizona, 84-73, Thursday night at the McKale Center, turning in a dominant effort against a Wildcats team that had not lost on its home court in nearly a year.
The UCLA victory came on the heels of a home loss to Oregon that ended a 10-game win streak and appeared to be the end of the line for a Bruins team that had come a long way but seemed as if it might not become a championship-caliber squad.
But this was only the latest in a growing pile of evidence that this UCLA team has resolve, resiliency and tenacity to do just that. It's a team that is at its best when it's being doubted. These Bruins seem to have the fortitude to hear people say they can't do something, then prove them wrong.
This win at Arizona was just that kind of win. It was UCLA's first win in Tucson since 2008 and the first road win by the Bruins over a ranked team since 2007-08. It was a win over a respectable team that had defeated Miami, Florida and San Diego State this season and was among the top five in the RPI.
It came just five days after a home loss to the Ducks that seemingly exposed UCLA as a work in progress and cast doubt upon the ceiling of a team that was projected to do big things this season after signing the nation's No. 1 recruiting class.
"I just think this team has a lot of fire," said point guard Larry Drew II, who had nine assists against the Wildcats. "A lot of energy, a lot of young energy and a lot of guys who want to come out and prove something to everybody."
To read the rest of Yoon's story, click here