Michigan's Burke Wins Latest Battle With Craft
By Jason King
ESPN.com
ANN ARBOR, Mich. -- The score was tied and 21 seconds remained in regulation as the top two point guards in the Big Ten -- and maybe even the country -- passed each other on the court at Crisler Arena.
Michigan's Trey Burke and Ohio State's Aaron Craft couldn't help but smile.
A timeout had just ended, and beats from Eminem were ping-ponging throughout the building as 12,693 fans in mustard-colored shirts shrieked like Janet Leigh. Somehow, Craft managed to talk above the noise.
"Doesn't it feel like we were just here, like we've done this before?" Craft said to Burke. "Doesn't this feel like déjà vu?"
What happened next was indeed a moment college basketball fans had witnessed before.
[+] Enlarge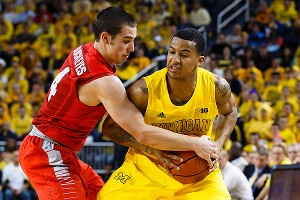 Rick Osentoski/USA TODAY SportsOhio natives Trey Burke and Aaron Craft put on another show Tuesday night.
A late-game duel between Craft and Burke to determine the victor in yet another Buckeyes-Wolverines classic. And the Big Ten illustrating -- just as it has night after night all season -- why it's being regarded as one of the toughest, most competitive basketball conferences in recent memory.
Nearly a month after losing to Craft and Ohio State in Columbus, Burke got the best of his nemesis in Michigan's 76-74 overtime victory Tuesday.
Two big plays by Burke helped decide the game.
Moments after Craft stole the ball from him as he attempted to penetrate, Burke chased down the Buckeyes guard on the other end of the court and stripped him as he attempted a layup.
"I was going to get it back," Burke said. "I ran like my life was depending on it. I was going to get it back."
Ohio State retained possession after the ball sailed out of bounds, but Burke came up big again when he blocked a 10-foot jumper by Craft with 9 ticks remaining and Michigan leading 75-74.
Craft had one last chance after Michigan's Glenn Robinson III split a pair of free throws with 7 seconds left. The ball ended up in Craft's hands, but his layup attempt at the buzzer was blocked by Tim Hardaway Jr.
"There was a little bit of contact," said Craft, who fell to the ground. "But they didn't call it, so I guess it wasn't a foul."
Instead, the play marked the end of a game that featured five ties, nine lead changes, 21 3-pointers and some clutch defensive play by both teams.
At 8-2, the third-ranked Wolverines trail No. 1 Indiana (8-1) by a half-game in the Big Ten standings. Ohio State is now 7-3 in league play. Five conference schools are ranked, and that doesn't include Wisconsin, which is receiving votes.
A continuous string of close Big Ten contests with thrilling finishes has been one of the few things college basketball fans can count on during an otherwise zany, unpredictable 2012-13 season. If March is anything close to this exciting then we could be in for one of the most entertaining NCAA tournaments in years.
Heck, winning this season's Big Ten championship might be more impressive than winning the national title.
"This league," Ohio State coach Thad Matta said, "is about getting knocked down and getting back up again."
That's exactly what Michigan did just three days after losing to Indiana 81-73 in Bloomington. Analysts pegged that tilt as the "game of the year" in college basketball, a tag that lasted all of 72 hours until being replaced by Tuesday's nail-biter.
The Wolverines trailed by as many as eight points after intermission before battling back in front of a crowd that included thousands of students who had shivered outside since 10 a.m. waiting for the building to open.
Hardaway Jr. -- the son of the former NBA all-star -- keyed Michigan's comeback with five 3-pointers in the second half. He finished with a game-high 23 points along with the huge block on Craft at the buzzer.
[+] Enlarge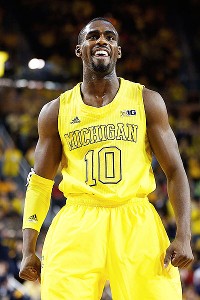 Gregory Shamus/Getty ImagesTim Hardaway Jr. led Michigan with 23 points.
"We couldn't dial up plays [for him] fast enough," Michigan coach John Beilein said.
In the end, though, the biggest spotlight was reserved for Craft, who is regarded as the country's top defensive guard, and Burke, the Ohio native who was introduced by the public address announcer as "The Pride of Columbus, Ohio" as he took the court against his hometown school.
"It's always like this when we play," said Craft, who is 3-2 against Burke the past two seasons. "I know he's going to live up to the moment, and I try to do the same."
Burke struggled in his previous two matchups against Craft. He was just 1-for-11 from the field in last season's loss to Ohio State in the Big Ten tournament. And last month he made just 4 of his 14 field goal attempts during a loss in which the Wolverines trailed by as many as 21 points before eventually losing by three.
"I love playing against Craft," Burke said. "He's a guy that makes me work. It's always a battle. He's one of the top defenders in the country. You have to give credit where credit is due."
Tuesday was a different story.
Burke finished with 18 points and also dished out eight assists. He had a chance to win the game in regulation shortly after his brief chat with Craft coming out of the timeout and the score tied 72-72. But Burke's step-back 3-pointer was off the mark, and the game went to overtime.
A month ago in Columbus, Burke missed a similar shot in the waning seconds of Michigan's 56-53 loss -- but this time he had a chance to redeem himself in the extra period, which opened, fittingly, with Burke hitting a 3-pointer.
He then came up with the two big defensive plays (the strip and the block) on Craft, whose final stat line included 11 points and three steals.
Craft and Burke -- who played for the same AAU program -- hugged in the postgame handshake line before retreating to their locker rooms.
"You were watching two of the finest point guards in America playing against each other," Beilein said. "They went at it. They give it their all every time. There was no stopping them. That was a great battle."
The only question now is whether there will be an encore.
Perhaps it will happen in the Big Ten tournament.
Or maybe Ohio State and Michigan will meet on college basketball's biggest stage: the Final Four. If and when it happens, you can bet that Craft and Burke will be guarding each other and battling it out at the end, making plays when it matters most.
A déjà vu moment once again.
No. 2 Florida Falls To Arkansas
Don't Overreact To Gators-Hogs

Yep. That just happened.
Florida, No. 2 in the polls, just lost at Arkansas. By a thousand points. OK, the real score was 80-69. But it felt like there was a million-point gap between them for most of the game, right? The Razorbacks shot 53 percent from the field and took a 23-point lead in the first half, while the Gators managed an uncharacteristically low 29 percent clip before halftime. Game over. So what does this mean? I'm not sure. But I'll try to explain …
For Arkansas fans:
Look what happens when the Razorbacks play D. It's amazing, right? I mean, the same squad that just upset the Gators gave up 75 at South Carolina. Arkansas is ranked 93rd in adjusted defensive efficiency per Ken Pomeroy and 11th in the SEC in defending the 3-point line (conference schools were shooting 35.2 percent from beyond the arc against the Hogs prior to Tuesday's win). But they'd averaged 77.0 points per game this season, No. 22 in America, prior to the upset. B.J. Young and Marshawn Powell comprise one of the most talented offensive duos in America. And when Arkansas' offense flows, the Razorbacks can put up points by the boatload. See: Tuesday. Yet, Arkansas has only played well at home (5-0 in the SEC in Fayetteville, 0-4 on the road) since the start of conference play. The Razorbacks have lost to Texas A&M, South Carolina, Alabama and Ole Miss on the road. Tuesday's win will certainly boost this team's résumé (77 BPI entering the matchup), but securing additional quality wins in a league as weak as the SEC will be a difficult task.
They'll go to Gainesville for the rematch on Feb. 23 and they have two remaining matchups against No. 21 Missouri.
So it's conceivable -- especially if the real Arkansas stood up Tuesday evening -- that the Razorbacks could make a case for an at-large bid in the coming weeks. And they could also lose to Vanderbilt in Nashville on Saturday. No guarantees with a team that's demonstrated such a different swagger on the road. But the Hogs can build on Tuesday's win, that's for sure.
To read Myron Medcalf's take on Florida and the rest of the post, click here.
Miami Handles Boston College
Finish Of The Night

Michael Snaer did it again. The senior guard hit his third consecutive game winner in a Florida State victory on Tuesday. He penetrated and scored on a layup that dropped just before the buzzer in the Seminoles' 56-54 win at Georgia Tech. He had 15 points in the game. Against Maryland on Jan. 30, he sealed the win on a go-ahead 3-pointer with 1.1 seconds to play in a 73-71 victory. Snaer, believe it or not, hit a buzzer-beating 3-pointer in a 60-57 win over Clemson on Jan. 24, too.
-- Myron Medcalf
Surprise Of The Night

Wichita State loses to Southern Illinois: The Shockers have lost three consecutive Missouri Valley Conference games after Tuesday night's 64-62 loss at Southern Illinois. Wichita State was ranked 15th when this losing streak began against Indiana State Jan. 29. The Sycamores had already defeated Miami. So the loss was chalked up to "the parity in the MVC." But then the Shockers lost to a middle-of-the-pack Northern Iowa team. Tuesday's loss to a Southern Illinois squad that had lost six in a row is difficult to comprehend, especially since the Shockers were 8-for-16 from the 3-point line and shot 47 percent from the field overall. It's a devastating blow for a Shockers squad that may not have enough games left to catch Creighton.
-- Myron Medcalf
Performance Of The Night

Tim Hardaway Jr. (23 points) was unstoppable in the second half of Michigan's win over Ohio State on Tuesday night. Beginning at the 12:04 mark, the junior hit four consecutive 3-pointers. There were a lot of talented players on the floor in Ann Arbor. Deshaun Thomas, Trey Burke, Aaron Craft. Hardaway, however, was the most impressive performer of the evening. He accepted the moment and played big when his team needed him.
-- Myron Medcalf