Team Effort Sends Michigan State Past Michigan
ST LANSING, Mich. -- Tucked in the far corner of the Michigan State locker room, near the showers, is the Spartans hustle board, with various names and statistics listed on it as a way to mark different accomplishments.
On this night, though, there were no numbers except for one. No message, save one: "100% EFFORT" scrawled in green dry-erase ink over all of the various empty boxes.
For Michigan State to beat its rival, it would need that from everyone. From its players. From its coaches. From its deliriously happy, amped-up fan base lining the bottom bowl of the Breslin Center on Tuesday evening.
Everything No. 8 Michigan State wanted, it received. From its players. Its coaches. Its fans which were deafeningly loud surrounding the court and it all led the Spartans to overwhelm a young, perhaps-not-ready-for-a-big-stage Michigan team, 75-52, the Wolverines' worst loss to their in-state rival in a decade.
The message had been there before but Michigan State displayed the ability to reach that mark Tuesday, so impressing their hard-to-please coach that he sounded like a father gushing over a newborn.
"We played our best game in three years," Michigan State coach Tom Izzo said. "And they probably played one of their worst."
He did, though, beg for perspective as well. Now that Izzo has seen what his team can do, the effort it can give, he needs Michigan State to find it all of the time instead of once. He needs the inside presence from Derrick Nix and Adreian Payne, the slashing and defense from Branden Dawson, a steady point guard influence from Keith Appling and a dead-eye freshman shooter on the outside in Gary Harris.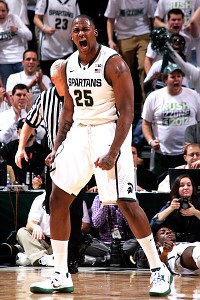 AP Photo/Al GoldisThings went very well Tuesday for Derrick Nix and the Spartans against Michigan.
For most of the season Michigan State had one or two of those players going, maybe three of them. Against Michigan, it had all five. The Spartans started by establishing Nix and Payne inside -- something which hasn't always worked. Doing this left Harris open on the perimeter, where he made 5 of 9 3-pointers and scored 17 points.
This was Michigan State's plan all along. Exploit a Michigan weakness, with the Wolverines' best interior player, Jordan Morgan, recovering from an ankle injury and the rest of their post players inexperienced against quality big men or in general.
"Coming into the game, coach said … he wanted to get the ball down there to me and Payne," Nix said. "They didn't double me, so I just took advantage of it."
Nix was surprised he didn't draw double-teams, but between his 14 points and Harris' outside shooting, Michigan State's offense was taken care of.
Dawson and Appling handled the defense.
Dawson guarded Michigan junior Tim Hardaway Jr., who had been one of the hottest players in the country. Hardaway went scoreless in the first half and made one shot all night.
Combined, they took a Michigan team averaging 77 points a game and held the Wolverines to 52. The Spartans forced Michigan into a season-high 16 turnovers, including nine from their post players. The Spartans took a team that loves to run and break in transition, broke them and proceeded to run them right back to Ann Arbor.
"Every time we tried to make a run, they immediately stopped it," Hardaway said. "They did a great job of doing a scouting report on us."
Yes, some of Michigan State's performance Tuesday night came because of the brutal nature of the Big Ten, where winning on the road is next to impossible. The Wolverines were coming off a stretch of playing at Indiana, home against Ohio State, at Wisconsin and at their rival, Michigan State in the span of 11 days. In those three road environments -- often considered the three most difficult in the Big Ten -- Michigan has won once in the past four seasons.
But the way Michigan State put everything together left Michigan befuddled, looking at each other in frustration. Assistant coaches tried to push their players. Michigan shifted rotations.
None of it worked. The way Michigan State played, it looked like the best team in the Big Ten, which this season equates to one of the top teams in the country.
"They played like it tonight," Morgan said.
Looking back at the white board explains it. With the game long out of contention, Michigan State still scrapped for loose balls, beating Michigan players to almost every one.
In the aftermath of a blowout, Michigan State said the right things, discussed how its offense could improve. How its free throw shooting needed to get better. Didn't want to lay claim as the top team in the Big Ten, even if the Spartans sit there with a month left in the regular season.
"We just one of them," Nix said. "Don't try to trick me."
No trickery involved. Play like they did Tuesday, where the Spartans took a potential No. 1 seed in the NCAA tournament and obliterated them, and they may have a claim to one of those seeds on their own.
ESPN Staff Writer
Previously covered University of Michigan for ESPN.com and AnnArbor.com
Also covered Notre Dame for Fort Wayne Journal Gazette
Prather Steps Up Again For Florida
GAINESVILLE, Fla. -- Casey Prather left the Florida locker room after the Gators' 69-52 victory over Kentucky with a small red bump on his lower lip near the corner of his mouth.
That wasn't a lot of damage for the 6-foot-6 swingman despite an evening of playing inside against the nation's top shot-blocker and a 7-footer. The Gators hope he can hold up that well through the rest of the regular season.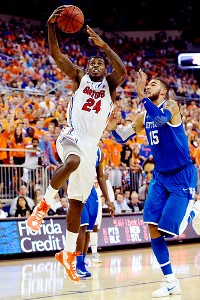 AP Photo/Phil SandlinCasey Prather scored 12 points and took three charges for the Gators.
That's pretty much the only way UF can weather the loss of Will Yeguete and put itself in position to make another deep NCAA tournament run.
"It [stepping in for Yeguete] wasn't really in the back of my mind," Prather said after scoring 12 points, grabbing three rebounds, blocking two shots, and dishing out two assists. "I would just say I was trying to give the team a big boost, big energy boost, and so I was just glad to help the team out any way I could."
The 6-7 Yeguete -- the Gators' second-leading rebounder, best post defender, and the key to UF's full-court press -- underwent surgery last Friday to clean out loose bodies in his right knee. Replacing part of Yeguete's production fell to Prather, and he has embraced the challenge. He had 12 points and five rebounds in the Gators' rout of Mississippi State last Saturday, but the Bulldogs sit in the SEC's cellar and have won just seven games. It was going to be a much bigger task to do it against Kentucky and 6-10 Nerlens Noel, the nation's leading shot-blocker (4.5 per game), and 7-foot center Willie Cauley-Stein.
Prather not only held his own, he drew three charges and had a big first half to help the Gators rally from a slow start. With Erik Murphy on the bench for much of the first half with two fouls, Prather scored eight points -- two of which came on a dunk in front of Cauley-Stein.
"It's just a matter of confidence with that guy," UF center Patric Young said. "Because, I know he can do that day in and day out. He's just really athletic with really active hands. It was a night where he could show what he can do."
Prather has had limited opportunities to do that in his three seasons. He had trouble getting off the bench because he turned the ball over too much and just didn't fit in the backcourt. He also has battled injuries throughout his career, including two concussions and a sprained ankle this season. He has played well in spurts -- he had 14 points in an NCAA tournament victory over Virginia last season -- but struggled with consistency.
Florida coach Billy Donovan, though, challenged Prather after Yeguete's injury, and so far he has responded the way Donovan wanted.
To read the rest of the post, click here.
ESPN Staff Writer
Covered University of Florida for 13 seasons for ESPN.com and Florida Times-Union
Graduate of Jacksonville University
Multiple APSE award winner
Florida Dominates Kentucky
Game Of The Night

Missouri State 67, Indiana State 65: The Missouri Valley Conference continues to confuse. Just two weeks ago, Creighton, Wichita State and Indiana State were separating from the rest of the field and staging a three-way grappling match for first place. And then, chaos commenced as all three tumbled down the standings via surprising losses to non-contenders. On Tuesday night, it was Indiana State -- a bubble team entering the week with nonconference wins over Ole Miss and Miami. Now, where do the Sycamores stand in the eyes of the selection committee after losing at Missouri State? Marcus Marshall scored 19 points for a Bears team that forced 11 turnovers. Marshall hit a pair of free throws to give Missouri State a 53-39 lead with 8:53 seconds remaining. The Sycamores launched an 18-5 rally but Missouri State's free throw shooting sealed the win. The Bears were 7-for-8 from the charity stripe in the final 54 seconds. Indiana State is now 9-5, a half-game behind MVC leaders Creighton and Wichita State, which are both 9-4.
-- Myron Medcalf
Performance Of The Night
Detroit's Nick Minnerath recorded impressive numbers in his team's 92-62 win over Cleveland State on Tuesday night. The senior finished with 34 points, 12 rebounds and a block in the win. He was 8-for-10 from the free throw line. The win elevated the Titans to a 9-4 record. They're chasing a 10-2 Valparaiso squad for the Horizon League title. Detroit will face Valparaiso on the road on Saturday.
-- Myron Medcalf
Surprise Of The Night
I mean, I figured Michigan State had the advantage in a home game. But what on earth was that? The Spartans destroyed their archrivals in a 75-52 win in East Lansing. Michigan didn't surpass Michigan State's first-half tally (38 points) until there were 10 minutes remaining in the game. The Spartans' defense was impressive. They forced 16 turnovers and held the Wolverines to a 6-for-19 clip from the 3-point line. Tim Hardaway Jr. was 1-for-11 and 0-for-5 from beyond the arc. Michigan State, however, shot 48 percent from the field. John Gasaway tweeted that the game was Michigan's worst offensive effort (0.80 points per possession) in a conference game in nearly three years. It was a great night for Tom Izzo's team. A very perplexing and awful outing for the Wolverines.
-- Myron Medcalf
Nerlens Noel Injures Knee
Kentucky may have lost more than just a basketball game on Tuesday night.
The No. 25 Wildcats also may be without freshman forward Nerlens Noel for a significant length of time because of a left knee injury he suffered during the second half of their 69-52 loss to No. 7 Florida. The 6-foot-10 Noel landed awkwardly on his left knee and then slammed the knee into the basket support after chasing down Mike Rosario on a fast break and blocking the shot with 8:03 left.
"I didn't see much," Kentucky coach John Calipari said. "They said it looked ugly, so I don't know. We'll have to see."
Noel left the O'Connell Center in a wheelchair. The school said in a statement that Noel would fly back to Lexington, Ky., with the rest of the team Tuesday night.
"His leg was wobbly, knee looked dislocated," Florida center Patric Young told the Palm Beach Post. "It was gruesome. I don't want to think about it."
Noel immediately grabbed his left knee and screamed in pain. Trainers immediately rushed to his side and Calipari eventually came over and stayed with Noel until he was carried off the court by several teammates.
"He was yelling and screaming, so that's why I stayed [with him on the floor]," Calipari said. "But it's unfortunate and I just hope and pray that he's OK, but we're going to see."
Losing Noel would be a blow to the Wildcats (17-7, 8-3 SEC), who now trail No. 7 Florida (20-3, 10-1) by two games in the SEC standings. Noel leads the nation in blocked shots (4.5 per game) and averages 10.6 points per game and is second in the SEC in rebounding (9.6 per game).
Kentucky had been threatening to cut Florida's lead to single digits before Noel was hurt, but the Wildcats didn't score for nearly four minutes after his injury.
"Obviously, he's a big part of our team so to see him go down is a reminder [of how important he is]," Kentucky guard Julius Mays said. "It hurts us because he is a big guy and he makes the game different."
Calipari said he did not want to speculate about the injury or any possible recovery period.
"I'm physically sick right now," Calipari said. "What I'm hoping is it's not the extreme. I'm hoping it's some sort of twist but we don't know."