Duke Beats UNC, But It Wasn't Easy
>
DURHAM, N.C. -- With less than a minute left Wednesday night, Duke point guard Quinn Cook reached over during a break in the action and gave North Carolina senior Dexter Strickland a brief rub on the head.
Chuck Liddy/Getty ImagesMason Plumlee was big on offense but had to deal with foul trouble.
It was a compassionate moment between old friends -- at the end of a passionate, even older rivalry game.
The No. 2 Blue Devils did what they were expected to do at Cameron Indoor Stadium: They beat the unranked Tar Heels 73-68. But they did it in a way that was, perhaps, unexpected considering inconsistent UNC was coming off a big loss at Miami while its counterpart had been on a five-game roll. The Devils had to grit back from a 10-point first-half deficit to do it.
It was a reminder that this Tobacco Road showdown rarely disappoints, and it seldom fails to live up to its hype.
Not with UNC's James Michael McAdoo driving for a two-handed, crowd-wowing behind-the-head dunk; or Duke's Seth Curry hitting key 3-pointers, or the Cameron Crazies blowing out eardrums with body-paint-spewing cheers and jeers throughout.
"I thought both teams played the way Duke and North Carolina teams play,'' said Blue Devils coach Mike Krzyzewski, who celebrated his 66th birthday with the win. "They play hard, and we did, too."
Actually, the Tar Heels (16-8, 6-5 ACC) played harder on the road than we've seen in a while, utilizing a smaller lineup -- made instantly more aggressive and energetic by the insertion of wing P.J. Hairston for center Desmond Hubert -- to get off to a rare fast start. They took as much as a 28-18 lead with 6:42 left in the first half on a Reggie Bullock 3-pointer, capitalizing on Duke's turnovers (11 before halftime), lack of 3-pointers (1-for-4 in the first 20 minutes) and early foul trouble (two apiece from Cook, Curry and Mason Plumlee in the first half).
"They were playing great defense, and we weren't sharp at all,'' Cook said.
The Devils (22-2, 9-2), however, utilized a small lineup themselves to come back, and got key plays from their guards with big man Plumlee (18 points, 11 rebounds) benched for stretches with foul trouble.
Curry's first 3-pointer of the game gave Duke its first lead of the game, 42-41 with 14:11 left. Then after Hairston made two free throws to take the lead back for UNC, Duke reserve guard Tyler Thornton pitched ahead to Cook (18 points, six rebounds) for a layup that gave the Blue Devils the advantage for good.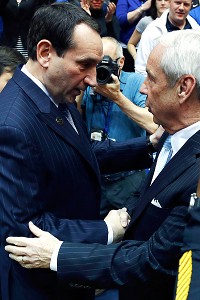 AP Photo/Gerry BroomeDuke coach Mike Krzyzewski talks with North Carolina coach Roy Williams.
Thornton, Krzyzewski said, was the "hero" of the game, also hitting his third 3-pointer with 12:25 left to give Duke a five-point cushion, and keeping the ball alive on a tip-out about seven minutes later that resulted in another Curry 3-pointer and an eight-point lead.
"I like him because he can get angry; I don't think players get angry like they used to, and that comes easy for me,'' Krzyzewski said. "But I think anger is an emotion that gets you past being tired, it gets you past something. If anger destroys something bad, then it's good. If it destroys something good, then it's bad. Tyler's anger, his competitiveness was really good for us tonight."
So was Duke's composure down the stretch.
While the Blue Devils made 13 of their 14 free throw attempts in the second half, the Tar Heels -- who got 23 points and eight rebounds from Hairston -- made only 9 of 17.
"We needed them to miss a couple of those, to say the least,'' UNC coach Roy Williams said. "We needed to make a couple of ours."
It was during one of UNC's trips to the line, with about eight seconds left, when Cook, who had been joking with his old friend Strickland, reached over to initiate the comforting head rub.
This showdown often is loud, tense, mad, happy, heartbreaking, and heart-stopping. Despite the yearly records or reputation, it always will be. But it has its heartfelt moments, too.
"Everyone wants to win this game; this is Duke-Carolina,'' Cook said. "The rivalry, when we're between the lines, we go for each others' necks … but everyone's playing so hard, everyone wants this one so bad, that afterward, you do kind of have to feel for the one who doesn't win."
At least, until next time.
College Basketball
ESPN.com UNC basketball blogger
Joined ESPN.com in 2011
Wrote for Raleigh News & Observer
Game Of The Night

Don't let "Colorado State 66, San Diego State 60" fool you into thinking this was anything but one of the tightest and most hard-fought games of the season. How tight? The halftime score was 35-35, and neither team opened more than a three-point lead -- and it was usually even tighter than that -- throughout the second half. It came down to the final 48 seconds, when, down 61-60, SDSU's Xavier Thames missed a 3. Colton Iverson corralled the board, Dorian Green -- whose three put CSU up one at 1:11 -- made the game-clinching and-1 with 18 seconds left, and Colorado State closed the game from there. It was thrilling stuff, and yet another reason why you should be watching this wide-open, deeper-than-deep Mountain West on a nightly basis. Great game.
-- Eamonn Brennan
Performance Of The Night
The nice thing about this category is it allows us to highlight a player outside the usual national purview, to spread a little love far and wide. And no player was more deserving Wednesday night than Illinois State's always-excellent Jackie Carmichael, who put up the following line: 27 points on 10-of-15 from the field and 7-of-9 from the free throw line, with 15 rebounds, three blocks and nary a turnover. Yes, it came against lowly Bradley, but so what? That's a line and a half.
-- Eamonn Brennan
Surprise Of The Night
North Carolina didn't get rolled. Maybe this shouldn't be a surprise, because the Tar Heels are more athletic and rangy than the Blue Devils; as they showed for most of their 73-68 loss in Cameron Indoor, they match up with their rivals well enough. But it was a surprise, because in pretty much every big game the Heels have played this year -- particularly on the road -- they've been stomped. Butler did it in Maui, Indiana did it in Bloomington, Texas (Texas!) did it in Austin, NC State did it, and Miami did it (twice). It was perfectly reasonable for what looked like a coreless group of young players to get punched in the mouth at Duke and fall away quickly, but instead they set the tone early and kept the game in the balance until the final moments. They have a long way to go yet, and no North Carolina fan will be happy with any loss to Duke. But it was an undeniably promising display.
-- Eamonn Brennan
CBB Live Extra: Florida-Missouri