Thursday Results Lead To Friday Familiar Feeling
Louisville's players were thrilled when President Clinton entered their locker room following a 19-point quarterfinal victory over Villanova in the Big East tournament on Thursday. They took group photos with the former commander in chief, spending plenty of time with a man who served two terms in the White House.
While they enjoyed the moment, Notre Dame was on the Madison Square Garden floor fighting through an early 17-4 deficit in its eventual win over Marquette.
Those victories set up a third meeting between two squads that gave us the greatest game of the 2012-13 season (thus far). The Fighting Irish's 104-101 five-overtime victory against the Cardinals on Feb. 9 was a classic. The second matchup of the year, Louisville's 73-57 win against Notre Dame on March 9, was not.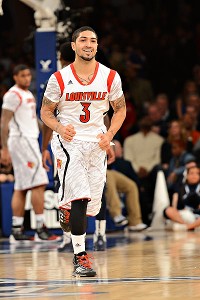 Tony Spinelli/ESPNPeyton Siva and Louisville now have a rubber match with ND.
And that's fine. The buildup was tremendous because the expectations were so high. Perhaps they'd do it again, we wondered.
Perhaps they'll stage another exciting affair when they face off for the third time this year in Friday's Big East tournament semifinals.
Three is the theme on Friday. Thursday's results set up a multitude of third matchups around the country. Revenge is on the collective minds of multiple teams who are still alive in their respective tournaments.
James Southerland's hot hand (he was 6-for-6 from the 3-point line in a 62-59 win over Pitt on Thursday) helped Syracuse earn another shot at Georgetown in the semis of the Big East tournament. The Hoyas, who crushed Cincinnati in the quarterfinals, have already beaten Cuse twice. The second win was a 22-point blowout last weekend. The Orange were embarrassed. Will Jim Boeheim lose a third game? Not if Southerland continues to shoot the lights out. (Side note: Syracuse-Georgetown is a fitting conclusion to the end of the Big East tournament as we know it, as my colleague Dana O'Neil details here.)
Meanwhile, out in Vegas, UCLA dug itself out of a 15-point deficit in its 80-75 victory against Arizona State in the Pac-12 tournament on Thursday. The Bruins' reward? A third matchup against an Arizona squad they've already defeated two times in 2012-13. The Wildcats were motivated by the opportunity to avenge those two defeats -- and now they've got that chance.
Iowa State, too. Fred Hoiberg's program started 1-for-12 from the 3-point line in a seven-point win over Oklahoma in the Big 12 tournament on Thursday. The Cyclones were a mess until they found their stroke in the second half. A critical 12-0 rally helped ISU snap a seven-year losing streak in the tournament, and it also set up a third meeting with the Kansas squad that's beaten it twice in a pair of overtime matchups this season.
Iowa State's most recent loss to Kansas -- 108-96 in Ames -- was filled with controversy. And it was heartbreaking for the Cyclones. Everything could change on Friday, however, when they get another shot at the Jayhawks.
A pair of Big Ten squads understand heartbreak well. After a first-round bye, Indiana will face the same Illinois team that knocked it off its No. 1 perch on a stunning last-second layup on Feb. 7. Will the Illini score another upset when they see the Hoosiers on Friday in the Big Ten tournament quarterfinals?
Brandon Paul had to hit a buzzer-beater in a Thursday victory over Minnesota that extended Illinois' time at the United Center in Chicago. Michigan hopes to avoid Minnesota's fate -- again -- when it faces Wisconsin on Friday. The last time the Badgers and Wolverines played -- the only time in 2012-13 -- Ben Brust hit a half-court shot at the end of the second half to force overtime. The Wolverines, who defeated Penn State 83-66 on Thursday, would have been the No. 1 team in the country with a victory. So Friday's meeting is about vengeance. And seeding in the NCAA tournament. And vengeance, of course.
Sensing a theme?
Maryland dismissed Wake Forest in the ACC tournament on Thursday. Duke awaits on Friday. The same Duke team the Terrapins upset 83-81 on Feb. 16. The same Duke team so many doubted following its loss to Maryland. The Terrapins need a victory to earn any semblance of consideration for the NCAA tournament. The Blue Devils are after a 1-seed. They'll also attempt to erase the memory of their last matchup against Maryland.
With 43 matchups all around the country, Friday will be an interesting day.
Unless, of course, you're a team that ultimately suffers a third loss to a rival.
ESPN Staff Writer
Covers college basketball
Joined ESPN.com in 2011
Graduate of Minnesota State University, Mankato
A Look Around Championship Week
A perfect matchup
There is perfect and then there is sublime.
Georgetown versus Syracuse on the Friday night of the Big East tournament is always perfect. Georgetown versus Syracuse on the Friday night of the Big East tournament is sublimely so.
As the league takes its curtain call before splitting into a newly formed version of itself and a conference to be named later, the two fiercest, most storied rivals will meet in the semifinals. A screenplay couldn't be written better.
There will be plenty of great college basketball games played Friday night, but there might not be a more ideal one than this one.
To read Dana O'Neil's column on the Georgetown-Syracuse rivalry, click here.
Player Of The Day
Boston College fell behind 15-0 to Georgia Tech at the ACC tournament. Then Olivier Hanlan happened.
BC outscored Tech 84-49 from that point forward and Hanlan scored a whopping 40 of those points, setting a freshman record for the ACC tourney and scoring the most points of any player in that event since 1970. His eight 3-pointers were just one shy of the tournament record.
Meltdown Of The Day
In one of the most bizarre finishes we've seen in years, Charlotte -- after trailing 63-60 -- made eight free throws in the final 4.7 seconds to walk away with a controversial 68-63 first-round victory in the Atlantic 10 tournament.
That final 4.7 included three UR technicals and the ejection of coach Chris Mooney. Meanwhile, Charlotte's Pierria Henry scored 12 points in the final 24 seconds. Read more about the wild finish in Brooklyn here.
Upset Of The Day
>
LAS VEGAS -- Utah coach Larry Krystkowiak says he's a firm believer in "the basketball gods." So time and time again this season, whenever he'd pass through the gym an hour or so after practice and see Jarred DuBois still on the court, taking shot after shot, Krystkowiak knew the grad-year transfer from Loyola Marymount would eventually be rewarded. He had faith the extra work would eventually pay off.
On Thursday, it finally did.
DuBois' guarded 3-pointer with four seconds remaining forced overtime against second-seeded Cal and provided the Utes all the momentum they would need in a 79-69 victory in a Pac-12 tournament quarterfinal at MGM Grand Garden Arena.
The win propels No. 10 seed Utah into Friday's semifinal. It also provided yet another illustration of the improvement the Utes continue to experience under second-year coach Krystkowiak, whose team is riding a four-game winning streak only a season after finishing 6-25.
To read the rest of Jason King's story from Las Vegas, click here.
Shot Of The Day
---
Player of the game: Brandon Paul. Not only did the Illinois guard push the Illini to a double-digit lead early, he came up clutch late, making a 15-foot jumper at the buzzer to lead his team to a 51-49 nail-biting victory. He finished with 25 points.
X factor: The Gophers finished with 17 turnovers for the game, including a key one by Austin Hollins, who stepped out of bounds with 14 seconds left, to give the Illini a chance to win it.
Miscellaneous: Talk about March momentum. And the Illini could gain even more Friday against top-seeded Indiana. After all, Illinois has already beaten IU this season (when the Hoosiers were ranked No. 1 in the nation).
--Robbi Pickeral
Champ Week Predictions
How are our experts faring this week? Well, let's just say some of them probably don't want you to know. But go ahead -- take a peek. Predictions »
UCLA Rallies Over Arizona State