College Basketball's Crazy Season Continues
This season is crazy.
We've said that a lot in the last four months, and -- well, it's not that it's untrue. It's just that, true or not, you can only repeat one thing about a sport so often before everyone starts to get a little bit sick of it. We start looking for other narratives, different perspectives, counterpoints and contrarianism. It's more fun to keep things fresh.
All of which is why we are loath to say it, and we wish we could resist, but we're really not sure how else to go about this: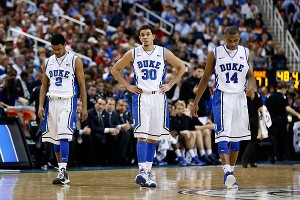 Ethan Hyman/Getty ImagesDuke had been playing like a title contender with Ryan Kelly back, but came out Saturday and lost to Maryland for the second time season.
This season is crazy.
Our latest data point came Saturday. Consider this: One of the the 2013 NCAA tournament's four No. 1 seeds could be a team that won neither its regular-season conference title or its conference tournament. Yes, we're talking about the Duke Blue Devils, who fell to a red-hot Dez Wells-led Maryland team in the ACC quarterfinals Friday. Wells put up 30 points on 13 shots, and as a result Duke -- which had itself been playing brilliant basketball following the return of Ryan Kelly -- lost the chance to claim at least some measure of ACC supremacy this season.
And yet the Blue Devils could -- and probably will -- be a 1-seed. Some of that is due in part to the fact that Duke played, and handled, one of the better nonconference schedules for a top team in recent memory. But it also feels related to the generally unpredictable nature of this season -- a trend which rages on less than 48 hours before Selection Sunday.
Here's another case in point: The Kentucky Wildcats. The defending national champions, a program that was just eight months ago wielding one of the most dominant teams in recent memory, a team so good and so young it led to countless freak-outs across the country, from fans (and no doubt opposing coaches) worried that John Calipari had figured this whole college basketball thing out. If he could win with freshmen leading the way, and he was the best recruiter in the country (he is), how would anyone else compete?
The Cats were ranked No. 3 in the preseason. On Friday, they lost 64-48 to 10th-seeded Vanderbilt in the SEC tournament. This was a big deal, because defending national champion Kentucky isn't dominant this year, or anything close; instead, they're on the bubble, and desperately so after Friday's loss. Star freshman Nerlens Noel's untimely ACL injury set the Wildcats back before they really had the chance to find their stride late in the season, but even with Noel this team was nowhere near the standard Calipari has set in recent seasons.
There was also micro-unpredictability, volatility within minutes or seconds, from one play to the next. Ole Miss' last-second, game-winning shot to drop Missouri in the SEC quarterfinals began as a broken set. Leading scorer Marshall Henderson gave up the ball and couldn't get it back, forcing reserve guard Derrick Millinghaus to find a spot in the lane and toss a floater at the rim with no time to spare. Naturally, it fell, and Ole Miss became one of the few bubble teams (along with Maryland and UMass, which rose from the bubble dead to knock off Temple) to actually improve its position during Friday's action.
That sprinkling of upsets should lead to a pretty exciting out-of-the-box Saturday. Ole Miss will have to survive against Vanderbilt to get to the SEC final (and avoid a bad bubble loss); Maryland suddenly finds itself in the ACC semis with a date against North Carolina; Southern Miss will try to get its first win against Memphis in its third try, the C-USA final.
But for all the unexpected excitability of bubble teams pushing deep into conference tournaments, when you really look at Saturday's schedule, things are actually pretty … how should we put this … predictable? Wisconsin, Indiana, Michigan State and Ohio State are in the Big Ten semifinals. Kansas and Kansas State will play for the Big 12 title. Louisville and Syracuse will square off in the final stop of the Big East farewell tour. Oregon will meet UCLA in the Pac-12 final. UNLV and New Mexico will put this brilliant Mountain West to bed. Butler, Saint Louis and VCU are all alive in the Atlantic 10.
The end result, even if the fixtures don't blow your mind, is a nice mix of quality games with do-or-die bubble contests. We'll get back to the craziness next week, but in the meantime we have something just as appealing as insanity -- an ideal conference tourney Saturday.
A Look Around Championship Week
The Perfect Performance
>
When his team needed him the most, Dez Wells pulled off a performance for the ages Friday night in the ACC quarterfinals.
With Maryland desperate for a win to keep its distant NCAA tournament hopes alive, Wells propelled the Terrapins to an 83-74 victory over No. 2 Duke with a stat line that was as efficient as they come: a career-high 30 points on 9-of-13 shooting, 2-of-2 from the 3-point line and 10-of-10 from the free throw line. Oh, and there was also that dunk right over Duke big man Ryan Kelly.
What a night.
For more on Wells and his team's season-saving win over the Blue Devils, read Robbi Pickeral's story from Greensboro.
Costly Victory For UCLA
>
UCLA's chances of a deep NCAA tournament run took a major hit Friday when second-leading scorer Jordan Adams was lost for the season with a broken bone in his right foot.
Adams' injury occurred on the final play of the Bruins' 66-64 victory over Arizona in the semifinals of the Pac-12 tournament on Friday night. Adams, who scored a team-high 24 points, was among the players trying to defend a potential game-tying shot by Wildcats forward Solomon Hill as time expired.
Adams, a 6-foot-5 freshman guard, didn't seem seriously injured as the final buzzer sounded. He hobbled through the handshake line and then retreated to the locker for X-rays. Within a half hour, it was announced that Adams had broken the fifth metatarsal in his right foot.
For the rest of Jason King's story on Adams' injury, click here.
Bubble HQ: Nashville
>
Bubble HQ on Friday was the SEC tournament in Nashville, where conference bubble teams enjoyed mixed results. Ole Miss and Alabama stayed alive, Tennessee stumbled and Kentucky -- in the words of its coach -- laid an egg.
You can read more about the wild day here.
---
MVP: In a game in which offense was at a premium, Levi Randolph's 15 points on nine shots (in addition to five rebounds) stood out in a largely balanced Crimson Tide effort.
X Factor: Tennessee typically dominates the offensive glass, which has often been Alabama's long defensive weakness. But the Tide kept UT from dominating the boards, thus limiting the Vols from building extra possessions after that 32.1 percent shooting effort.
That was … important for the bubble: Alabama entered the day outside the field; Tennessee entered inside, if only barely. That status may have shifted, and irreparably so for the Vols.
-- Eamonn Brennan
What Happens In Vegas ...
---
MVP: Jordan Adams. The freshman guard scored 18 points in the second half and hit 11 of his 13 total free throw attempts en route to a huge 24-point, four-rebound, two-steal performance. Unfortunately the news after the game was horrific. He broke his foot on the final play of the game and is out for the season.
X Factor: The Bruins typically rely on uptempo offense to get the job done, but on a night when they shot just 39 percent from the field and 1-of-12 from 3, hitting 17-of-21 free throws (to Arizona's 7-of-9) made up for the slack.
That was...a season sweep of the Wildcats: It's been easy to criticize Ben Howland in the last two seasons, but after a miserable 2011-12 he reloaded and restyled himself, and came away not only with a Pac-12 regular season title but a three-game season sweep of Arizona. I'm guessing UCLA fans will take it -- although this Adams injury certainly dampens the mood.
-- Eamonn Brennan
---
MVP: As always, San Diego State and New Mexico played a hard-fought, physical, defensive game, the kind of game that occasionally makes even very good players (cough, Jamaal Franklin) look average. But New Mexico's Tony Snell, who scored 17 points and hit five of his eight threes, shone.
X factor: The aforementioned Franklin is one of the best players in the country, and able to impact the game beyond scoring, hence his 12 rebounds and five assists. But a 3-of-12 day, combined with a 6-of-16 outing from Chase Tapley, doomed the Aztecs.
That was … par for the course. New Mexico has gone pretty much the entire season doing two things: 1) Racking up good wins without blowing people out, and 2) Failing to fully capture the nation's attention. This was another typical such victory for the Lobos, one of many.
-- Eamonn Brennan
Miami Escapes Boston College
K-State To The Big 12 Title Game