Louisville Shows It's The Nation's Best
>
NEW YORK -- Rick Pitino made the decision not to cut down the nets at Madison Square Garden, even though they were pretty nifty souvenirs -- the last nets from the Big East tournament at Madison Square Garden.
He told his Louisville team after it played team swap with Syracuse, turning a 16-point deficit into a 78-61 rout, that he didn't think it needed to. The Cardinals cut them down last year, after all, when they also won the Big East tournament.
Pitino was careful as he explained his reasoning, starting, stopping and choosing his words deliberately so as to relay the sentiment without sounding overly cocky about it.
"I told them, look, there are no guarantees. We could lose in the first round," Pitino said. "But let's see if we can't do something special. If it happens, it happens. If not, we haven't missed too much."
There is no need for such political correctness.
At a hotel bunker in Indianapolis on Sunday, the NCAA tournament selection committee will meet to parse through the carcass and attempt to put order in the form of a bracket to the runaway train that has been the 2012-13 college basketball season.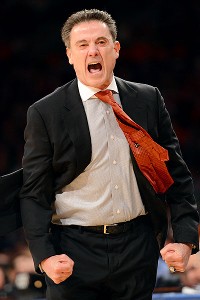 Tony Spinelli/ESPNRick Pitino was fired up for the Big East finale at the Garden.
Four teams will emerge as the favorites to win the championship because the process demands that there be four No. 1 seeds. Someone -- maybe Louisville, maybe Indiana -- will be dubbed the overall No. 1, given the slightest edge over its peers.
I'd like to save the committee some time and hard work and I'd like to say what Pitino could not.
There is one best team in the country right now and it is the University of Louisville.
"Hmmm, we're for real, and we're tough to beat if we play well,'' Russ Smith said. "But I don't know about the rest.''
This season has been about as crystal clear as a Rorschach test -- where one person sees a squirrel, the other sees a unicorn driving a tractor.
And fittingly -- or perhaps fitfully -- Championship Week has been equally squirrely.
Indiana lost to Wisconsin. Duke lost to Maryland. Ole Miss was good as dead and is now playing for the SEC title.
For heaven's sake, the MEAC kicked all four of its top seeds out of the tournament in one day.
Out of the rubble emerges Louisville, a team ranked No. 2 in the preseason that has lost five games since, all to likely NCAA tournament teams.
Its "worst" loss is to Villanova. Its second worst is to Notre Dame. In five overtimes. It lost to Duke by five, but that was without Gorgui Dieng. In the nonconference season, the Cardinals played Duke, Missouri and Kentucky (back when that meant something).
But forget all of that. Forget nitty-gritty reports and RPI, BPI, EKG and the KGB.
Look at what the Cardinals did last night.
They were down 16 points and went on a … well, I'm not sure what they went on.
Typically you'd call it a 44-10 run but that doesn't seem quite powerful enough.
Tidal wave? No.
Black-hole-like inhaling? Yes, maybe that will do.
From the 15:51 mark of the second half to the final buzzer, Syracuse connected on exactly one field goal.
Asked if in all his years he'd ever seen anything quite like that, Pitino laughed.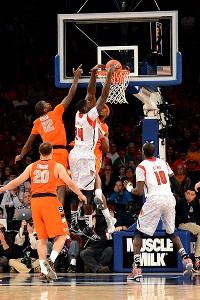 Tony Spinelli/ESPNMontrezl Harrell was a force for the Cardinals.
"No, not really," he said.
Who in their right mind has? That just doesn't happen, rarely anywhere, and certainly not against good teams, not in the championship of a good league.
"There are really no words for it," Smith said.
The Cardinals went from flat and disinterested to full onslaught in the snap of a finger.
In the first 19 minutes he played, Michael Carter-Williams had six assists and zero turnovers. In the next 17, he had three assists and four turnovers. His teammates didn't fare any better. Brandon Triche coughed the ball up seven times, the Orange 20 altogether.
And for much of it, he was guarded and trapped by Luke Hancock. Here's what Pitino had to say about Hancock the night before:
"When I asked Jim Larranaga, I said, tell me about Luke," Pitino said about the George Mason transfer. "If you need someone to take something under pressure, he's your man. If you need someone to take a shot at the end of the game, he's your man. If you need someone to grab a rebound, he's your man. I said, what about defense? He said, he's not your man. But he's really improved his defense. It's come a long way."
It is easy to look good when Louisville's defense gets going because it is like an all-consuming monster, swallowing up everything, including an opponent's psyche.
Syracuse finished with 20 turnovers but its inability to score ought to have counted for 10 more.
"They're the best pressing team we've faced all year," Jim Boeheim said.
What the defense didn't do, Montrezl Harrell did. The freshman finished with 20 points and seven rebounds. He played as mean and nasty as the Cardinals' defense, at times ripping rebounds out of Syracuse players' hands.
If the Orange had lunch money in their shorts, he probably would have taken that, too.
And he did it from the bench, giving what had been a stagnant Louisville offense a rocket launcher of a boost.
"I came in the game just being prepared for whatever coach needed me to do," Harrell said. "When I got on the floor, I just wanted to help the guys with a big lift. I was going all over the place, trying to get rebounds, either offense or defense. These guys looked for me and I just tried to finish for them."
This week in New York has been all about sentiment and nostalgia, with the last run of this grand tournament.
Boeheim didn't get the finish he wanted. Instead of a celebratory walk off the court, he spent the better part of the last minute sitting on the bench, his chin resting on his hand. He dodged questions about what it all meant, in less of a reflective mood than he'd been after his earlier victories.
Pitino reminisced and he enjoyed it all, talking about Dave Gavitt, New York and the Garden with proper reverence.
But in its final iteration, the Big East didn't really change its script much. For 34 years, this league has been about great teams, sometimes the hottest and sometimes -- often time -- simply the best.
That's what the finale brought us, too.
After a season of madness predating March, we, finally, on March 17 have a clear-cut favorite:
And it's Louisville and soon it might just have the nets to prove it.
ESPN Senior Writer
College basketball reporter.
Joined ESPN in 2007.
Graduate of Penn State University.
A Look Around Champ Week: Title Games
iv class="mod-container mod-no-footer content-box mod-inline full mod-no-header-footer aroundtheassociation">
| | | | | |
| --- | --- | --- | --- | --- |
| Kansas State Wildcats | 54 | FINAL | 70 | Kansas Jayhawks |
---
MVP: If just one player, it would have to be Jeff Withey, who tallied 19 points and 9 rebounds and was his usual defensive wall in the lane. But credit also goes to freshman Perry Ellis, who contributed 12 points and 6 rebounds in just 13 minutes off the bench.
X factor: The Wildcats simply couldn't shoot. They were 21-of-60 overall (35 percent), 6-of-24 from deep (25 percent) and 6-of-12 (50 percent) from the charity stripe. Not good enough.
That was...predictable: Give all the credit in the world to K-State, which won a share of its first league title since 1977 under first-year coach Bruce Weber. But the Cats just aren't on the same level as KU this season. No matter what the standings say, 3-0 is 3-0.
-- Brett Edgerton
| | | | | |
| --- | --- | --- | --- | --- |
| UNLV Rebels | 56 | FINAL | 63 | New Mexico Lobos |
---
MVP: Tony Snell. The junior scored 21 points, including 13 in the decisive final eight minutes. He was close to a one-man show during that stretch, and the Lobos certainly weren't complaining.
X factor: UNLV freshman Anthony Bennett was a beast at the start of the game and still finished with a double-double, but he faded badly down the stretch, jacking up unnecessary 3s (1-of-7) for a team that was just 9-of-31 (29 percent) from deep.
That was...fun: As always with these two. The players don't like each other and the fans don't like each other and that makes for a hell of a show with a title on the line. Especially with thousands of delirious Lobo fans in UNLV's home arena, mocking their rival's "Reeeeebels" chant at the end of the game.
-- Brett Edgerton
| | | | | |
| --- | --- | --- | --- | --- |
| Oregon Ducks | 78 | FINAL | 69 | UCLA Bruins |
---
MVP: Oregon's Carlos Emory recorded 20 points off the bench for the Ducks. He also finished with four rebounds and two steals. His effort in a reserve role exemplified UO's advantage with depth against a UCLA team that competed without standout Jordan Adams.
X factor: The Ducks battled inside all night. Proof? Travis and David Wear went 6-for-15 combined from the field in the loss.
That was...incomplete: You have to give Oregon credit for that win and the sudden surge after a late-season slump. But even Dana Altman admitted after the game that the matchup favored his team due to Adams' absence. It would have been great to see two completely healthy teams compete.
-- Myron Medcalf
The Perfect Storm
>
On Sunday, Florida will have an opportunity to cap its dominant season in the SEC with a win over Ole Miss in the SEC tournament championship game in Nashville. But that's secondary to the bubble chaos that will conclude in Music City. The SEC needs its own ESPN Selection Sunday special. The entire league, it seems, is on the bubble. And Saturday's action only magnified the confusion.
Ole Miss could be on the verge of redemption after a victory against Vandy in the tourney semis. Its overall résumé is far from flawless, although the victory over Mizzou in the quarterfinals helped. Kentucky and Tennessee both had a chance to impress the selection committee but did just the opposite in Friday losses to Vandy and Alabama, respectively.
And Alabama (yes, another SEC bubble team) may have fallen off the board entirely following Saturday's loss to the Gators (a 15-0 run sealed the win for Billy Donovan's team). Get your popcorn ready. The SEC's final bid count could range from two to four. Most seem to think three, but after the perfect convergence of bubble drama in Nashville this weekend, who really knows?
To read Chris Low's SEC tournament semifinal coverage from Nashville, click here.
Tournament Tickets Punched
>
There were 13 automatic bids handed out Saturday. Albany punched the first ticket with a win at Vermont. Who else joined them? For a running list of autobid winners, click here.
Player Of The Day
>
GREENSBORO, N.C. -- Miami guard Durand Scott's coaches had been reminding him to hold his follow-through after shots.
"On the ones I missed, I hadn't been," he explained.
So you couldn't blame the senior for holding the pose an extra moment (or two) with about 11 minutes left in Saturday's 81-71 win over NC State in the ACC tournament semifinals. After the fifth-seeded Wolfpack put together a 13-4 rally to cut a once 19-point lead to 50-44, Scott buried a 3 from near the top of the arc to halt the rally. That marked his 25th, 26th and 27th points in what would be a career-high 32-point outing.
"I didn't know how many points I had at that point," Scott said of that key 3-pointer. "I just knew that shot felt good."
You can read the rest of Pickeral's feature on Durand Scott's big day by clicking here.
A Look Around Championship Week
---
Player of the game: UNC junior Reggie Bullock finished with 15 points and nine rebounds, but he was also key defensively to holding off a furious Maryland comeback that saw the Terps cut their once double-figures deficit to three points with 10 seconds left -- only to have Logan Aronhalt rush, and airball, a deep 3-pointer on their game-tying attempt. Bullock spent a lot of his day defending Terps guard Dez Wells, who had averaged 25.5 points in Maryland's previous two wins. Wells finished with 15.
X factor: UNC sophomore P.J. Hairston's status was in doubt after getting eight stitches between the middle and ring fingers on his left hand Friday, but he started and scored 13 points with that non-shooting hand heavily bandaged. His presence allowed the Tar Heels to stay with their four-guard starting lineup -- a group that is now 8-2 since Hairston was inserted into the opening five. And a group that will play top-seeded Miami in Sunday's ACC Tournament title game.
That was … probably the end of Maryland's NCAA tournament hopes. The Terps had injected new consideration into their bubble possibilities by beating Duke for the second time this season on Friday. But with an RPI of 62 before Saturday's game, they probably needed at least one more victory.
-- Robbi Pickeral
---
MVP: Point and laugh at Ryan Evans' jump-shot free throws if you want; the fact remains that Evans shredded Indiana's mid-range and post defense at will Saturday, anchoring his team with 16 points and eight rebounds.
X factor: Cody Zeller and Victor Oladipo, two of the nation's most efficient offensive players, combined to shoot 8-of-22, and Indiana couldn't speed up Wisconsin on either end of the floor.
That was...more Badger ownage: This Wisconsin team is a bad matchup for this specific Indiana squad, but that doesn't explain the Badgers' now-12-straight wins over the Hoosiers.
-- Eamonn Brennan
---
MVP: The Buckeyes have always defended, and always gotten great scoring from Deshaun Thomas, but they spent the first few months of the season desperately looking for someone else to put the ball in the basket. On Saturday, as he was in OSU's upset win at Indiana, Aaron Craft was that player. He went 9 of 13 from the field for 20 points, and added nine assists, four steals and three rebounds, too.
X factor: As Spartans point guard Keith Appling struggled in late February and early March, shooting guard Gary Harris -- the Spartans' best shooter and most naturally talented scorer -- more than picked up the slack. On Saturday, he finished with just five points on 1-of-7 from the field.
That was … another sign the Buckeyes are to be feared. Not only is Craft giving the already-good Buckeyes more scoring options, but the Buckeyes have elevated their already-great defense to a top-five level in the last month of the season. No one will want to draw Thad Matta's team in their bracket next week.
-- Eamonn Brennan
Akron Beats Rival To Take MAC