What we thought we knew? Sweet 16 field laughs
A week ago, I believed I had it all figured out.
Moments after the Selection Sunday pairings were announced, I began to compile my annual "10 bold predictions" column.
So I analyzed the bracket. Consulted the mountains of research that streams from Bristol each day. Scoured KenPom.com. Checked the RPI and the BPI.
I looked at strength of schedule and top-100 wins. Scrutinized the best and worst wins of teams I trusted and those I didn't. And then, I went with my gut.
My boldest projections included a claim that the Pac-12 would go 0-5 in the NCAA tournament and Marshall Henderson would fail to lead Ole Miss past Wisconsin.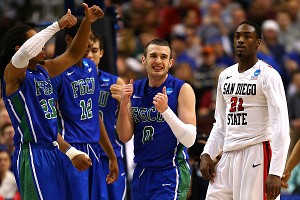 Elsa/Getty ImagesNone of the five teams from the much-praised Mountain West made it out of the first weekend, but the Atlantic Sun tourney champ marches on.
Oh, it gets better.
I picked Middle Tennessee to reach the Sweet 16.
Today, my list of predictions belongs in the same fire pit as my bracket, which slotted Georgetown as a Final Four squad and Wisconsin as an Elite Eight team.
It has been only a week. But everything that seemed reasonable and practical and possible has been questioned and reconsidered. By me. By you. By all of us, really.
Gonzaga seemed positioned to reach the Final Four for the first time ever. Mark Few had his best team. There were no glaring weaknesses. What could possibly go wrong, right?
The Mountain West had never reached an Elite Eight. But 2013 would be the year of change. Colorado State, New Mexico, San Diego State, UNLV and Boise State had all cracked the field. One of its members had to get there, right?
The Pac-12 -- based on the matchups -- was doomed in the opening round. Marcus Smart would lead Oklahoma State over Oregon and UNLV would beat Cal for the second time this season. This was a mediocre league, right?
A week ago, Georgetown seemed destined for Atlanta. The only team that appeared to present a threat for Otto Porter & Co. in the South Region was Kansas. I mean, the Hoyas were set to kick off their NCAA tournament experience with a game against a school named Florida Gulf Coast, whose head coach's wife was apparently more famous than the entire school.
Couldn't get much easier than a game against the Atlantic Sun's second-best team, right?
Michigan was on a collision course with VCU's "Havoc" defense, a contest that could've led to an early exit. Not for Bo Ryan, though. Wisconsin had the right matchups and roster to make a run. And the Badgers' style would be a problem for Andy Kennedy's program.
Within a week, however, those theories were proven wrong. That's all it takes. Four days of action and everything we thought we knew is thrown out in the same trash bin that houses our crumpled-up bracket.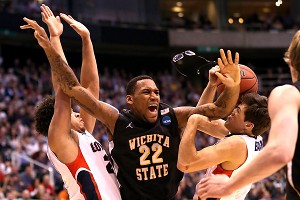 Streeter Lecka/Getty ImagesTop-seeded Gonzaga? Old news. Wichita State barrelled right through that barricade.
Just a few days can change everything, especially in the NCAA tournament.
Gonzaga's fairy tale path to the Final Four was eased when Kansas State, New Mexico, Pitt and Notre Dame all lost their first game in the West. But the Zags, a 1-seed in the easiest region, stumbled against a Southern team that didn't even win the SWAC's regular-season crown and lost to a Wichita State squad that suffered six Missouri Valley Conference losses.
The Mountain West, not the Pac-12, fell short of expectations. That conference will not have one representative in the Sweet 16.
The Pac-12, however, started 3-0 and Oregon and Arizona used that early momentum to reach the Sweet 16.
And it turns out that Georgetown was simply the first victim for this season's Cinderella, Florida Gulf Coast. Excuse me, Dunk City. The Eagles have become the darlings of the field and one of its most fascinating participants, too.
Now we did get some things right. Wisconsin is gone, but the Big Ten has justified the "best conference in America" tag it carried all season. One quarter of the remaining squads hail from that league. The only havoc in Michigan's weekend victory over VCU involved Mitch McGary's terrorizing screens.
Plus, Duke looks like a national contender again. Louisville could be unstoppable if its lopsided victory over Colorado State was any indication of its potential.
Kansas and Indiana simply survived. They're powerhouses but clearly vulnerable following a few scares in their first two rounds.
Listen, this is not the Sweet 16 we expected.
Next week, Staples Center in Los Angeles will include a horde of yellow-shirt-wearing fans from La Salle and Wichita State. Think the local hosts anticipated that?
Florida Gulf Coast University, which sounds more like a resort than a college, will face Florida. And based on the way the Eagles have played, picking FGCU wouldn't be crazy. Or maybe it would be. Probably as crazy as picking the Eagles to beat Georgetown and San Diego State to become the first 15-seed in history to reach the Sweet 16.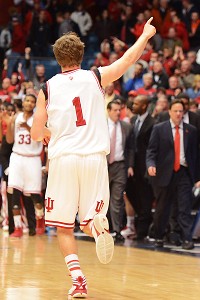 Jason Miller/Getty ImagesTemple didn't make things easy Sunday, but 1-seed Indiana was one of four Big Ten teams to move on to the Sweet 16.
Syracuse's length and athleticism could stifle top-seeded Indiana in the East.
Kansas versus Michigan should be a war. Trey Burke and Ben McLemore are two of the most talented players in the country. McGary and Jeff Withey will battle inside.
Louisville can't make any assumptions about a game against an Oregon squad that's as deep as any team that's still alive.
Look, all presumptions are dangerous at this point. But we still guess and we project. I know I do.
That's because everything is obvious and sensible on Selection Sunday. It always starts so fresh and pristine.
But once the NCAA tournament actually begins, things fall apart. It never goes the way we think it should go.
So there's no reason to close the door on any possibilities for the Sweet 16.
Yes, this Florida Gulf Coast fantasy might continue. And we could see La Salle or Wichita State in the Final Four. Kansas, Indiana and Louisville could miss Atlanta for all we know.
A week ago, I thought I knew everything.
I'm not exactly sure what I know now.
And isn't that exactly why we love this beautiful creation called March Madness?
Roundup From Dayton
iv class="mod-container mod-no-footer content-box mod-inline full mod-no-header-footer aroundtheassociation">
| | | | | |
| --- | --- | --- | --- | --- |
| Iowa State Cyclones | 75 | FINAL | 78 | Ohio State Buckeyes |
---
MVP: Aaron Craft had a lot of shaky moments throughout the game but he came through in the end with a 3-pointer that found the net with 0.5 seconds remaining. He finished with 18 points, 6 assists and 2 steals.
The X factor: Sure, there will be a debate about the late charge against Iowa State. But Chris Babb's absence in the second half after he suffered an ankle injury in the first half was more significant for the Cyclones.
That was … March Madness: Ohio State should breeze through the West Region, right? Not so fast. The "easiest" region is suddenly the most competitive, it seems.
-- Myron Medcalf
| | | | | |
| --- | --- | --- | --- | --- |
| Temple Owls | 52 | FINAL | 58 | Indiana Hoosiers |
---
MVP: Victor Oladipo countered Khalif Wyatt (31 points) with a dazzling game that included a 3-pointer in the final seconds that extended Indiana's lead and sealed the win. Oladipo finished with 16 points and eight rebounds.
X factor: Christian Watford made two crucial stops in the final minutes of the game. His clutch defense was critical.
That was … impressive: The Big Ten is living up to the hype right now. It's tough to deny the notion that it is the best league in America when four teams are already in the Sweet 16.
-- Myron Medcalf
Roundup From Philadelphia
iv class="mod-container mod-no-footer content-box mod-inline full mod-no-header-footer aroundtheassociation">
| | | | | |
| --- | --- | --- | --- | --- |
| Florida Gulf Coast Eagles | 81 | FINAL | 71 | San Diego State Aztecs |
---
MVP: Brett Comer was the facilitator in this victory. He struggled from the field (5-for-14) but finished with 10 points, 14 assists, 2 rebounds and a steal.
The X factor: Fate. That's the X factor. Destiny appears to be on this team's side. Also, the Eagles forced 17 San Diego State turnovers.
That was … history: For the first time, a 15-seed advanced to the Sweet 16. And we all witnessed it. Great win for a program that most folks had never heard of prior to this run.
-- Myron Medcalf
| | | | | |
| --- | --- | --- | --- | --- |
| Creighton Bluejays | 50 | FINAL | 66 | Duke Blue Devils |
---
MVP: Freshman Rasheed Sulaimon was huge in this matchup. He finished with 21 points and five rebounds. He also went 3-for-5 from the 3-point line.
The X factor: Creighton entered the game as one of the top shooting teams in America. But the Bluejays went 2-for-19 (10.5 percent) from beyond the arc.
That was … easy: I figured the Blue Devils would have a tough time with the Bluejays. Duke, however, just rolled on to another Sweet 16 in pedestrian fashion. No sweat.
-- Myron Medcalf