Syracuse finds its zone against the Hoosiers
>
WASHINGTON -- There are no more surprises with Syracuse.
And yet, time after time, teams are fooled by the length of the Orange's zone, the inability to get quality shots or get inside the lane and find openings.
Syracuse has been fallible many times this season, losing seven Big East games. The zone is hardly something that can't be solved. Yet, here was mighty Indiana -- the preseason No. 1 team, the Big Ten outright champion, the one team the selection committee had locked in as a No. 1 seed before selection weekend -- completely flummoxed.
"They were just long and active," Indiana guard Victor Oladipo said. "We just didn't take care of the ball like we should have. In the first half we got a little too anxious, catching the ball, moving out the ball, not having the ball secure in our hands, and our shots weren't falling at the same time."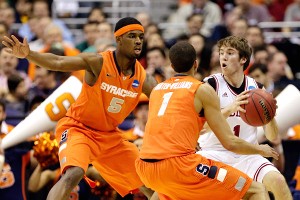 Win McNamee/Getty ImagesSyracuse swarmed Jordan Hulls and the Hoosiers all night, disrupting their offensive flow.
Indiana was completely outplayed, dominated in the first half like it hadn't been all season. The Hoosiers trailed by 12 at the break, and their 22 points were a season low for any half. And while they did cut the deficit to six at one point in the second half, they never seriously threatened, losing 61-50 and falling in the Sweet 16 for the second-straight season.
Indiana hit season lows in points (50), field goal percentage (34.0) and 3-point FG percentage (20.0) and tied a season high with 19 turnovers. There was zero offensive flow, with Cody Zeller playing like he was 5 feet tall instead of 7.
"I mean, as you can see, at first it looked confused, … slowing the ball down seeing what they could get," said Syracuse senior James Southerland. "We just do a good job of talking out there and recovering if they get penetration, but it's tough. One thing they don't see is how long we are until they approach our zone."
So, now Syracuse is in the Elite Eight against Big East rival Marquette one last time before they jet off to different conferences -- Syracuse to the ACC and Marquette to the new private-school Big East. Indiana heads home, disappointed that it couldn't live up to its own expectations and seize the best chance it has had for a Final Four since the surprising 2002 team that played for the title against Maryland under Mike Davis.
The cruelty of the NCAA tournament is that top seeds get dismissed, and the goodwill they've earned can be tossed aside. Gonzaga had its best season ever in getting a No. 1 seed. But the Zags' second-round loss could cloud the perspective. It shouldn't, but the meaning of March has become a definition of teams of late.
Indiana shouldn't be judged by this one game, either. Still, this stings. It was the fourth-fewest points scored by a 1-seed in the shot-clock era. A terrible disappointment.
"There are not any programs, whether this be Syracuse, Kentucky, Carolina, Duke, you name it that are the blue-blood programs of the country that have had to endure what these guys have had to endure," Indiana coach Tom Crean said of the massive rebuilding job he had to take on after the NCAA sanctions of the previous administration.
"They've got a tremendous basketball team," said Syracuse coach Jim Boeheim, who last faced an Indiana team in the NCAA tournament in the 1987 national title game won by the Hoosiers on Keith Smart's shot.
"Tom has rebuilt that program from nothing, and, you know, they're really a good team. I thought we had one advantage at the guard spot with the size, and we were able to take advantage of that."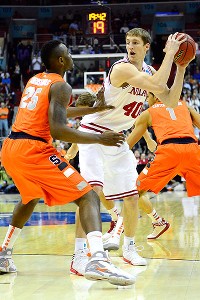 Bob Donnan-USA TODAY SportsIt's a disappointing end for Cody Zeller and an Indiana team that had a Final Four ceiling.
So much that freshman Yogi Ferrell didn't start in the second half. Ferrell finished with zero points, four turnovers and two missed shots. Meanwhile, the taller and much more effective Syracuse perimeter of Michael Carter-Williams and Brandon Triche dominated the position with 24 and 14 points, respectively.
Carter-Williams finished with four steals, too, which as Boeheim pointed out isn't easy to accomplish in a zone. The Hoosiers had 19 turnovers, while the Orange had 12 steals.
"It's not the missed opportunities of scoring that hurt us as much as it did the points off turnovers that turn into live-ball turnovers for them," Crean said. "We did a much better job in the second half, but the first half it got away from us a little bit there.
"There were a couple of times we could have kicked it out, there were a couple of times I thought we would be at the foul line and it didn't happen. They have great length, there is no doubt about it, and you've got to go up and power through it. And at times we did, at times we didn't. At times when we did power through it, we didn't get the bucket, it didn't go in for us at times obviously and it just wasn't meant to be."
The Hoosiers couldn't rely on player of the year candidate Oladipo, either. He scored 16 points and made five of six shots but had as many turnovers (three) as steals (three). Zeller had a disastrous outing, missing eight shots inside.
Boeheim said Zeller got the ball away from the basket, making it easier to force him where he wasn't underneath the basket so they could help on him. The double-teams came quickly, and the Hoosiers never got clean looks, even within a few feet.
Boeheim went into a long but informative answer on the history of his team's zone and how it had played plenty of man-to-man, but it was taking up too much practice time. The decision was made to go exclusively zone. If there were problems with it over the years, then Boeheim would tweak the zone instead of ditching it for man-to-man.
"As the years have evolved, not many teams are playing zone and when they play on or practice against it, it's a false sense of security, because you're not playing against our defense," Boeheim said. "It's much like when Georgetown had Patrick Ewing, you could practice against their 2-3, 1-3-1, anything you wanted, but at the end of the day when you made your play and made your move and you went to shoot it, he blocked it. You get a false sense of security sometimes at practice."
Indiana couldn't simulate the zone. The Hoosiers said the right things Wednesday. They embraced the top seed. They loved being the hunted. But they were slayed rather easily Thursday by a zone and a team that didn't need to trick them in any fashion.
Syracuse didn't hide anything. The Orange were on full display and transparent enough that it was no secret on how they advanced to yet another Elite Eight in this storied program's history.
They didn't fool anyone. They simply beat an opponent yet again with their system by playing it as well as it has been played at any point this season.
Roundup From Washington, D.C.
| | | | | |
| --- | --- | --- | --- | --- |
| Marquette Golden Eagles | 71 | FINAL | 61 | Miami (FL) Hurricanes |
---
MVPs: Junior Vander Blue got Marquette off to a hot start early, scoring six of his 14 points during a 10-1 run that put the Golden Eagles up 14-5 and for good. Teammate Jamil Wilson -- who gave Marquette its first double-digit lead one possession later -- led the Eagles with 16 points.
X factor: Miami managed to hit only 1 of 12 3-pointers (8.3 percent) and 6 of 28 shots overall (21.4 percent) in the first half. It trailed Marquette 29-16 at halftime, and its shooting never got much better, as it made worse than 30 percent of its 3-pointers and 36 percent of its shots for the game. The final margin of victory was 10, but it never really seemed that close after the first one-third or so of the game.
That was ... surprisingly lopsided: Miami had been holding foes to 39.6 percent shooting entering the game, but Marquette shredded through the Canes' defense, shooting 54 percent.
-- Robbi Pickeral
| | | | | |
| --- | --- | --- | --- | --- |
| Syracuse Orange | 61 | FINAL | 50 | Indiana Hoosiers |
---
MVP: Syracuse sophomore Michael Carter-Williams finished with 24 points on 9-for-19 shooting. He also grabbed six rebounds.
X factor: The Orange's 2-3 zone. Indiana struggled with it early, committing 10 turnovers in the first 10 minutes and falling behind by as many as 18 points in the first half. The Hoosiers never recovered and Syracuse never let them, as Indiana cut its deficit to six points with about 14 minutes left, but never got any closer.
That was ... crushing, on the part of Syracuse: The Orange finished with 11 blocks while holding the Hoosiers to 34 percent shooting and forcing 17 IU turnovers. It was a particularly tough day for Indiana 7-footer Cody Zeller, who was 3-for-10 with 10 points against the Orange's lengthy, tenacious, smothering defense.
-- Robbi Pickeral
The Perfect Play
>
LOS ANGELES -- On Thursday night, LaQuinton Ross finally felt like a hero.
The sophomore hit the biggest shot in the biggest game of his life. His 3-pointer with 2.1 seconds to play -- a few feet behind the line -- sealed Ohio State's 73-70 victory over Arizona at the Staples Center and sent the Buckeyes to the Elite Eight.
He was mobbed by his frenzied teammates immediately after that critical bucket. He was serenaded by the Buckeyes fans who traveled to the West Coast for the game.
"I'd like to credit my coaches for the play," Ross said after the win. "It was similar to the play we ran last game. ... It so happened they messed up on the switch right there, and I was able to knock down the shot."
To read the rest of Myron Medcalf's piece on Ohio State's win over Arizona, click here.
Hall Of Fame Effort From Wichita St.
>
LOS ANGELES -- A few years ago, Carl Hall told his mother that he was willing to risk his life to play basketball.
Jackie Fields was understandably disturbed by the idea because her son's heart condition, which prompted fainting spells, had disrupted his career shortly after high school.
"I was willing to live with the situation I put myself in," said Hall after guiding Wichita State to a 72-58 victory over La Salle in the Sweet 16 at the Staples Center. "If anything happened, like if I possibly died or something on the court, I told her I would've died happy because I would have died doing something that I loved to do."
On Thursday night, the Shockers toyed with the Explorers to reach the Elite Eight for the first time since 1981.
To read the rest of Myron Medcalf's story on the game, click here.
Roundup From Los Angeles
---
MVP: Deshaun Thomas led the Buckeyes with 20 points, but it was reserve LaQuinton Ross who buried the winning 3-pointer with two seconds left. He scored 14 of his 17 points in the second half.
X factor: The Buckeyes -- who made 36.6 percent of their 3-pointers for the season -- shot 53.8 percent from long distance on Thursday, including the game winner.
That was … nail-biting. Arizona led by as many as 11 points in the first half and 38-34 at halftime. But the Wildcats didn't hit a shot for the first 5:20 of the second half -- and by then, Ohio State had built a six-point lead. Arizona kept competing, cutting its deficit to 60-57 on a Mark Lyons 3-pointer with 6:33 left, and then 70-67 on a layup by Lyons with 61 seconds left. Then with 21.8 seconds left, Lyons -- who else? -- tied it 70-70 with a three-point play before Ross' 3-point dagger.
-- Robbi Pickeral
---
MVPs: Wichita State forward Carl Hall set the tone in the first half, scoring 10 of his 16 points during his team's 14-2 game-opening run. Then guard Malcolm Armstead sealed the victory in the second half, at one point scoring nine straight points for his team to help thwart any hope of a La Salle comeback. He finished with 18.
X factor: The Shockers' defense. After holding Pittsburgh to 35.2 percent shooting from the field and Gonzaga to 35.6 percent, Wichita State did it again, frustrating La Salle into 35.7 percent. The Shockers also outrebounded La Salle by 21.
That was … not shocking. WSU, despite being a No. 9 seed, didn't consider itself a Cinderella, and it never trailed en route to showing why.
-- Robbi Pickeral
The Real Marquette Stands Up
>
WASHINGTON -- The Marquette locker room never got too chaotic or hectic.
There was some exuberance, chatter and prayer before the media entered the room, according to the players. But there was nothing like the euphoria exhibited on the court as soon as Marquette dispatched Miami 71-61 to advance to the Elite Eight.
The Golden Eagles, who had held their emotions in check for 40 minutes save one guttural scream from Jamil Wilson on a block, waited until the domination was complete before letting loose. The players all ran to the Verizon Center side where the Marquette fans were located and shouted with joy, as senior Junior Cadougan yelled, "We're here!"
Yes they are.
And they deserve to be as much if not more than any other Elite Eight team.
This is no longer just the hardworking, overachieving crew. Everyone can say with authority that this team is very good.
To read the rest of Andy Katz's story on the game, click here.