Burke doesn't miss this chance for Michigan
>
ARLINGTON, Texas -- Time and time again the past few seasons, as the final buzzer sounded after a close loss, Michigan point guard Trey Burke has found himself asking the same question.
Why?
Why did those 3-pointers rim out against Arkansas and Ohio State?
Why couldn't he make that final shot in an overtime loss to Wisconsin?
Why did he miss a free throw and layup in the waning moments at Indiana?
"All of them looked good and felt good," Burke said. "I just kept asking, 'Why are they all going in-and-out?'"
Burke never discovered the answer -- but he never lost confidence, either. Instead the Wooden Award candidate just kept firing away in those tight moments, hoping that good fortune would eventually come his way.
It finally happened for the nation's best player Friday -- fittingly, on the biggest stage of his college career.
Burke's 3-pointer with 4 seconds remaining forced overtime in the Wolverines' Sweet 16 showdown against Kansas at Cowboys Stadium. Along with capping his team's rally from a 14-point second-half deficit, the shot gave Michigan a huge jolt of momentum that it used to defeat a deflated KU squad 87-85.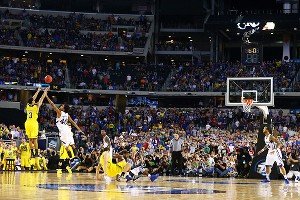 Ronald Martinez/Getty ImagesTrey Burke connects on a 3-pointer that forced OT.
The victory gives Michigan a spot in the Elite Eight for the first time since 1994. The Wolverines will play Florida at 2:40 p.m. ET on Sunday.
"It's like all of those shots that Trey missed before didn't go in because this one was supposed to," Michigan forward Jordan Morgan said. "When he made it, I looked at my teammates and said, 'We were meant to win this game.'"
Simply draining the clutch 3-pointer would've been impressive enough, but what made Burke's shot even more dramatic was the distance from which it was taken. Burke pegged it as a 23-footer, but it was probably closer to 30.
"We had fought so hard to come back, it didn't matter how far the shot was," Burke said. "It was all or nothing. The season flashed before our eyes those last two or three minutes. I had a lot of faith in that shot, and it went in.
"There were still 4 seconds left. Kansas still had a chance to win [in regulation]. I tried to calm everyone down and let them know the game wasn't over."
But it basically was.
KU's Naadir Tharpe missed a 3-pointer at the buzzer and the game went to overtime, where Michigan proved to be tougher than the clearly frazzled Jayhawks.
The Wolverines went up 87-82 on a pair of foul shots by Glenn Robinson III with 53 seconds remaining. A 3-pointer by Elijah Johnson shaved KU's deficit to 87-85, and the Jayhawks had a chance to win it when they got the ball back with 9.4 seconds remaining.
Johnson beat his man into the paint, but Morgan came through with some good help-side defense by sliding over into Johnson's path, forcing the guard to take an extra dribble. Johnson went up for a shot and realized he was too deep.
"The [angle] Johnson had wasn't the best," Morgan said. "He got caught behind the backboard. He would've had to shoot a floater, which would've been a tough shot."
Instead Johnson fired a pass to the perimeter for Tharpe, who missed another 3-pointer at the horn.
Ballgame.
Michigan, which trailed by 10 points with 2:19 remaining, had pulled off the most impressive win of the tournament by knocking off the Jayhawks, the No. 1 seed in the South Region.
Freshman forward Mitch McGary finished with 25 points and 14 rebounds, but there was no question that Burke was the star of the game. Not just on the court, but in the huddle.
"The main thing he kept saying was, 'Believe,'" Robinson III said. "He said, 'We can't lay down right now. We've worked too hard to lose this game by 10 or 15. We've got to cut this lead down. If we don't step our game up right now, this is it for us. We might regret this for the rest of our lives."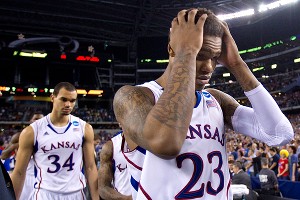 Shane Keyser/Getty ImagesKansas' Ben McLemore and his teammates walk off the court following the overtime loss.
A sophomore, Burke scored 13 points during a 2-minute, 53-second span that stretched from the 1:16 mark of regulation to the 3:23 mark of overtime.
"There was never a point in time where we thought we were losing," Burke said. "I kept telling my teammates, 'They're going to break.'
"We showed a lot of toughness. A young team in the Sweet 16, down 10 with 3 minutes left … most teams would start fouling and give up. We never did."
Indeed, one of the main storylines entering the game was Michigan's experience and toughness. Or rather, a lack of it.
Wolverines stars such as Burke, McGary and Tim Hardaway Jr. are all freshmen, sophomores or juniors. No one has accused Michigan of being soft this season, but it certainly isn't known as a physical, tough team, either.
Kansas, meanwhile, started four seniors -- all of whom played significant roles on last year's NCAA runner-up squad -- along with freshman Ben McLemore, who is projected as a top-three pick in this summer's NBA draft. And the Jayhawks lead the country in field goal percentage defense (35.8).
None of that mattered Friday.
"The media has been making a big deal about how we're a young team," freshman Nik Stauskas said. "But I don't thing being young affects us as long as we're playing together and playing smart."
Pleased as they were with Friday's victory, Michigan's players know an even bigger test awaits Sunday against Florida. Much like Kansas, the Gators are an experienced squad that will be making its third straight appearance in the Elite Eight.
"We have bigger goals in mind," Burke said. "We're one game away from getting to the Final Four. We're right there. We can get to Atlanta. All of our dreams are right in front of us."
And that's all because of Burke's big 3-pointer in the most important game of his career.
About an hour after he left the court, Burke was presented with the same question he'd asked himself so many times before.
Why did this shot go in when so many others had bounced out?
Burke smiled.
"God," he said, "has a funny way of revealing himself sometimes."
College basketball writer for ESPN.com
Longtime writer at the Kansas City Star
Author of two books
Roundup From North Texas
| | | | | |
| --- | --- | --- | --- | --- |
| Michigan Wolverines | 87 | FINAL | 85 | Kansas Jayhawks |
---
MVP: It's hard to believe, but Michigan guard Trey Burke was 0-for-4 in the first half, and didn't make his first bucket until 18:48 remained in regulation. But to say the sophomore came up "big" after that is a huge understatement -- as he finished with 23 points, including a long 3-pointer to send the game to overtime. He also scored the Wolverines' first five points in the extra period.
X factor: Trailing by two points with 8 seconds left in overtime, Kansas had a chance to win or tie it. But instead of trying to finish his looping drive to the basket, Elijah Johnson instead opted to pass out to Naadir Tharpe, who missed a 3-pointer on the last possession of the game.
That was … dramatic. Kansas led by as many as 14 points, and had a comfortable-looking-at-the-time 10-point advantage with 2:19 to go. But Michigan rallied with a Burke-led 14-4 run, forcing overtime when Burke buried a 30-foot 3-pointer with 4.3 seconds left in regulation.
-- Robbi Pickeral
| | | | | |
| --- | --- | --- | --- | --- |
| Florida Gulf Coast Eagles | 50 | FINAL | 62 | Florida Gators |
---
MVP: Gators guard Mike Rosario finished with 15 points, five rebounds and two steals.
X factor: Florida advanced with defense. Not only did the bigger, longer Gators out-rebound FGCU on the offensive boards (13-5), they forced the Eagles into 20 turnovers.
That was … fun while it lasted. FGCU made a bunch of shots and got out to a 24-14 lead. But the Gators used their bigger lineup to outscore the 15th seed 16-2 over the final five minutes in the first half to take a 30-26 lead into halftime. Florida then scored the first seven points of the second half en route to a double-figures cushion. The confident Eagles cut their deficit to seven points with 3:11 left, but they never got closer, sinking Dunk City's hopes of advancing to the Elite Eight.
-- Robbi Pickeral
The Perfect Medicine
>
INDIANAPOLIS -- Rick Pitino was trying to explain just how sick Russ Smith was, warning the assembled media during his postgame news conference that they ought to steer clear of the Louisville guard, lest they come down with the guard's "ridiculous cold."
"We just had to get our guys through it, and hopefully we'll get better," Pitino said. "The only problem was, on every timeout Russ is hacking in our faces."
And on cue, Smith started to cough directly into the microphone. Pitino just shook his head while Smith tried to stifle the coughing fit.
"Every 30 seconds just like this," Pitino said. "So keep your distance or you'll have pneumonia by the morning, like Gorgui [Dieng] and me."
Asked to explain just how sick he was, Smith downplayed his initial diagnosis of "terribly sick" between more bouts of coughing.
"I'm pretty sick (hack, hack)," Smith said. "It affected my conditioning a lot, but coach just told me I had to dig in."
So this wasn't exactly Willis Reed limping onto the court, or a fevered Michael Jordan dropping 38 in the NBA Finals. But if this is Smith sick, everyone should want what he has.
The junior tied his career high with 31 points, scoring in every which way possible -- left-handed, right-handed, easily and with ample degrees of difficulty. He almost single-handedly lifted the Cardinals back into the Elite Eight with a 77-69 win over Oregon.
To read more of Dana O'Neil's piece on Louisville's victory, click here.
Blue Devils Tough Enough
>
INDIANAPOLIS -- Michigan State is physical. Michigan State is tough. Michigan State is athletic.
That's the three-verse mantra Duke players heard for the past week, the implication obvious in what was left unsaid: Namely, that the Blue Devils were not any of those things.
Perhaps now that Duke is in the Elite Eight, perhaps now that it has won back-to-back games not on the beauty of its offense but on the back of its defense, and perhaps now that Duke has disposed rather handily of the more physical, tougher and more athletic Spartans, 71-61, people will write another verse to this old, tired song.
Or not.
To read the rest of Dana O'Neil's story on Duke's victory, click here.
Roundup From Indianapolis
---
MVP: Louisville guard Russ Smith picked a good time to tie his career high with 31 points, scoring 16 by halftime. He was 9-for-16 from the field and 12-for-14 from the free throw line.
X factor: Led by Smith, the Cardinals shot 53.8 percent against the Ducks (who had allowed foes to make 41 percent of their shots this season). Louisville also outscored Oregon 42-34 in the paint.
That was ... not as close as the final score may indicate: Louisville took a 16-point lead in the first 10 minutes of the game, but Oregon -- to its credit -- stuck around and stuck around, hovering around at a 10-to-12-point deficit until Damyean Dotson's jumper with 5:13 left cut Louisville's lead to 70-64. But the Cardinals scored the next six points, and the Ducks never got any closer.
-- Robbi Pickeral
---
MVP: Duke guard Seth Curry connected and connected and connected some more, scoring 29 points on 8-for-17 shooting. He made 6 of 9 3-pointers and all seven of his free throws.
X factor: Michigan State entered the game making more than 34.1 percent of its 3-pointers but recorded only 3-for-12 on Friday. Duke's defense was key throughout the game, as it held the Spartans to 40 percent shooting overall. MSU made only seven field goals in the second half.
That was ... solid: The game was tied 38-38 with 17:32 left. But Duke countered with a 9-0 run -- led by Curry and Mason Plumlee -- to take the lead for good.
-- Robbi Pickeral
FGCU's Dream Run Ends
>
ARLINGTON, Texas -- At 11:46 p.m. CT on Friday at Cowboys Stadium, a group of Florida fans rose from their seats and began a rather sobering chant.
"Al-most mid-night!," they yelled. "Al-most mid-night!"
Standing on the nearby court, Florida Gulf Coast's players could only hang their heads. The clock was about to strike 12 on one of the better Cinderella stories in NCAA tournament history. The first No. 15 seed ever to advance to the Sweet 16 finally came off its cloud in a 62-50 loss to Florida.
"We made history," guard Brett Comer said. "We did something that nobody in the nation thought we would do. I just hate that it has to end."
The rest of America -- other than Florida fans, of course -- likely feels the same way.
The Eagles might have lost, but they hardly looked out of place or out-classed against third-seeded Florida, which advanced to the Elite Eight for the third consecutive season. The Gators play Michigan at 2:20 p.m. ET Sunday for a chance to go to the Final Four.
To read the rest of Jason King's story on the game, click here.