Wichita State keeps dancing to the Final Four
>
LOS ANGELES -- On Saturday night, Gregg Marshall danced.
The Wichita State head coach swayed back and forth as he held his family members. The school's band blasted Aretha Franklin's "Respect" in the background, while Marshall inhaled the mood created by the vibrant gathering around him. Then, he shuffled toward the ladder to cut down the nets.
Wichita State players hugged one another on the court. Shockers fans in the stands screamed. Some bewildered supporters slapped the shoulders of friends. All smiled.
That scene followed Wichita State's 70-66 upset victory over second-seeded Ohio State in the Elite Eight at Staples Center. After a dramatic conclusion to a game that had gone from lopsided victory to thriller, the Shockers earned the program's first trip to the Final Four since 1965.
Malcolm Armstead finished with 14 points (6-for-21), seven rebounds, three assists and three steals. Cleanthony Early added 12 points and Carl Hall blocked six shots.
Wichita State held the Big Ten tourney champs to a 31.1 percent clip from the field (second lowest of the season for the Buckeyes) and a 5-for-25 mark from the 3-point line. Per ESPN Stats & Information, Ohio State's 7-for-35 tally outside the paint was its worst effort in its past four NCAA tournament appearances.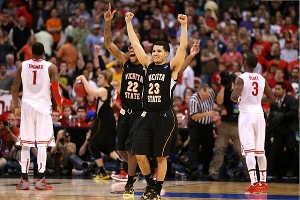 Jeff Gross/Getty ImagesFred Van Vleet, 23, leads the cheering section as WSU's surprising tournament run heads to Atlanta.
Yes, the Shockers will be in Atlanta with Syracuse and the winner of Sunday's Duke-Louisville and Florida-Michigan matchups.
Wichita State will be just the fifth team with a 9-seed or lower to reach the Final Four. No 9-seed has ever won it all. But …
"We've got a team full of fighters, and I don't think we're done yet," Hall said.
This is the same Wichita State team that finished second to Creighton in the Missouri Valley Conference regular season and league tournament. This is the same Wichita State squad that lost three consecutive games to Northern Iowa, Southern Illinois and Indiana State midway through its conference slate. This is the same assembly that worried about missing the field as Selection Sunday approached but secured a 9-seed from the NCAA tournament's selection committee.
Ohio State was a factor in the title race of a conference that was widely recognized as America's best. The Buckeyes had won 11 games in a row entering their second consecutive Elite Eight appearance. That stretch included wins over Michigan State (twice), Indiana, Iowa State and Arizona.
Now, Michigan is the Big Ten's last hope to end the league's national title drought, which began after Michigan State won the championship in 2000.
It's quite possible, depending on the outcome of Sunday's games, that the Missouri Valley Conference will send more teams to Atlanta than the Big Ten.
Given the latter's assumed supremacy throughout the regular season, it would be surprising. But the regular season called for this chaos.
Chaminade, a Division II squad, beat Texas. Games were canceled due to condensation. John Calipari and defending champ Kentucky added another crop of NBA prospects but lost to Robert Morris in the first round of the NIT. Florida Gulf Coast reached the Sweet 16 and Florida State didn't reach the tournament.
So Wichita State's rally fits the improbable tale of the 2012-13 season. Many things have happened that we can't really explain.
The Shockers are led by a group of young men who are not on NBA radars or All-American lists. Hall worked in a factory a few years ago. Early previously played at a low-level junior college. Armstead, a transfer from Oregon, left the Pac-12 for an MVC school even though Marshall didn't have a scholarship for him.
Now they're all on their way to the final stage in Atlanta. Not the Buckeyes.
"I just think it's a mixed emotion of feelings," Early said. "We're excited. We're happy, and we're just ready to play. We've got to continue to stay focused, work hard and get better."
But Ohio State resisted defeat with valor.
Everything that made this Buckeyes team one of America's elite squads, especially in the last month of the season, oozed from this roster in the second half on Saturday.
The Bucks were down 35-22 at halftime after missing eight 3-point attempts (10 total) in the first half. Wichita State pounced early and snatched the mojo of Thad Matta's program. Star Deshaun Thomas went 4-for-13 before halftime.
And the collapse continued in the second half. With 11:02 remaining in regulation, Wichita State led 56-36. Game over, right? Nope. Fate is too stubborn for such simplicity.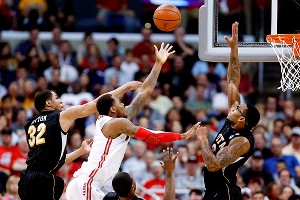 Travis Heying/Getty ImagesDeshaun Thomas tried to lead Ohio State back in the second half, but the Buckeyes fell short.
Between Early's ankle injury and the renewed spirit of its opponents, WSU nearly lost. Fred Van Vleet's three-point play with 7:03 to go gave the Shockers a 60-46 lead. Then, Thomas led a 13-2 run.
Consecutive plays by LaQuinton Ross -- a 3-pointer and a pair of free throws after he'd forced a turnover -- and Shannon Scott's free throws with 2:48 on the game clock ultimately cut Wichita State's lead to three points, 62-59.
"We were almost out for the count," Hall said.
There they were again. Wounded.
It was a familiar position for the Shockers. They were always facing some form of adversity, it seemed, throughout the regular season. Hall, Ron Baker (who celebrated his 20th birthday on Saturday), Evan Wessel and Ehimen Orukpe were all injured at some point this season.
That affected chemistry and hindered a team that lost its third consecutive MVC matchup on Feb. 5 against last-place Southern Illinois. The game ended on a controversial goaltending call, but the score wasn't reversed. And Marshall was unsure of his program's immediate future.
"It was our third loss in a row, and I'm thinking, man, we're probably not going to get [into the NCAA tournament]," Marshall said. "Because it's hard for non-BCS leagues."
But players healed. The unity returned. And the Shockers began to jell at the most critical juncture of the season. That punch they took from a determined Ohio State squad on Saturday was not unfamiliar. Their resilience was not foreign, either.
With 2:07 to go, the same Wichita State that had a 20-point lead early in the second half was up just 65-61. But Van Vleet's bucket with a minute to play widened the divide to six points. Baker's two free throws with 51 seconds on the game clock gave Wichita an eight-point lead.
In the final moments, Tekele Cotton snatched the rebound off an OSU miss, drew a foul and made one of two free throws. Ohio State pulled within four points on Aaron Craft's 3-pointer with eight seconds play.
But that was it. The Buckeyes came close but couldn't complete the comeback.
"That takes courage and toughness," Marshall said of Ohio State's run.
It also takes courage and toughness to reach the Final Four with a roster that was incomplete just a few weeks ago.
Marshall said he will reward his team on Sunday with a short break before another tough week.
"We'll probably take tomorrow off," he said.
That's just more time to dance.
ESPN Staff Writer
Covers college basketball
Joined ESPN.com in 2011
Graduate of Minnesota State University, Mankato
The Perfect Defense
>
WASHINGTON -- The expectation to reach the Final Four is always there for Syracuse.
The bar is never set below a Big East or national title, regardless of the personnel.
Yet, getting to these celebrated benchmarks is extremely difficult. Nothing is a given, but coaches are constantly graded and judged by whether or not they reach this pinnacle of the profession.
So, here is Syracuse and Hall of Fame coach Jim Boeheim, back in the Final Four, 10 years after the last trip, and with as much of a chance to win the national title as any of the previous three appearances in '87, '96 and '03.
"Tom Crean did a great job and sat here [Thursday] and said he had a great year,'' Boeheim said, in the hallway of the Verizon Center, of the Indiana coach whose Hoosiers were muzzled by the Syracuse zone two days ago, in what was arguably the Orange's best defensive performance of the season.
"I don't believe that,'' Boeheim said. "They left at 2 o'clock in the morning. That was a Bobby Knight move. It's the way it is. If you're not so good, getting in the tournament is OK."
Boeheim talked about how difficult it is to break through, citing the recent trips for Butler, VCU and George Mason. "Some teams don't get to the tournament final," he said. "It's just hard to do this. It's four games. You can do it. It's just hard.''
To read the rest of Andy Katz's story on Syracuse's victory, click here.
Katz With Michael Carter-Williams
Saturday's Elite Eight action
---
MVP: Orange forward James Southerland led his team -- which shot only 38 percent -- with 16 points on 6-for-13 shooting.
X-factor: Syracuse's 2-3 zone. Coach Jim Boeheim has played it for years … and foes have been consistently frustrated for years. This time around, Marquette shot only 22.6 percent, turned the ball over 13 times and recorded its fewest points in a game this season.
That was … defensive: Marquette managed to score only seven points in the game's first 14 minutes, and although it trailed by only six at halftime, a Michael Carter-Williams-led 9-3 run gave Syracuse a double-digit cushion. In this offensively-challenged game, that was enough.
-- Robbi Pickeral
---
MVPs: Wichita State's Cleanthony Early (5-for-9, 12 points) hit a bunch of shots early, Fred Van Vleet (4-for-8, 12 points) made some big plays late, and Malcolm Armstead (14 points, seven rebounds, three assists, three steals) was key throughout as the Shockers built a double-digit lead and survived the Buckeyes' furious rally.
X factor: The Buckeyes had been shooting 50 percent from 3-point land during NCAA play … until this game, when they were a frustrating five for 25.
That was … quite a comeback/survival, depending on your point of view: Wichita State led by as many as 20 points (56-36) with about 11 minutes left, but Ohio State finally came to life, cutting it to as little as three points with less than three minutes left. However, Shocker Van Vleet found teammate Tekele Cotton for a 3-pointer, and then Van Vleet followed a layup from Ohio State's DeShaun Thomas with a jumper to give his team a six-point cushion with a minute left. With the way the Buckeyes were missing 3-pointers, it was enough.
-- Robbi Pickeral
Medcalf With Fred Van Vleet