Michigan, Louisville earn a chance to be great
ATLANTA -- Goldencents, a horse partially owned by Rick Pitino, won the Santa Anita Derby on Saturday, earning a spot in the Kentucky Derby field.
The next race, inconsequential to all but the seasoned bettors, was won by a horse named Points Offthebench.
Still think destiny hasn't hitched its wagon to this season?
No, there is something going on here, something part mystical, part basketball. Otherwise, how to explain it all?
How to explain a national championship game pitting one team that has now survived a gruesome injury to a teammate in one weekend and a lousy game from itself in the next against an opponent that pulled off one epic comeback only to almost be done in by an epic collapse?
How to explain two star guards combining to shoot 2-for-17, including a 1-for-8 effort from the (nearly) consensus national player of the year, and still winning?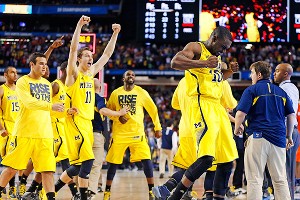 AP Photo/Charlie NeibergallSaturday's game provided some rare postseason drama for Michigan.
And how, most of all, to explain this: Michigan and Louisville, two teams with rock-solid starting fives, combining for 55 Points … Offthebench?
"Only great teams win that game,'' Louisville's Chane Behanan said of his team's victory, but could very well sum up the Wolverines too. "Only great teams come from down six points with five or six minutes left and win.''
Destined teams often take on an air of greatness as the trophy presentation nears.
Great teams also start to bask in an aura of destiny.
The national championship game between Louisville, 72-68 rally winners against Wichita State, and Michigan, 61-56 survivors over Syracuse, is exactly that sort of matchup, a meeting of the illogical and the logical to culminate a season that has been plenty of both.
Of course, basketball people don't like the idea of otherworld influences. That would require they cede control, and in a world of film sessions and scouting and stat metrics, control is not easily given away.
So they prefer to find some order in the chaos, an explanation for the unexplainable.
Last week, I spoke to John Chaney about the Syracuse zone, but as the ex-Temple coach likes to do, he strayed off topic to talk about the game in general.
And the wise old Owl dropped a pearl of wisdom that was almost exquisite in its simplicity.
"Great players can always stop great players,'' he said. "Great teams find a way to win anyway.''
That's exactly the case with Louisville and Michigan. Dusted by pixie dust perhaps, they are by no means lucky winners.
From Jan. 19 to Feb. 9, Louisville played seven games. They lost four of them -- three by a combined seven points, one in five overtimes.
The Cardinals were Team Implosion, a squad you loved until the final two minutes and then averted your eyes to see how it could all go wrong.
Yet here of all places -- on the literal biggest stage of the season, with the pressure of the overall No. 1 seed only quadrupled thanks to the attention afforded the injured Kevin Ware -- was that same roster, sans Ware, down six late in the second half, Wichita State ho-humming its way through the Cards' pressure defense with an almost 'that's all you got?'' shrug, and they're cool as can be.
"There's no panic,'' UL assistant coach Wyking Jones said. "They know they're going to come back because they've done it before.''
To build a champion, you've got to compile experiences, and this Louisville team has a notebook full. They've gone through the routine (a gutsy win at Syracuse in the regular season); the bizarre (a blowout loss to Villanova), the impossible (the five-OT loss to Notre Dame) and the awful (Ware's injury).
It's all combined in their collective consciences almost like muscle memory. At one point, Ware crutched his way into the huddle, but the Cardinals didn't need any inspiring. They were fine on their own.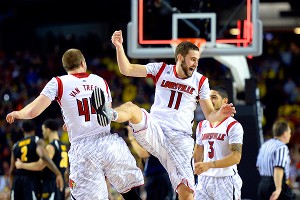 Robert Deutsch/USA TODAY SportsLouisville players celebrated after surviving Wichita State's upset bid on Saturday.
"We just knew we had to stick together,'' Peyton Siva said. "Coach P told us we had to continue to go out there and have fun. We're going to win, we're going to win. That's what he kept repeating to us. We believe it.''
So does Michigan.
The Wolverines spent the better part of this season being told what they were not -- namely, experienced enough to survive essentially anything thrown their way.
Yet here they are, survivors of their own little tailspin, which was more poorly timed than Louisville's. Michigan ended the regular season 5-5, including an inexplicable loss to Penn State, a skid that convinced plenty that, even with trophy collector Trey Burke, the Wolverines were ripe for an early NCAA bounce.
Instead, Michigan all but demolished its opponents, saving its drama for two games -- Kansas and Syracuse.
That was the epic comeback; this was the near meltdown, with the Wolverines blowing an 11-point lead, missing free throws and yet somehow inexplicably emerging with the W.
"It's surreal -- all that hard work paying off throughout the season,'' Michigan's Tim Hardaway Jr. said. "We had our ups and downs going into the late second half of the season. This team stuck together and bonded.''
Which is all well and good: the logical notion of hard work and pluck, but you can't discount when things just sort of … happen.
Like, for example, walk-on Tim Henderson draining back-to-back 3-pointers to rally the Cardinals -- this after hitting exactly one shot, in garbage time against Duke, since January.
"The players said they were surprised; they were being very kind,'' Pitino said. "I was shocked. Not shocked that he made them, just that he had the gumption to take them, then take it again.''
Or like Caris LeVert, averaging 2.2 points per game, outscoring Burke, eight to seven.
"You never know who the outlier is going to be; you never know who is going to come and get it done,'' Michigan coach John Beilein said. "We've been that team all year.''
Both teams have been that team all year, a collaboration of survival, success and supernatural. But the great delineation of greatness and destiny will come on Monday.
"If we don't win on Monday, we're not a great team,'' Louisville's Stephan Van Treese said.
Michigan feels the same.
But only one horse can cross the finish line first.
ESPN Senior Writer
College basketball reporter.
Joined ESPN in 2007.
Graduate of Penn State University.
The Perfect Turning Point
Russ Smith was on the bench. "I kept waiting for us to make our run," he said.
Rick Pitino was shouting at his team, trying to get them to stay the course: "'We're going to win, we're going to win,'" Peyton Siva said. "That's what he kept repeating to us."
Luke Hancock was on the floor, and so was Tim Henderson -- Hancock the unlikely ball handler, Henderson the little-used floor-spacer in the corner. The clock wound down, Gorgui Dieng set the ball screen, Hancock drove right -- and found Henderson in the corner for a 3.
It went in.
"And then," Smith said, "it happened."
To read Eamonn Brennan's full story on Louisville's rally, click here.
Complete Final Four Coverage
We've got five writers in Atlanta covering every angle and every storyline. You can read and watch it all right here in the Final Four blog. »
---
MVP: Louisville junior Luke Hancock, averaging 6.8 points over his previous four NCAA tournament games, finished with 20 points -- including 14 in the second half, when the Cardinals rallied from a dozen-point deficit.
X factor: Wichita State finished with only 11 turnovers, but seven of them came in the final seven minutes.
That was … down to the wire: The ninth-seeded Shockers led by as many as 12 points -- 47-35 -- with about 13 minutes left before Louisville used a 21-8 run to take back the lead 56-55 with 6:30 left on a Hancock 3-pointer. The teams traded the lead until the 1:58 mark, when another Hancock 3 gave the Cardinals a five-point cushion. With 8.8 seconds left and Louisville leading by two and looking to seal it from the line, Hancock made his first foul shot, missed the second but forced a jump ball on the rebound, giving his team back possession. A Russ Smith free throw with five seconds left accounted for the final margin of victory.
-- Robbi Pickeral
---
MVP: Mitch McGary. If you told Michigan coach John Beilein that Trey Burke, Tim Hardaway Jr. and Nik Stauskas would combine to shoot five of 29 against Syracuse's vaunted 2-3 zone Saturday night, he probably would have started focusing on this summer's recruiting responsibilities. But Michigan won anyway, in large part because McGary posted 12 rebounds (five offensive) and six assists to go along with his 10 points. Is anyone having a better tournament?
X factor: Glenn Robinson III. McGary was great, but he couldn't pick up the Wolverines' slack by himself, and that's where Robinson came in. The occasionally inconsistent but super-talented Robinson was efficient when attacking off the wing, and he finished with 10 points (on 5-of-7 shooting) and six rebounds.
That was … a really impressive win: No, it wasn't a masterful offensive performance from the Wolverines, but there is no such thing as masterful against a defense that held its first four tournament opponents to just 0.72 points per trip. Michigan was good enough on offense and even better defensively -- its most-improved quality in this tournament, by the way -- where it forced Syracuse to settle for 3s (on which they went three of 14) and then cleaned up the defensive glass. Just a great win.
-- Eamonn Brennan
Andy Katz With John Beilein