Things just keep getting better
Can a No. 16 seed beat a No. 1? It has to happen eventually, right? Why do No. 12 seeds always beat No. 5s? Is playing in the First Four an advantage? What's the meaning of life? Why are we here? Where does Craig Sager even find a tie like that?
These are the questions you might find yourself pondering in your fifth or seventh or 12th straight hour of opening-weekend NCAA tournament action. The mind wanders. Existential inquiries surface.
The first Friday of the 2014 NCAA tournament stirred all of the above and at least one more: Is this the best opening weekend of the NCAA tournament ever?
Actually, that one might be the easiest to answer: Yes, yes, a thousand times yes.
Or: If it isn't, we'd like to see the one that was.
No, really. When have the first two days been this good? When was the last time the first Thursday of the tournament -- the first four-overtime day in NCAA tournament history -- was so brilliant in its own right? And when was a day that went bonkers so rapidly followed up by a Friday afternoon result like Mercer 78, Duke 71? Or one that spent its prime time filled with three concurrent seat-clutchers, each more thrilling than the last? Or that wound down -- ha, "wound down" -- with a No. 1 seed wheezing into halftime trailing by five to a No. 16?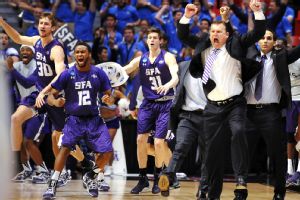 Christopher Hanewinckel/USA TODAY SportsStephen F. Austin gave the tournament another rush with a wild upset of VCU.
That No. 1 seed, Virginia, eventually figured things out against Coastal Carolina. The Cavaliers' defense resumed its customary, months-long dominance in the second half. Joe Harris -- who had just three points in the first 30 minutes of the game -- hit a series of difference-making 3s down the stretch. Eventually, Coastal Carolina looked helpless, the way a No. 16 seed is supposed to look. But for most of the game, the world was buzzing: After 122 straight wins, would a No. 1 seed finally lose to a No. 16?
It was a crazy prospect, but why not? Nothing in the previous three hours suggested anything less.
When Virginia was still just beginning its first-half fumbles, its commonwealth brethren, No. 5 seed VCU, was suffering one of the most dramatic collapses in recent tourney history. The first 36 minutes of the Rams' game against No. 12 seed Stephen F. Austin went mostly as expected: Two of the nation's three best turnover-creating defenses traded up-and-down possessions, giveaways and a fair number of fouls. SFA was really good -- the Lumberjacks' last loss came in November -- but VCU was just a little bit better. With 3:38 left to play, Shaka Smart's team led 60-50.
And then the lead went poof. SFA guard Thomas Walkup made a layup, and the Jacks immediately forced a turnover. Jacob Parker made a 3. Another turnover. Deshaunt Walker scored inside. Just like that, the 10-point lead was reduced to three. Still, despite a series of missed free throws, VCU entered the final 10 seconds up four. Even a 3 wouldn't hurt the Rams.
By now, you know what happened next: Desmond Haymon rose in the corner and sank that 3, but as he did, VCU freshman JeQuan Lewis went floating past, grazing Haymon on the way, earning the a nightmare whistle at the worst possible time.
Whatever you thought of the call -- and it was an awfully tough call -- there was no reason for Lewis to risk the foul at that point in the game. Haymon made the free throw to send it to overtime, and by then, SFA's ascendance started to feel predestined. Haymon hit a cool step-back 3. Parker hit an 18-footer after a loose ball bounced through a VCU defender's legs. By the time Lewis had his chance at redemption on the final play, you know the poor kid's shot wasn't going. When it didn't, the Lumberjacks danced. Lewis laid on the floor and cried.
The same sudden sorrow VCU once inflicted on unsuspecting favorites had turned around on the Rams. The unfeeling cold of the tournament comes for everyone eventually.
In 2011's First Four-to-Final Four run, no one had much reason to see VCU coming. The Rams at least had the recent history of the No. 5 seed to give them pause. The 2014 tournament is, after all, the 27th in 30 years in which at least one No. 12 has pulled off the upset. According to ESPN Stats & Information, 36.1 percent of all No. 5-No.12 matchups end in an upset. Since 2001, No. 12s are 26-30 against No. 5s. What is it about that line on the bracket that creates so much chaos? Are No. 5 seeds routinely overseeded? Are No. 12 seeds better than we think? What gives?
Again, this is just one of the questions Friday inspired. Here's another: How does a third-seeded Duke team shoot 15-of-37 from the 3-point line and still lose to No. 14-seeded Mercer?
Defense, or lack thereof, is the best available answer. The Blue Devils never quite got to their typically elite defensive level this season. They got better over four months, sure, but they never got great. And so even when Duke kept splashing 3 after 3, the Mercer Bears responded with bucket after bucket. By the end of their 78-71 loss, the Blue Devils' interior defense had been thoroughly exposed.
At some point after Mercer's Kevin Canevari Nae Nae'd his way into tourney-highlight immortality, Duke coach Mike Krzyzewski, winner of 983 career games, visited the Mercer locker room. "If we got beaten, at least we got beaten by a hell of a basketball team," Krzyzewski told the Bears.
Would Providence agree? It might have to: Bryce Cotton threw everything he had at UNC -- 36 points, eight assists, five rebounds, two steals -- in 40 brilliant minutes and UNC still did enough on the offensive glass to dispatch the Friars 79-77 in yet another of Friday's brilliant games.
And there was so much more: Tennessee suddenly playing unstoppable offensive basketball and blowing out UMass; Marcus Smart's college career likely ending in a horribly ugly loss to Gonzaga; Kansas figuring out, and winning, a dunkfest against scrappy Eastern Kentucky; Memphis guard Michael Dixon sinking clutch free throws to hold on against George Washington; Kentucky suddenly looking like a real threat to No. 1-seed Wichita State.
There were lots of questions and few answers. The tournament is as confusing as it is exciting -- and we're still wondering where Sager scores those ties.
But of all the queries Friday provoked, none was more sweeping than: Is this the best first weekend of any NCAA tournament ever?
By the end of the night, with two more days left, the answer was definitive: Yes.
ESPN Staff Writer
Covers college basketball
Joined ESPN.com in 2009
Graduate of Indiana University
Happenings In San Antonio
The Latest Dish

Mercer started Friday with a bang, knocking off third-seeded Duke. Getting one of its teams to pull a stunner isn't new to the Atlantic Sun.
Perhaps you remember last year's entrant: That would be Florida Gulf Coast. Here we go again.