Dayton has everyone's attention now
The Dayton Flyers staged their first upset of the 2013-14 season almost as soon as it began. You probably didn't see it.
It was Nov. 25, in the Lahaina Civic Center in Lahaina, Hawaii, in the final game of the first round of the Maui Invitational. It was a 12 a.m. ET start in November, so don't feel bad. But there the Flyers were, out of nowhere -- a 17-14 team in 2012-13 -- scorching Gonzaga's defense. The Flyers outmuscled and outshot the No. 11-ranked team in the country. They scored 84 points in 71 possessions. They held off Zags guard Kevin Pangos' late, desperate plunges at the rim, sealing the win in the final moments.
And then, a day later, Dayton fell to Baylor, one of Maui's two favorites. A day after that, the Bears lost to Syracuse. Seeds held. Chalk ruled.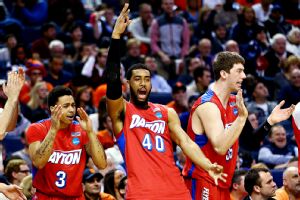 Elsa/Getty ImagesDayton didn't stun Syracuse in anonymity; the world saw the whole thing.
Four months later -- four months that included a road loss at Illinois State, a home loss to USC, and a 1-5 start in Atlantic 10 play -- Dayton finally got its shot at Syracuse.
The Flyers' 55-53 win of the third-seeded Orange Saturday afternoon was a different kind of upset than Nov. 25's, though just as -- OK, way more -- thrilling. It was a defensive slog, a possession-by-possession struggle to find whatever tiny margin the Orange's months-long bricklaying woes allowed and hold on for dear life from there.
Dayton's win was also vastly different from the day that preceded it. Before Dyshawn Pierre's free throws and Tyler Ennis's two late bricks ended Syracuse's season, Saturday was characterized by a preponderance of chalk -- of high single-digit seeds handling their would-be upsets in mostly businesslike fashion.
Scottie Wilbekin was brilliant in the first game of the day, an easy 61-45 Florida win over Pitt. Louisville ground Saint Louis' often nonexistent offense -- the Billikens finished the first half with 21 field goal attempts and 16 points -- into dust. San Diego State ended North Dakota State's Cinderella run with typically stifling defense and a peerless performance (30 points, five assists, 9-of-19 shooting, 8-of-9 from the line) from guard Xavier Thames. And Michigan barely broke a sweat against Texas: The Wolverines made 14 of their 28 3-pointers (from pretty much everywhere on the court), scored 1.4 points per possession, and featured seven players -- seven! -- with offensive ratings of 127 or higher.
The Big Ten had a good day all-around, actually, though its other two wins weren't nearly as effortless as the Wolverines'.
Wisconsin played the best game of the day against Oregon. The Badgers' 85-77 win was tighter than the final score throughout, with both hyper-efficient offenses -- Wisconsin entered ranked fourth in adjusted offensive efficiency, Oregon 11th -- trading one thrilling bucket after another. Joseph Young finished the game with 29 points, but missed the 3 that would have tied the game with 15 seconds left. Wisconsin's scoring was more balanced (surprise, surprise), with five players finishing in double digits. It was the kind of March game that doesn't involve a deep-seeded Cinderella or a quirky hinterlands story but is instead the product of two really good teams playing great basketball with their seasons on the line. It was a brilliant watch from start to finish.
Michigan State's win over Harvard wasn't quite that nerve-wracking, but it had its moments. After dominating the first half, the Spartans turned it over 10 times in the second half, leading to a flurry of Harvard buckets. With 11 minutes remaining, Steve Moundou-Missi turned a steal into a sideline highwire act into a high-flying dunk, and turned Michigan State's seemingly unassailable march into a four-point game. The next five minutes were one-possession-tight. Eventually, a pair of 3s -- one by Gary Harris, and a nifty hop-back baseline shot from Denzel Valentine -- gave Michigan State the breathing room it needed. Another of the nation's consensus favorites moved on.
"Parity" is a popular word this time of year. If you could build a word cloud of the college hoops discussion these first few days of the tournament, parity would be right in the middle, in big bold letters; the notion that the game is flatter than ever before is almost always a part of the conversation. Mostly, that's a fallacy: Anyone can beat anyone, sure, but that's just the nature of a single-elimination tournament. Single-game sample sizes are inherently chaotic. That's why the tournament is great.
Usually, the big names in the sport win. That's been the case for most of the tournament: Until Saturday, Duke was the lone top-16 overall seed that failed to advance.
Even Saturday's nightcap, when another of those top-16 teams fell, wasn't exactly an argument for parity. No. 2 seed Villanova lost to No. 7 seed UConn, a plucky northeastern school with a dozen or so recent NBA players and three national titles (including one in 2011) over the past 15 years. Oh, and an All-American, guard Shabazz Napier, averaging 24.5 points, 6.5 rebounds, and 4.5 assists in two tournament games to date.
No, Dayton was the only true surprise of the day -- the only time the top-16 chalk was blown into a disorderly cloud. There's no telling what Sunday has in store, of course: All three No. 1 seeds face tough round of 32 opponents (none tougher than Wichita State, who will face the rebounding challenge of its life against Kentucky). Iowa State will try to get past North Carolina without crucial, injured forward Georges Niang. Kansas, missing Joel Embiid, will have to deal with Stanford's size. Ditto for Creighton and Baylor. And so on.
But Saturday? Saturday was a day of order, a day for the established hoops elite. It was interrupted only briefly by a Dayton team's white-knuckled ride against Syracuse. Four months after their late-night win over Gonzaga, the Flyers are shaking up another tournament. This time, the whole world is watching.
ESPN Staff Writer
Covers college basketball
Joined ESPN.com in 2009
Graduate of Indiana University
Happenings In Buffalo
| | | | | |
| --- | --- | --- | --- | --- |
| Dayton Flyers | 55 | FINAL | 53 | Syracuse Orange |
---
Deciding factor: Dayton didn't get frustrated by the Syracuse zone. It picked its spots and shot 41.3 percent from the field and followed its upset of Ohio State by knocking off the Orange.
Player of the game: Devin Oliver. He made only one shot but scored seven points and grabbed 10 rebounds as Dayton outrebounded an Orange front line boasting Rakeem Christmas and C.J. Fair.
Key stat: Syracuse did not make a 3-pointer, going 0-for-10, including the last-second, game-winning attempt from Tyler Ennis.
| | | | | |
| --- | --- | --- | --- | --- |
| Connecticut Huskies | 77 | FINAL | 65 | Villanova Wildcats |
---
Deciding factor: When UConn wins, Shabazz Napier is usually the reason. Despite a bruised shin, Napier took care of things in the closing minutes to send Villanova home.
Player of the game: Napier. He had four points at halftime but threw in 21 in the second half. Cue up some more Kemba Walker comparisons.
Key stat: Napier missed only four shots in an efficient -- and impressive -- 25-point night.
The Latest Dish

Thought Dayton's fun would end after its upset of state rival Ohio State? Thought the high of beating the Buckeyes would be followed be the low of an exit from the NCAA tournament?
Well, that's not happening. Dayton's fun will go on, because the Flyers downed another giant, dropping Syracuse to advance to the Sweet 16.
Happenings In Orlando
---
Deciding factor: The Gators never ran away in this one, but they were never threatened, either. They committed just six turnovers and turned it over only seven times.
Player of the game: Scottie Wilbekin. He went 9-for-15 from the floor and scored a game-high 21 points.
Key stat: Pittsburgh had a hard time scoring, an issue all season. The Panthers had just one player in double figures, with Talib Zanna scoring 10.
---
Deciding factor: Saint Louis went dry in the second half, going nearly six minutes without a basket midway through.
Player of the game: Luke Hancock. He bailed Louisville out of its first game and paced the Cardinals in the second, scoring a game-high 21 points.
Key stat: The Billikens did not make a 3-pointer. Literally, none. Saint Louis went 0-for-15 from deep.
Happenings In Milwaukee
---
Deciding factor: Texas tried to threaten a few times in the second half, but a late 7-0 run by Michigan ended that possibility as the Wolverines moved forward.
Player of the game: Jordan Morgan. Everybody knows about Nik Stauskas, but it was Morgan who had the biggest impact, going for 15 points and 10 rebounds.
Key stat: Michigan took care of the basketball, which is why Texas couldn't close the gap. The Wolverines committed just four turnovers all day against the Longhorns.
---
Deciding: In what has been the surprising twist of the season, Wisconsin, not known for offense, again relied on its offense down the stretch.
Player of the game: Frank Kaminsky. He scored 19 points and grabbed five rebounds as the Badgers outrebounded Oregon 37-26.
Key stat: Ben Brust hit a school-record 228th 3-pointer with 53.3 left after three offensive rebounds by the Badgers to keep the possession alive and give Wisconsin a lead it would not give up.
Happenings In Spokane
---
Deciding factor: Xavier Thames did it all -- almost literally. He scored 30 of San Diego State's 63 points as the Aztecs moved forward.
Player of the game: Thames. He did the heavy lifting on a day when he had more field goals himself than the rest of the Aztecs' starting lineup combined.
Key stat: North Dakota State's Lawrence Alexander went 1-for-10 from the floor, a stark contrast from his 10-for-15, 28-point performance in the upset of Oklahoma.
---
Deciding factor: Harvard had a couple big chances down the stretch but missed a couple open shots late, ones that Michigan State didn't miss. The Crimson hung in, but they couldn't pull the upset.
Player of the game: Branden Dawson. He had a monster night, going 12-for-15 from the floor for 26 points to go with nine rebounds.
Key stat: Michigan State had the big bodies inside, but, at the end of the day, rebounding numbers were identical: Both teams had 33 rebounds.