Kentucky is growing up right before our eyes
INDIANAPOLIS -- James Young wants to reach the Final Four, and he believes he'll win the title. He's consumed by the idea.
After Kentucky's surprising, come-from-behind 74-69 win over rival Louisville in the Sweet 16, the freshman talked about seeds, pairings and favorites. He had Bracketology on the brain.
Before that Friday night (Saturday morning) victory at Lucas Oil Stadium, a win that sent Kentucky to a Sunday night matchup against Michigan in the Elite Eight, Young and his teammates gathered at their team hotel to assemble an elaborate "NBA 2K" video game tourney. There was trash talk and conversation.
"I got the first seed," said Young, proud and smiling. "I'm out here winning. I'm trying to get to the Final Four. I'm working right now."
Julius Randle disputed Young's proclaimed dominance, though.
More from ESPN.com

Kentucky once looked young and vulnerable? Now the Wildcats look energetic and dangerous after beating Louisville, writes Myron Medcalf. Home Court
"James Young is a liar," said Randle, who finished with 15 points and 12 rebounds against Louisville. "But it is important. Just team bonding. Just having fun with it."
In the hours before a high-stakes showdown with Louisville, these young Wildcats played video games.
They didn't talk about external expectations. They didn't discuss Louisville's matchup zone or dissect defensive assignments. They didn't watch extra film to prep for the defending national champs.
They just relaxed. You could see that tranquility as they maneuvered through the late-game ruckus that threatened to end their season. The Wildcats were down by 13 early against the Cardinals. But Louisville's foul trouble and poor free throw shooting (13-for-23) created an opening for a team that lost Willie Cauley-Stein to an ankle injury in the first half. That made Dakari Johnson's 15-point, six-rebound effort vital.
They chased the Cardinals. Whatever control Rick Pitino's program had in the first half, that faded in the second. With 4:33 to go, the Wildcats faced a seven-point deficit. In the Sweet 16. Elite Eight slot on the line.
But they weren't impressed by the moment. It was just another game.
"I didn't really feel any pressure," Randle said. "I really wasn't worried about where this game could take us. I was just focused on the game and the game plan that Coach had for us."
That's the benefit of youth. Consequences can be inconsequential.
The Cardinals were pursuing another title. The Wildcats were just searching for the next bucket.
Eventually they'd get there, they figured.
As they cruised, Louisville got tense. An Aaron Harrison 3-pointer with 39 seconds to play -- the assist by Randle -- put the Wildcats up for good.
"Well, we have big-time players," said Andrew Harrison, who had 14 points, seven assists and five rebounds. "A lot of people that relish in the moment at the end of the game, like Aaron and Julius. You're kind of comfortable being down by seven. You just have to keep believing and keep fighting."
Somehow, this Kentucky team has managed to ignore the noise that confronted the program the day that John Calipari signed six McDonald's All-Americans. It had never played a game together, but it was still the No. 1 team in America in the Associated Press' preseason poll. And then, the Wildcats fell to Michigan State, North Carolina and Baylor.
That wasn't the end of the world.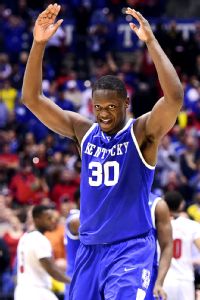 Bob Donnan/USA TODAY SportsKentucky suddenly doesn't look young and vulnerable. Now the Wildcats appear energetic and dangerous.
But losses to Arkansas and South Carolina transformed the most-hyped team in recent college basketball history into the game's great disappointment. The "What if?" that surrounded the program entering the season had become "What happened?" by early March.
"It's been a lot of pressure on us," Young said. "We had a lot of pressure on us the whole season, actually, with the media just killing us. Really, we just fought through it. I think that's what made us tougher, to get where we are today. We actually needed that to get it together."
The Wildcats are stacked with NBA prospects, but they weren't following the preseason narrative and steamrolling through the nation -- or even the subpar SEC. By the time they entered the NCAA tourney, it was difficult to guess their fate. An early loss seemed possible -- perhaps even likely -- in the loaded Midwest region.
While the college basketball world focused on their flaws and their fall, however, the Wildcats came together. The media -- the creators and disseminators of the negativity, in their eyes -- became their enemy. Redemption became their goal. One game at a time.
After suffering a 19-point loss at Florida on March 8, they decided to finish the year with some oomph. Sure, they'd missed the mark, their personal mark, but they still had time.
"I felt like it started at the SEC tournament," Alex Poythress said. "We got blown out at Florida [to close the regular season]. It was a bad taste in our mouth. We got spanked. Everybody was disappointed. We were disappointed in ourselves. We had to come together as a team and just show, 'C'mon, y'all. Postseason's here. It's what we all came here to do. Let's try to make something happen.'"
Now, they're here. Before the season, this all seemed possible.
The Wildcats just needed five months to arrive at their potential. This convergence of hype and execution is as splendid as the original projections suggested it could be.
"They're maturing right before our eyes," Calipari said.
After the game, reporters waited for the green light to flood the Kentucky locker room. But before they could enter, a golf cart carrying Russ Smith (game-high 23 points) and Luke Hancock (19 points) drove through the horde.
There was silence for a few seconds.
As he rode by, Smith took a deep breath and just stared at the ground.
A few minutes later, Andrew Harrison, Aaron Harrison, Johnson and Randle were escorted to the postgame news conference on separate golf carts. Randle was texting. Johnson was asking Aaron Harrison, "Was that a foul?" But Aaron Harrison was too focused on something that appeared on his phone -- "Oh god!" he exclaimed -- to respond.
Once the Kentucky stars reached the podium, they slouched in their chairs and leaned forward. They were, understandably, exhausted. Plus, they've answered a million questions about the highs and lows of the season thus far. They didn't seem excited about another round of queries.
Plus, they had a video game tournament to consider.
Elite Eight and a shot at the Final Four? They'll deal with that later.
"We're probably gonna have [the 'NBA 2K' tournament] tonight," Poythress said. "I think I'm a 2-seed. I don't know if [Young] is the No. 1 overall seed. ... We're still kids. We still play video games."
And feel no pressure.
ESPN Staff Writer
Covers college basketball
Joined ESPN.com in 2011
Graduate of Minnesota State University, Mankato
The Latest Dish

How good has Branden Dawson been for Michigan State over the Spartans' past two games? Try 50 points and 19 rebounds total in wins over Harvard and top-seeded Virginia.
Before this mini-run, Dawson had scored 20 points in a game just once, and that came on New Year's Eve against Penn State, when he went for 20 points and 9 rebounds against the Nittany Lions.
Happenings In Indianapolis
---
Deciding factor: Louisville coach Rick Pitino attributed his team's loss to free-throw shooting and he isn't wrong. The Cardinals missed 10 of their 23 free throws while Kentucky was 22 of 27 at the line, and made five of its last six.
Player of the game: Kentucky's Julius Randle. The freshman recorded his 23rd double-double of the season. He was one of three Wildcats to score 15 points, and he grabbed 12 rebounds.
Key stat: During the final eight minutes of the game, Louisville scored two points in the paint on 1-of-5 shooting. The Cardinals had scored 42 paint points on 21-of-29 shooting during the first 32 minutes of the game.
---
Deciding factor: Michigan's shooting touch. The Wolverines have been connecting from beyond the 3-point line all tournament and they didn't slow down on Friday. They hit 11 of their 20 long balls, including three by sophomore Nik Stauskas.
Player of the game: Jordan Morgan. The senior forward led the Wolverines in scoring with 15 points and pulled down seven rebounds. He also drew the controversial offensive foul that gave Michigan a key possession late in the game.
Key stat: The Volunteers were just 8-for-14 from the free throw line, while the Wolverines were 8-for-10, allowing them to overcome disadvantages in the turnover and rebounding columns.
Happenings In New York
---
Deciding factor: The defense. Both teams went through extended droughts, but in the end, Michigan State's defense was slightly better than Virginia's. The Cavs shot just 35.1 percent while the Spartans shot 44.7 percent.
Player of the game: Michigan State's Branden Dawson. The junior forward continued his impressive tournament run as he has scored a combined 50 points and tallied 19 rebounds in his last two outings. He also connected on six of his eight free throws.
Key stat: Dawson was the only player in the game to record double-digit rebounds (10). He is the Spartans' leading rebounder (8.3 per game) despite missing nine games in the middle of the season because of a hand injury.
---
Deciding factor: UConn's balance. Shabazz Napier started hot and knocked down four early 3-pointers to help the Huskies build a big lead. Then, it was DeAndre Daniels' turn, as the big man finished with 27 points to help his team hang on for the win.
Player of the game: Daniels. His 10 rebounds gave him a double-double, and he scored 19 of his 27 points in the second half, proving that UConn is not just the Napier show.
Key stat: As they have done all tournament, the Huskies knocked down their free throws when it mattered most. They were 13-for-14 in the game's final five minutes, making them 48-for-53 in the final five minutes of tournament games.