Louisville fights for identity as tournament nears
LOUISVILLE -- Russ Smith had just led his squad to a lopsided win over a struggling Rutgers squad when the cameras converged on the guard.
The attention is not foreign. This could be the second consecutive first-team All-America season for Smith, a key piece in last season's Louisville team that won the national title.
But Smith's new role remains an adjustment. During four seasons, Peyton Siva, who now plays for the Detroit Pistons, provided a level of leadership that few teams possess.
More from ESPN.com

As the NCAA tournament nears, Louisville is still finding its way as it readies for its title defense, writes Myron Medcalf. Story
---

It's that time of year, when conference tournaments lead to NCAA tournament bids being stolen away, writes Eamonn Brennan. Story | Champ Week
• Gasaway: Cavs to Final Four?


• DW: Most at stake?
• Nation blog
The initial void created by his departure seemed as vast as the space in the middle of this Louisville locker room during the early weeks of the season.
That's a difficult situation for any team. It's even more challenging for a program that's facing the pressure of defending a national title. So many new pieces, so many new roles.
Smith paused for a moment and took a deep breath while he considered the responsibility that he, Luke Hancock and Montrezl Harrell inherited after Siva left Louisville, a squad that also dealt with the exit of Gorgui Dieng to the NBA and lost former standout Chane Behanan midway through this season.
"It's different," Smith said. "It's a lot of sacrificing that you have to make. I'm willing to do it, but it's really tough and Peyton had, probably the toughest job last year, managing everybody. And he did a good job with it. I'm just trying to follow in his footsteps."
Coaches can always find new talent. Louisville did that. Even though Behanan, Dieng and Siva are all gone, junior-college transfer Chris Jones and freshman Terry Rozier have helped. But the growth of Harrell, now one of the best interior players in the game, has probably been the most noticeable benefit for the program. And Smith, of course, is still one of the best two-way players in America.
But programs usually fail to recover quickly when they lose veteran leadership. Can't recruit it. Can't bring it in from junior college. Can't create it.
"I don't think you replace a leadership of a Peyton," Rick Pitino said. "But I think Luke and Russ and Montrezl do a good job of that."
One of the game's significant intangibles is also an underappreciated asset that's not fully recognized until it's no longer available.
Ask Tom Izzo about losing Draymond Green a few years ago. Ask John Calipari about Darius Miller's contribution to Kentucky's national title squad in 2012. Ask him how much he could use Miller right now.
Ask the guys in the Louisville locker room about life without Siva.
"That's what we miss," said Kevin Ware, who will redshirt this season as he recovers from a leg injury. "That's the key ingredient to what we miss on this team. I kind of feel like Russ is a legitimate leader. But ... nobody on this team is Peyton Siva when it comes to being a leader and understanding if there's something wrong, you've got to speak on it. If it's something on the court, he's going to get in your ear about it. That's probably one of the biggest things we're missing. I know a lot of people would say Gorgui's defense or Gorgui's shot-blocking. But we've got players who can block shots and do things like that. But you can't really replace a leader."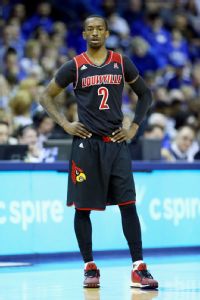 Andy Lyons/Getty ImagesRuss Smith and the Cardinals are still trying to figure some things out as they get set for their title defense in the NCAA tournament.
After Saturday's 72-66 loss at Memphis, the Cardinals are still locked in a first-place tie atop the American Athletic Conference with Cincinnati. Prior to Saturday's loss at Memphis, Louisville had won seven in a row. Even though that streak is over, the Cardinals are still one of the most dangerous teams in the field as Selection Sunday approaches.
But their sloppy finish against the Tigers showcased the constraints of their budding chemistry. They had a 65-57 lead with 4:47 to play. And they were outscored 15-1 in the final minutes. Some late plays seemed forced. Others were just perplexing. There was no rhythm or unison.
"I think playing all 40 minutes of the game, just finishing games out and not letting other teams getting on runs," Smith said after the Rutgers win two weeks ago, "I think that's been kind of our nail in the foot."
Added Ware: "That's been tough for us, but that's all coming back to having that leadership, knowing game situations. We haven't done a good job with it but I kind of feel like we're starting to figure it out."
Siva might not have changed the outcome. Louisville, however, will face similar situations in the final weeks of the season. And its ability to stay together will be tested.
But Louisville's adjustments this season have also given the Cardinals a chance to show off their resilience. Dieng was a great rebounder, defender and passer. Behanan was a solid forward and Siva was one of the top point guards in America.
And even without them, the Cardinals are still seventh in adjusted defensive efficiency and 15th in adjusted offensive efficiency, per Ken Pomeroy. They've lost just two games since Jan. 9. And if you had to pick the American Athletic Conference squad that would be the last member standing in the Big Dance, you'd probably pick the Cardinals.
It's not prudent to ignore what they lost when Siva graduated. But it's also unfair to ignore the strides they've made this season.
"I don't think it really has been a challenge, to be honest with you," Pitino said. "We went through some tough times losing Chane, expecting Kevin. It's like losing graduation midway through, you don't like to lose players. But we've kept our focus. We're getting better defensively. [Mangok Mathiang] is improving. So I definitely like what I see. We're getting better as a basketball team."
And the latter is the most significant trait of any team weeks before the commencement of the NCAA tournament.
No, Louisville is not the same squad without Dieng, Behanan and Siva. The Cardinals admit that their leadership structure changed when Siva exited. And they miss him.
But they're still a talented program that's found its mojo at the right time.
"We got better in some spots and we're lacking in some spots," Hancock said. "But I think everybody is coming around, starting to pick it up, doing their part to make us a better team."
If that holds, Ware believes, Louisville could enjoy a lengthy stay in the NCAA tournament.
"It doesn't matter who loses games, wins games early in the season," he said. "March is all that really matters. And Coach [Pitino] is one of the big people on getting better as the season goes. So I feel like we're really starting to get there. ... I'm just hoping for another long run."
ESPN Staff Writer
Covers college basketball
Joined ESPN.com in 2011
Graduate of Minnesota State University, Mankato
Andy Katz's Weekly Honors
Monday's Game Plan
Game Plan is our Monday morning primer, designed to give you everything you need to know about games that were and the games that will be in college hoops this week. Send us feedback and submissions via email and Twitter.
Is your favorite team mediocre? Have you spent the past three weeks clutching your seat through otherwise nondescript games against bad conference foes? Do you find yourself comparing nitty-gritty team sheets at 2 a.m. and constantly refreshing Bracketology -- even on nights when your team didn't play?
You, dear friend, are displaying symptoms of Bubble-itis. It's an acute seasonal condition that causes sleeplessness, anxiety and a range of otherwise insane behaviors. Consult your doctor if symptoms worsen, but know that until March 16, there is no cure for this fearsome disease.
For now, we can only offer a measure of palliative care: At least you don't have to worry about Champ Week.
To read all of Monday's Game Plan, complete with ICYMI, state of the week and games you need to see, click here.
Freshman Focus
ARIZONA
• Wednesday vs. Oregon State, 11 ET, FS1
• Saturday at Oregon, 4 ET, CBS
DUKE
• Wednesday at Wake Forest, 7 ET, ESPN2
• Saturday vs. North Carolina, 9 ET, ESPN
KANSAS
• Wednesday vs. Texas Tech, 8 ET, ESPN3
• Saturday at West Virginia, noon ET, ESPN
KENTUCKY
• Tuesday vs. Alabama, 9 ET, ESPN
• Saturday at Florida, noon ET, CBS
SYRACUSE
• Tuesday vs. Georgia Tech, 7 ET, ESPN3
• Sunday at Florida State, 2 ET, ESPN3
Freshman Tracker
Each week we release the Freshman Tracker, and each week there are new names and movement.
Here is our updated ranking of the 10 best freshmen in college basketball.
1. Jabari Parker, G, Syracuse Orange 6-foot-8, 235 pounds
The Blue Devils played only one game this past week, and while Parker struggled to make shots, he still wound up with a double-double in a win over Virginia Tech. Parker finished with 11 points and 12 boards and is averaging 11.6 rebounds over the past 11 games.
This week: Wednesday at Wake Forest; Saturday vs. North Carolina
Stats: 18.8 PPG, 8.9 RPG, 48 percent FG, 37 percent 3-pointers | Previous rank: 1
To see the entire top 10 in this week's Freshman Tracker, click here.

MONDAY
• Notre Dame at North Carolina, 7 ET, ESPN
• NC State at Pittsburgh, 9 ET, ESPNU
• Kansas State at Oklahoma State, 9 ET, ESPN
TUESDAY
• Florida at South Carolina, 7 ET, ESPNU
• Georgia Tech at Syracuse, 7 ET, ESPN3
• Iowa State at Baylor, 7 ET, ESPN2
• Michigan at Illinois, 7 ET, ESPN
• Alabama at Kentucky, 9 ET, ESPN
• Florida State at Boston College, 9 ET, ESPNU
WEDNESDAY
• Rutgers at UConn, 7 ET, ESPNU
• Duke at Wake Forest, 7 ET, ESPN2
• Texas Tech at Kansas, 8 ET, ESPN3
• Air Force at New Mexico, 9 ET, ESPN3
• West Virginia at Oklahoma, 9 ET, ESPNU
• Colorado at Stanford, 9 ET, ESPN2
• Utah at California, 11 ET, ESPNU
Conference tournaments
• Atlantic Sun, ESPN3
THURSDAY
• Memphis at Cincinnati, 7 ET, ESPN
• LSU at Vanderbilt, 7 ET, ESPN2
• Penn State at Northwestern, 7 ET, ESPNU
• Iowa at Michigan State, 9 ET, ESPN
• Hawaii at UC Santa Barbara, 9 ET, ESPNU
• UCLA at Washington, 9 ET, ESPN2
• USC at Washington State, 11 ET, ESPNU
Conference tournaments
• Atlantic Sun, ESPN3
FRIDAY
• Kent State at Akron, 7 ET, ESPN2
Conference tournaments
• Atlantic Sun, ESPN3
• Ohio Valley, ESPN3
• Southern Conference, ESPN3
• West Coast, ESPN3
SATURDAY
• Kansas at West Virginia, noon ET, ESPN
• SMU at Memphis, noon ET, ESPN2
• Virginia Tech at Georgia Tech, 2 ET, ESPN2
• Oklahoma State at Iowa State, 2 ET, ESPN
• Texas at Texas Tech, 4 ET, ESPN3
• Missouri at Tennessee, 4 ET, ESPN
• Indiana at Michigan, 6 ET, ESPN
• North Carolina at Duke, 9 ET, ESPN
Conference tournaments
• America East, ESPN3
• Atlantic Sun, ESPN3
• Big South, ESPN3
• Horizon League, ESPNU/ESPN3
• Metro Atlantic Athletic, ESPN3
• Ohio Valley, ESPN3
• Southern Conference, ESPN3
• West Coast, ESPN2
SUNDAY
• Syracuse at Florida State, 2 ET, ESPN3
• Boston College at NC State, 6 ET, ESPNU
Conference tournaments
• America East, ESPN3
• Atlantic Sun, ESPN3
• Big South, ESPN3
• Horizon League, ESPNU/ESPN3
• Metro Atlantic Athletic, ESPN3
• Ohio Valley, ESPN3
• Southern Conference, ESPN3
• West Coast, ESPN2