Jay Bilas' Big East predictions
1. Pittsburgh: Jamie Dixon has a great program. Not good, but great. Every time you think the Panthers will take a step back, they find a way to win and wow you with high-level consistency and fight. With a young and inexperienced team last year, Pitt seemed to will itself to 25 wins and the best scoring defense in the league. This season, Ashton Gibbs returns with the confidence of a star; Gilbert Brown should have his best year, and was very good on a tour of Ireland; Brad Wannamaker brings toughness and leadership; Gary McGhee brings strength and finishing ability; and Dante Taylor will be far better and more productive. Pitt should have the best team in the Big East when it is all said and done.
2. Villanova: Last season, the Wildcats were a bit too young in spots to weather the tough schedule and the NCAA tournament. Yet Villanova went 25-8 and finished in a tie for second in the conference with a 13-5 record. The Wildcats finished second in the league in scoring, but second to last in scoring defense, which seemed unusual for such a good team. Nova allowed 73 points per game, yet finished fourth in the Big East in field goal percentage defense and rebound margin. The difference was at the free throw line. Villanova was aggressive without discipline far too often last year, and allowed opponents to shoot an obscene 910 free throws (27.5 FTA per game). This season, even with Scottie Reynolds and his 18 points per game gone, the Cats can be contenders for it all if they play defense without fouling. Jay Wright has always encouraged his guards to have an attack mentality and to make individual plays when things break down, and Villanova will still seek mismatches and switch screens, as always. Corey Fisher is set to have his best year and to take over; Antonio Pena should be better in the post; and sophomores Dominic Cheek, Mouph Yarou and Maalik Wayns should be ready to carry a load. The issue will be toughness. Who will bring it, and who will set the tone on the defensive end?
3. Syracuse: The Orange had to retool over the past two seasons, relying upon newcomers to carry an increased load. The difference this time will be experience. While Wesley Johnson was new to most casual observers, he had played at Iowa State and had a year in Jim Boeheim's practices to adjust. This season, Fab Melo is the next guy that has Boeheim energized. Melo is a 7-foot center who has a great deal of ability, and freshman guard Dion Waiters is an explosive athlete that can really score and make plays. Last season, Syracuse got good guard play and had one of the best defenses in the nation due to experience and talent. What derailed the Orange was the injury to Arinze Onuaku. With health and the development of Melo and Waiters, the Cuse will be upper-division in the Big East and back in the NCAA tournament.
[+] Enlarge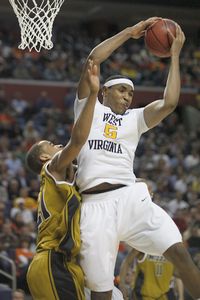 AP Photo/ Don HeupelWith two key departures at WVU, it's time for Kevin Jones to lead the Mountaineers.
4. Georgetown: After a difficult 2008-09, the Hoyas bounced back last season and were better in almost every area. Georgetown was better on the glass and with the ball, but when the lights came on in the NCAA tournament, the Hoyas laid one of the biggest eggs of all the big shots by getting blown out by Ohio. Greg Monroe is gone, but John Thompson III has Austin Freeman and Chris Wright, and they will take over. Georgetown will not have great depth and will have to emphasize its guards, but the Hoyas will still be tough to beat. The question is who will defend, rebound and score inside? Julian Vaughn will have to improve his game to be more productive without Monroe in the fold.
5. West Virginia: There will be some changes in Morgantown after a Final Four season. Gone is all-time great and go-to game-winner Da'Sean Butler, as well as rebounding whiz Devin Ebanks. Last season, the Mountaineers defended and rebounded well enough to win the Big East tournament and work their way to Indy, despite being among the worst shooting teams in the league. But the West Virginia returnees are very good, and can be very competitive in the Big East. With Truck Bryant and Joe Mazzulla back, Bob Huggins has experienced guards, and Kevin Jones is an underrated star who has great versatility and productivity. If Deniz Kilicli can take a big step forward, WVU will be among the better teams in the Big East. Even without Butler and Ebanks, this group will be long and solid defensively. The question will be whether West Virginia can score more efficiently. It was remarkable that the Mountaineers won so big last season without consistently being able to make shots.
6. Connecticut: Before last season, it seemed UConn would have some questions to answer on the defensive end. But it turned out to be the same old story for the Huskies. They blocked shots and led the Big East in field goal percentage defense. But they did not crack the NCAA tournament and finished only 18-16, mainly because they couldn't shoot and couldn't take care of the ball. UConn finished last in the Big East in 3-point field goal percentage (31 percent) and 3-point field goals made (3.7). The Huskies return speedy guard Kemba Walker, but that will not cure their shooting ills. Jamal Coombs-McDaniel can make shots, freshman Roscoe Smith is a smooth jump-shooter at 6-foot-8, and Jeremy Lamb is an excellent wing scorer with long arms and a load of potential, but UConn will not be a great shooting team again this season. Big men Ater Majok, Alex Oriakhi and Charles Okwandu will need to do more than block shots and rebound. Someone will have to score in the paint, and Oriakhi seems the most likely to do it. Another key will be extra possessions. Last season, the Huskies were last in the Big East in turnover margin (minus-2.5) and need to take care of the ball. Expect the Huskies to be far better and much more cohesive this season. Jim Calhoun does not usually have back-to-back rough years.
7. Notre Dame: Losing Luke Harangody will change the Irish identity greatly in 2011, but losing Tory Jackson will be just as big. Harangody, Jackson and Jonathan Peoples won more games over a four-year period than any players in Notre Dame basketball history. And that is with the Irish in a tough league, not as an independent. The loss of Jackson will be huge, as he has been a reliable, low-turnover and high-assist point guard for four seasons. Returning will be perimeter scorer Tim Abromaitis, tough guard Ben Hansbrough, athletic forward Tyrone Nash and Purdue transfer Scott Martin. The Irish will score, but they need to be efficient in doing so. Guard play will be the key. Hansbrough can handle the ball at the point, but the best scenario would be the development of freshman Eric Atkins, the 6-1 point guard out of Baltimore.
8. Louisville: After winning 20 games and reaching its 36th NCAA tournament, nobody talked about basketball in Louisville this summer. Well, it will be refreshing for the locals to talk about hoops again after one of the most bizarre summers the Ville has had. While Rick Pitino lost a lot of firepower in saying goodbye to four starters and his top three scorers, his 2010-11 team is the kind of group he can really get into coaching. There is not a signature star, but there is some talent. Rakeem Buckles, Peyton Siva, Preston Knowles, Terrence Jennings, Kyle Kuric, Mike Marra and Jared Swopshire return, and some newcomers that can add minutes will be in the mix. Louisville will be an athletic, pressing team that will try to speed up the game and make you play faster than you want to. I would not be surprised to see the Cards among the league's NCAA tournament participants in 2011.
[+] Enlarge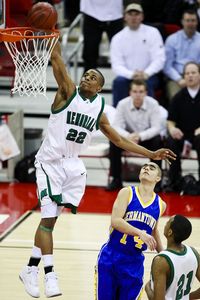 AP Photo/Andy ManisVander Blue is Marquette's highest-ranked recruit since moving to the Big East.
9. St. John's: The Johnnies have experience and seniors, and Steve Lavin will be able to hit the ground running with players that are hungry and can absorb something new. The best attribute of St. John's under Norm Roberts was that the Red Storm played hard every game. With the return of D.J. Kennedy, an underrated lefty scorer who can really drive the ball, Lavin has a player to build around. Add in guard Dwight Hardy (Lavin's best shooter), Sean Evans (a big who can run, offensive rebound and drive), Justin Brownlee (a forward who can pick and pop and rebound) and Paris Horne (a shooter who can really guard people) and you have the pieces to compete in a brutal league. The Red Storm will play in the postseason, and perhaps crack the NCAA tournament.
10. Marquette: Buzz Williams did a remarkable job last season, guiding a small team to a 22-12 record and a fifth-place finish in the Big East. Gone is versatile star Lazar Hayward and guards David Cubillan and Maurice Acker, but Williams returns Darius Johnson-Odom, one of the best 3-point threats in the Big East. Jimmy Butler had a really good season, averaging 14.7 points and 6.4 rebounds, while leading Marquette in offensive boards. Marquette was primarily a 3-point-shooting team last season, but Hayward, Cubillan and Acker combined for 165 treys and that productivity will be tough to replace. The Golden Eagles (I miss the Warriors) will be young in key spots, especially at guard, which can really punish you in the Big East. Incoming freshmen Vander Blue and Jamail Jones will have to play right away, and JC star Jae Crowder will bring a level of toughness and post game that will help right away.
11. Cincinnati: After losing Lance Stephenson and Deonta Vaughn, many wonder from where the Bearcats will be able to generate offense. This team came close to the Big Dance last season and should be motivated to take the next step. Mick Cronin inherited a major rebuilding job, and he has done a good job getting Cincinnati back and competitive. For now, though, he may lack the guard strength to take the next step. Cincy has to cut its high turnover rate and get better shots. Yancy Gates and Ibrahima Thomas return up front, and there are some capable guards in Cashmere Wright, Dion Dixon and Jaquon Parker. Freshman Justin Jackson is a high-energy rebounder and defender who can step away and hit jump shots, and he should be able to step in right away and play when he gets stronger. A key could be redshirt freshman Sean Kilpatrick, who can step in and knock down shots. Another key will be the status of Rashad Bishop, who was suspended just before the Big East tournament last year and remained suspended before UC's trip to Canada. If he plays, Cincinnati can be pretty competitive.
12. Seton Hall: The Hall has a new coach in Kevin Willard, and has some solid players returning. The best of the group is scorer Jeremy Hazell, who can make shots from anywhere. Last season, Seton Hall scored over 80 points per game and finished 19-13, just shy of the NCAA tournament. Seton Hall was a poor rebounding team and simply gave up too many easy baskets. This season, expect Willard to tighten up the defense and make it tougher for opponents to score. Helping Hazell will be Jordan Theodore, Jeff Robinson, Ole Miss transfer Eniel Polynice (a versatile guard who can score, pass and rebound), and Jamel Jackson. If Herb Pope, who collapsed while playing last spring, can come back and be the beast he was on the glass, Seton Hall will surprise some people.
13. South Florida: Stan Heath did a great job making USF a contender for postseason play last season. But the departure of Dominique Jones to the NBA is a big deal. Jones was more than a go-to guy -- he was the heart and soul of the program. Heath had a solid look at his team when South Florida represented the United States in the Pan Am Games in Brazil, taking home the silver medal. Heath returns Gus Gilchrist (who was having a great year before he was injured), Anthony Crater and Jarrid Famous (an athletic rebounder and scorer), and will rely upon some solid newcomers in Hugh Robertson, Shedrick Haynes, Lavonte Dority and Kansas State transfer Ron Anderson. Expect Robertson and Haynes to start, and for Famous and Gilchrist to improve their numbers without Jones.
14. Providence: Keno Davis did a terrific job of coming in and firing up the PC offense. What was tough for Davis was to play his style and still try to emphasize defense. While Davis understood that getting his offensive style in place was necessary to sell it to recruits, the defense was difficult to watch. Providence turned in one of the worst defenses in Big East history, giving up 47 percent shooting and 80 points per game for the season, and giving up an absolutely incredible 50 percent shooting and 85 points per game in Big East play. If the Friars can make strides on the defensive end, Davis (who is a very good coach) will figure out a way to score enough points. He was forced to dismiss his best player, Jamine Peterson, from the team. But he returns Marshon Brooks and Vincent Council to lead the way.
15. Rutgers: Mike Rice is one of four new coaches in the league, and he has a big job. Rutgers lost top scorer Mike Rosario and shot-blocker Hamady Ndiaye, but return Dane Miller (who was second among Big East freshmen in scoring and rebounding) and Jonathan Mitchell (a fifth-year senior and the leading returning scorer), Mike Coburn and James Beatty (who led the Scarlet Knights in 3-point percentage, assists and steals). Rice wants to play up-tempo and really get after people, but he will need to get more horses to do it effectively.
16. DePaul: Oliver Purnell is taking over a big rebuilding job, but he can do it. DePaul has a proud tradition, and has the pieces to be competitive, but the Blue Demons found it tough going to simply get off the mat over the past two years. When the ball starts rolling downhill, it can be tough to stop. Purnell does not return a player that averaged more than seven points per game (Mike Stovall), and the Big East will be tough to navigate without a consistent scorer to lead the way. Purnell needs some time to get things going.
10 key players around the league
Jimmy Butler, Marquette: With the graduation of perennially underappreciated Lazar Hayward, Butler will be in position to take over. He was second to Hayward in scoring and rebounding a season ago, but won't have quite as much help this time.
Kevin Jones, West Virginia: Da'Sean Butler wanted the ball in his hands at the end of the game, and the Mountaineers wanted him to have it. That's the kind of player that Jones -- a terrific all-around player and ferocious rebounder -- needs to become this season.
Ashton Gibbs, Pittsburgh: No one thought much about Pitt at this time last year -- not after the Panthers lost DeJuan Blair, Sam Young and Levance Fields. And absolutely no one thought the little-used Gibbs would be the guy to turn Pittsburgh into one of the league's biggest surprises. Now, however, the league's most improved player won't be sneaking up on anyone. How will he handle the extra attention?
Gus Gilchrist, South Florida: The versatile big man averaged 13.4 points and 5.9 rebounds per game -- and connected on 14 3-pointers -- despite missing the bulk of the season with a high ankle sprain.
Ater Majok, UConn: If the once-heralded recruit -- who showed promise last season, even if he did lack some game savvy -- can develop an offensive game, he could become a frontcourt force in the Big East.
Scoop Jardine, Syracuse: Jardine's entertaining game thrilled fans while simultaneously giving Jim Boeheim fits. Moving into the starting lineup this season, the junior guard has to take advantage of his own opportunities but must get better at making opportunities for his teammates.
Eniel Polynice, Seton Hall: The Pirates get an immediate injection of offense thanks to the Ole Miss transfer and a waiver from the NCAA. Polynice graduated with a year of eligibility, and because he'll pursue a graduate degree in a program not offered by Ole Miss, he can play without sitting out the required year.
Peyton Siva, Louisville: An understudy to Edgar Sosa last year, the former McDonald's All-American is going to have to step into the spotlight for the Cards to get on track. He's more than capable -- he scored 30 points four times during his high school career.
Hollis Thompson, Georgetown: With the graduation of Greg Monroe, the forward's role becomes even more critical. He's a solid enough outside shooter -- second on the team beyond the arc a season ago -- to keep defenders honest and allow time for Chris Wright and Austin Freeman to move to the bucket.
Maalik Wayns, Villanova: As a freshman last season, Wayns was allowed to be carefree -- even reckless -- as he felt his way behind a more stable backcourt anchored by Scottie Reynolds. But with Reynolds out of the picture, the point guard has to develop better composure without losing his scrappiness.
10 freshmen we can't wait to see
Adam Finkelstein
ESPN Recruiting
Fab Melo, C, Syracuse: The No. 1-rated center in the Class of 2011 is Syracuse's second Melo and he has the potential to have a similarly short stay. He has a big and powerful body, a soft touch out to 14 feet, good hands and feet and a versatile low-post scoring arsenal. However, conditioning and endurance will be important as he attempts to adjust to the speed and physicality of the Big East.
Dion Waiters, SG, Syracuse: Waiters is a power guard who shoots it with range, carries defenders into the lane on his back and finishes above the rim. And although he's more of a scorer than distributor, he can play either guard position. Two things to keep an eye on are how well he plays without the ball and whether he gets complacent defensively in the 2-3 zone.
Roscoe Smith, SF, UConn: A long and athletic forward with plenty of bounce and a smooth 3-point stroke, Smith has the potential to be the next great wing scorer for Connecticut. While not yet ready to consistently create his own shot, Smith could inherit the starting small forward position from Day 1, but will need to prove himself defensively and on the glass.
Nate Lubick, PF, Georgetown: A fierce competitor with a high basketball IQ and inside-out skill set, Lubick is the rare impact player who doesn't need to score a lot of points to change the game. His passing ability will be highlighted in Georgetown's system, while he will also rebound in high volume, defend the post and back down from no one.
Vander Blue, SG, Marquette: Blue is a scoring guard with explosive playmaking ability in the open floor. As quick as he is fast, he creates for himself and his teammates. Blue gets deep penetration on his drives and has the bounce to play above the rim in congestion. He is an equally effective on-ball defender and consistent scoring threat in the mid-range area, but a streaky 3-point shooter.
Jerian Grant, SF, Notre Dame: The 6-foot-4 athletic small forward likes to attack the rim in transition, shoots well out to 17 feet and has the tools to finish the break. In the halfcourt set, he uses his patented pull-up jumper. Defensively, Grant is committed and often stymies opposing perimeter players with his length.
Gerard Coleman, SG, Providence: Coleman is one of the top recruits Providence has landed in recent years, and the timing couldn't be better as the Friars will need him to make an immediate impact. He is a pure scorer with unrivaled speed in transition and a silky smooth slashing game, but must overcome a lean frame and inconsistent jumper.
J.J. Moore, SF, Pittsburgh: A late bloomer in high school, Moore's explosive athleticism showed up long before his now-polished skill set. He quietly has as much potential as any incoming swingman in the league. He's an explosive athlete with good size for the wing, a consistent shooting stroke and an evolving yet already-smooth dribble-drive game.
James Bell, SF, Villanova: A physical specimen, Bell has a powerful physique and tremendous vertical athleticism. He thrives filling the lane on the break, but also shoots with a high release, gets himself to the rim and rebounds his position very well. A highlight reel waiting to happen, Bell -- as long as recent stress fractures in his legs don't force him to miss part of the season -- will be a fan favorite in Philadelphia with his high-flying acrobatics.
Noah Cottrill, PG, West Virginia: Super-skilled and confident, Cottrill has great presence in the backcourt. A gritty competitor with fiery leadership skills, he has a beautiful shooting stroke with deep range, advances the ball quickly up the floor and varies his speeds well to get himself into the lane. His ability to defend more explosive athletes remains the biggest concern.
A look around the league

Cincinnati: Lance Stephenson took his game to the NBA, taking the Bearcats' hopes of a quick rise up the Big East standings with him. Mick Cronin has something to build around in the form of point guard Cashmere Wright and Yancy Gates, but he lacks the star to make the building easy.

Connecticut: The Huskies never looked quite right last season, a disjointed group lacking any firepower. The hope is that new blood will change that. Alex Oriakhi, Ater Majok and Jamal Coombs-McDaniel all step into bigger roles this season, but it is the play of veteran Kemba Walker, the anchor in a regrouping backcourt, that will be key.

DePaul: The good news: Oliver Purnell gets a mulligan this season as he takes over a listless Blue Demons program that has managed to win only one Big East regular-season game in the past two years. The bad news: He has to rebuild without much in the way of players. Will Walker has graduated and Mac Koshwal signed a pro deal in Spain, leaving Mike Stovall as the top returner, with seven points per game .

Georgetown: If nothing else, this will be an interesting season for the Hoyas. From Roy Hibbert to Greg Monroe, talented big men have defined John Thompson III's tenure. This year, it's time for the guards to shine, namely Austin Freeman, Chris Wright and Jason Clark.

Louisville: The off-court drama was endless for the Cardinals this summer and on the face of it, the remedy may not come immediately on the court. Samardo Samuels, Edgar Sosa and Jerry Smith have left, leaving a big offensive void for Louisville to fill. Terrence Jennings, Peyton Siva and Preston Knowles need to up their games immediately.

Marquette: Whether the Golden Eagles -- heartbreak kids in so many close games last season -- get over the hump will depend largely on the play of Junior Cadougan at the point and whether Darius Johnson-Odom picks up from his strong finish to last season.

Notre Dame: So does Mike Brey keep the brakes on the Fighting Irish? The coach's decision to go methodical saved Notre Dame from itself and righted a season headed for disaster. But with a team heavy on guards and wing players -- Ben Hansbrough, Tim Abromaitis and Purdue transfer Scott Martin -- it's hard to imagine the Irish will stay in slow-mo.

Pittsburgh: The surprise Panthers of 2009-10 will surprise no one this time around. Not with a roster that returns its entire frontcourt, breakout star Ashton Gibbs and his backcourt mate Brad Wanamaker. Expect Pitt to start in the top 10 and, if Jamie Dixon's squad plays up to its ability, to stay there all season.

Providence: The Friars keep making the news for all the wrong reasons. In April, Johnnie Lacy and James Still were arrested for assault; in May, leading scorer and rebounder Jamine "Greedy" Peterson was booted from the team for violating team rules, and in July, Kadeem Batts was arrested for disorderly conduct. Keno Davis is trying to build something at Providence. The question is, will he have the players to do it?

Rutgers: The protracted divorce from Fred Hill did little to help the Scarlet Knights or new coach Mike Rice. Rice has hit the ground not just running, but in an all-out sprint to land recruits. The future may be bright, but what about the immediate future? Mike Rosario bolted for Florida, Greg Echenique left for Creighton and Hamady Ndiaye graduated. That leaves Rice with a roster on which no one is taller than 6-8. That's a wee bit wee in the Big East.

Seton Hall: Kevin Willard inherits a convoluted mess of a program but not exactly an awful team. Say what you want about the Pirates' off-court woes from a year ago -- and you can say a lot -- but the Hall has players. Jeremy Hazell, Herb Pope (if he's healthy enough to play after an undisclosed health issue), Keon Lawrence and Jeff Robinson make for a solid returning nucleus.

South Florida: Losing Dominique Jones hurts, but there is still plenty for Stan Heath to work with. Jarrid Famous and Gus Gilchrist give the Bulls a dynamic frontcourt, and if freshman point guard LaVonte Dority can take over for Chris Howard, USF should continue to improve.

St. John's: Steve Lavin has good timing. After seven years off the court and at the announcer's table, the coach walks into the lights of Broadway with a fairly good Red Storm team trailing him. D.J. Kennedy, Paris Horne, Dwight Hardy and Justin Burrell all return after a decent -- but not decent enough to save the decent Norm Roberts from losing his job -- NIT season.

Syracuse: No one expected much from the Orange last season, but that's because no one knew how good Wes Johnson was going to be. Most everyone knows how good freshman Fab Melo might be, which is why there is less concern about replacing Johnson, Andy Rautins and Arinze Onuaku. But Melo is still only a freshman. For Syracuse to be great again, Kris Joseph and Scoop Jardine -- two of the best players in the country off the bench last season -- will have to step into their roles as starters and leaders.

Villanova: Jay Wright's guard-centric offense receives plenty of pub, but the coach prefers defense and last season the Wildcats just weren't very good at stopping anyone. To get back to the type of team that went to the Final Four in 2009, Villanova will need to rediscover its defensive identity. A strong frontcourt, built on the backs of Antonio Pena and Mouphtaou Yarou, and a feisty backcourt led by Corey Fisher and Maalik Wayns ought to make that happen.

West Virginia: Losing Devin Ebanks' talent to the NBA will be tough for the Mountaineers to overcome; losing Da'Sean Butler's heart will be harder. West Virginia returns more than enough for Bob Huggins to work with -- two healthy point guards in Joe Mazzulla and Truck Bryant, a developing big man in Deniz Killicli and a budding star in Kevin Jones -- but someone needs to take over the leadership role that Butler provided.
-- Dana O'Neil
Best case/Worst case
How good can your team be? How bad? Over at the Nation blog, Eamonn Brennan breaks down the best-case/worst-case scenarios for each team in the Big East. Blog
Five offseason things to know
1. Summer of Discontent, Part 1: In May, Connecticut received its notice of allegations from the NCAA. It included eight alleged violations, including a failure to maintain an atmosphere of compliance for Jim Calhoun. The university immediately parted with two assistants named in the allegations, Pat Sellers and Beau Archibald, and Calhoun hired ex-player Kevin Ollie and former assistant and Penn head coach Glen Miller to replace them. But the Huskies will have the uncomfortable reality of playing a season while waiting for an NCAA hammer to fall.
2. Summer of Discontent, Part 2:
The drama has been endless in Louisville. Senior
Preston Knowles
has been suspended for the start of the season, though Rick Pitino said it is unrelated to Knowles' run-in with his girlfriend's stepfather. Top recruit
Justin Coleman
is still not academically eligible. Memphis transfer
Roburt Sallie
has yet to be granted his waiver to play immediately. Assistant coach Walter McCarty left for Indiana. And then there is the little matter of the sordid Karen Sypher trial. Sypher, not Pitino, was the one on trial and is the one headed to prison, but it is Pitino who will need to resuscitate his reputation while simultaneously trying to resuscitate the disjointed Cardinals.
3. Double byes won't go bye-bye:
Back in March, associate commissioner Dan Gavitt told me "We tend to do what our coaches like." Well, not this time. The league's coaches did not like the double-bye format of the Big East tournament. In fact, they voted against it in unanimous fashion at the spring meetings back in May. But apparently that wasn't enough. A couple of months later, the conference presidents couldn't unanimously agree, and therefore the plan for a bye-less tourney was scrapped -- for now.
4. The New York/New Jersey market starts over:
New York is the heartbeat of Big East hoops, but for years, the programs in and around the Big Apple have been on life support. This year that could change, as all three of the area's schools -- Rutgers, Seton Hall and St. John's -- hired new coaches. Mike Rice, Kevin Willard and Steve Lavin are charged with more than reviving their own programs. In their hands, they hold the epicenter of the conference. As good as the Big East is and has been, it is always better when the city schools have a pulse.
5. The Big Exhale:
Rick Pitino likes to call the Big East a corporation instead of a conference, a sarcastic nod to the ridiculous size of the league. Stunningly, it could have gotten bigger if the Big 12 had fallen apart. Proving the football-centric reality of college athletics, league expansion would have either destroyed the Big East or turned it into a conference on steroids. Neither choice would have been a good one -- one would have kicked the hoops-only schools to the curb, while the other would have turned the Big East into a completely unwieldy 20-team monster. Instead, the line held and the corporation stays in business.
-- Dana O'Neil
Nonconference games to watch
Butler at Louisville, Nov. 16: In the prime-time game for ESPN's Tip-Off Marathon, the Cardinals open the doors to the KFC Yum! Center by welcoming the national runner-up to town.
Syracuse vs. Michigan State (Jimmy V Classic), Dec. 7: The Spartans will be on most people's short lists for early national front-runners, while the Orange regroup around fab frosh Fabricio Melo. It's never easy to beat the Cuse at MSG.
Notre Dame vs. Kentucky (SEC/Big East Invitational), Dec. 8: In this battle in Louisville, the more experienced Irish will try to handle the ultra-talented Wildcats.
Pitt vs. Tennessee (SEC/Big East Invitational), Dec. 11: The Panthers return nearly everyone, and the Volunteers are coming off an Elite Eight appearance. This one will be played at the Pittsburgh Penguins' new arena and is the marquee matchup of the SEC/Big East event.
Georgetown at Memphis, Dec. 23: What a pre-Christmas present for the fans at the FedEx Forum. In his second season, Josh Pastner has a much more talented -- albeit young -- team. This should be quite a test for the more veteran Hoyas.
Kentucky at Louisville, Dec. 31: The Commonwealth won't need fireworks to light up the new year; this game will create plenty on its own. The schools' fan bases never liked each other much. Now they aren't even polite about it.
Maryland at Villanova, Jan. 15: The Wildcats are without Scottie Reynolds and the Terps sans Greivis Vasquez, but both still have big plans for the season. Nova won this one 95-86 last season.
Purdue at West Virginia, Jan. 16: The Boilers, who blew out the Mountaineers last year in West Lafayette, will be a preseason top-five team. WVU is coming off a Final Four appearance. The game is in always rowdy Morgantown. You need more reason to watch?
Tennessee at Connecticut, Jan. 22: They might not play in women's basketball anymore, but at least the men will battle it out for the next two seasons. Watching Jim Calhoun and Bruce Pearl on the benches should be worth the price of admission by itself.
St. John's at UCLA, Feb. 5: The battle between these two storied programs gains additional intrigue as the Red Storm's new coach, Steve Lavin, most recently spent seven years on the bench in Westwood.
-- Dana O'Neil
Turnpike Turnaround?
No one at Seton Hall will publicly say it, but Kevin Willard appears to be the anti-Bobby Gonzalez. And after a tumultuous past year for the Pirates, that's a good thing. Dana O'Neil
The potential at Rutgers is there. Always has been. So why has it been so many years since the Scarlet Knights were relevant? Mike Rice thinks he's the man to figure that out. Andy Katz
For a list of Division I coaching changes and our New Faces, New Places profiles, click here.
2009-10 Big East standings
| | Big East record | Overall record |
| --- | --- | --- |
| Syracuse* | 15-3 | 30-5 |
| West Virginia* | 13-5 | 31-7 |
| Villanova* | 13-5 | 25-8 |
| Pittsburgh* | 13-5 | 25-9 |
| Marquette* | 11-7 | 22-12 |
| Louisville* | 11-7 | 20-13 |
| Georgetown* | 10-8 | 23-11 |
| Notre Dame* | 10-8 | 23-12 |
| South Florida | 9-9 | 20-13 |
| Seton Hall | 9-9 | 19-13 |
| Cincinnati | 7-11 | 19-16 |
| Connecticut | 7-11 | 18-16 |
| St. John's | 6-12 | 17-16 |
| Rutgers | 5-13 | 15-17 |
| Providence | 4-14 | 12-19 |
| DePaul | 1-17 | 8-23 |